Deepika Padukone describes Bollywood films in a new video for Vogue and it will crack you up. Watch
Watch Deepika Padukone describe a typical Bollywood romance in a new video shared by Vogue. The video features leading actors from Nigeria, Mexico, France and Iceland among others.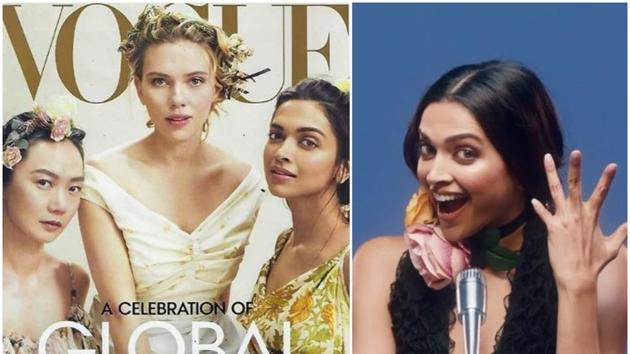 Updated on Mar 15, 2019 11:48 AM IST
On Thursday, fans were treated to a brand new cover of Vogue magazine with Deepika Padukone sharing the space with Hollywood star Scarlett Johansson and South Korean actor Doona Bae. Now, Vogue has released a video clip on social media, where leading actors from 14 different nationalities such as Nigeria, India, Mexico, Iceland, US and France, among others, have spoken about what a typical film's storyline is like in their respective countries.
Sharing the post, Vogue wrote: "Don't touch that dial, ladies and gentlemen-it's time for Hollywood, Nollywood, Bollywood Squared! Get to know a bevy of the world's most famous actresses in a good old-fashioned game show format."
Also read | Deepika Padukone on her Madame Tussauds statue: My mom never imagined I would make it here
+ +
The video features Deepika Padukone where she describes Bollywood film in a gist. She can be seen saying: "Boy and girl meet. The minute they look at each other, there's electricity; they fall in love and all of a sudden, the bad guy enters and he is ready to destroy their future. Part 1." The glint of humour in her eyes is unmistakable. She is obviously having fun.
Also read | Happy birthday Alia Bhatt: Check out her most loved-up moments with boyfriend Ranbir Kapoor. See pics
The said clip features many other actors — Mexico's Eiza González, Adesua Etomi-Wellington of Nigeria, Iceland's Hera Hilmar and Bond girl Léa Seydoux of France.
At one point in the clip, Hera says that films in her country deal with "a lot of misery, may be existential crisis set in really beautiful nature and have great female characters."
However, the best bit was reserved for Léa, who while describing French films, simply says nothing and looks here and there. She ends it, saying: "It's very easy." After a moment's silence, all burst out laughing.
In an article in Vogue on its cover girls on March 14, the magazine wrote that the first shoot of the video took place in East London and the second one is scheduled to take place in New York.
Meanwhile, keeping to the Vogue cover, other names to be part of the story include James Bond actor Lea Seydoux, The Crown actor Vanessa Kirby, Elizabeth Debicki, Golshifteh Farahani, Liv Lisa Fries, Bruna Marquezine and Alba Rohrwacher.
Follow @htshowbiz for more
Close Story