From Guddi to Mili, how Jaya Bachchan was India's true middle class heroine
Jaya Bachchan, who turns 70 today, was the 'girl-next-door' of the 1970s Hindi cinema. In films like Mili, Guddi, Parichay, Koshish and Bawarchi among others, she proved she could be the daughter, the sister, the friend and, importantly, the beloved, you could bank on.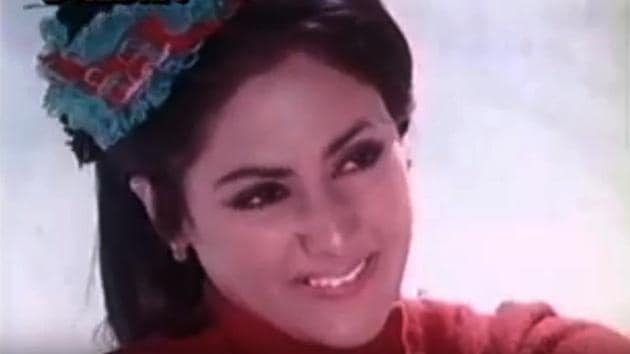 Updated on Apr 09, 2018 12:08 PM IST
Hindustan Times, New Delhi | By Nivedita Mishra
It is usually hard to imagine a Bollywood female actor being fully covered, with the sari pallu safely pulled over the shoulder, and yet be such a huge star. That's what Jaya Bhaduri was back then, in the early 1970s.
In the case of Jaya Bhaduri (now Bachchan), the strength of her persona, as the girl-next-door, gave her distinctness. She was the proverbial daughter, sister, friend and, importantly, the beloved, you could bank on. Her ordinariness was her biggest calling card. Her dependability was her biggest strength. These are the attributes she brought to the characters she played best onscreen and the image that would subsequently get associated with her.
Jaya was born to an educated middle-class Bengali family in Madhya Pradesh in 1948. As a student of St Joseph's Convent Senior Secondary School, Bhopal, she would soon shine the brightest and become the school head girl.
In no time, Jaya made her film debut, starring as a teenager in Satyajit Ray's Mahanagar, starring Bengali actors Anil Chatterjee and Madhabi Mukherjee. The Ray experience convinced her to go to Film and Television Institute in Pune to train as an actor, where again, she excelled and walked away with the gold medal.
+ +
Soon, Bollywood veteran Hrishikesh Mukherjee would pick her up to play a school girl in Guddi (1971), opposite Dharmendra (appearing in the role of a film star), who is crazy about her screen idol. Her simplicity, a vivacious smile and sprightly nature would come to be associated with her for good.
+ +
Jaya went on to play a number of characters, drawn from this mix, with great aplomb. Her films with Gulzar, Hrishkesh Mukherjee and Basu Chatterjee, would define a new kind of Indian cinema, something it hadn't been accustomed to. These were stories from the famed Indian middle class – they were full of characters with little money, often of frugal existence but with noble ideals and modest dreams.
In films like Mili (1975), Parichay (1972), Bawarchi (1972), Koshish (1972), Abhimaan (1973), Uphaar (1971) and Piya Ka Ghar (1972), she would prove that ordinary is indeed very beautiful. Often, the characters she played were the pivot around which the film revolved.
She was arguably one of the most important clogs in the development of what came to be called middle-of-the-road cinema.
With films like Chupke Chupke (1975) and Sholay (1975), she would prove that married female actors could pretty much hold their own at the box office.
Her naturalistic style of acting would soon become a benchmark for others. In many ways, she taught the world that acting could pretty much be free of mannerisms and yet you could be a huge star. With Sanjeev Kumar, the other great exponent of acting, she would prove that, sometimes, acting doesn't even need words as the duo did with Koshish, where they play a speech and hearing impaired couple (remade in Tamil as Uyarndhavargal in 1977 with Kamal Haasan and Sujatha).
However, she was not always demure. In Jawaani Deewani (1972), she tried to experiment with a glamorous avatar. In Anamika, she played a character with negative shades. What's more, she even played a seductress in Anamika. Watch her in the song, Baahon Mein Chale Aao and you will be convinced. In Zanjeer (1973), while the focus was clearly on Amitabh Bachchan, she plays a street performer (there's a scene where she is sharpening a knife too).
+ +
Also read: Amitabh Bachchan, Jaya Bachchan celebrate 44 years of togetherness; love story in pics
Author tweets @mniveditatweets
Follow @htshowbiz for more
Close Story