Karan Johar: Who wouldn't want to see Aryan Khan as a movie star?
Says Karan Johar, as he turns 44 today. The B-Town film-maker adds that he has never planned his career; will celebrate his b'day with his close friends.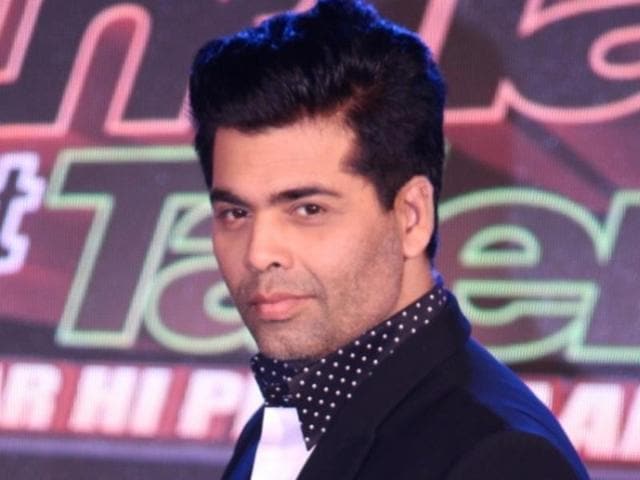 Updated on May 25, 2016 08:18 AM IST
Ever since he entered Bollywood as an assistant director — on Dilwale Dulhania Le Jayenge (DDLJ; 1995) — Karan Johar has been on a roll. In his 21-year-long career, he has worn several hats, and climbed the ladder of success swiftly. As he turns 44 today, he talks about celebrating his birthday in London, his journey in the Hindi film industry so far, and more.
At 44, do you feel old or do you feel young?
There is so much talk about fighting your age nowadays. But, for me, there is no difference in my energy, ambition or excitement, as compared to what I felt a decade ago. So, in terms of my spirit, I don't think I have aged at all. But in terms of my grey hair, yes, I have to colour them now (laughs). Everything else feels fine and functional; I feel young at heart.
You have been part of the industry for over two decades now. How would you describe your journey?
From being an assistant director on DDLJ to directing my own film, Kuch Kuch Hota Hai (1998) — it has been a tremendous journey. It has been fantastic to see my company become a strong and resilient one. When I look back, I feel, "Oh God, I did so much work." Basically, my journey so far is divided into two challenging and extremely emotional parts. First, from 1998 to 2004, when I had the tremendous support of my father (late Yash Johar). His teachings helped me deal with the next 12 years of my life. So, my life can be divided into two parts — when I had my father, and when I didn't.
READ: Karan Johar says he's a 'recycled virgin'
Have things gone as per your plan?
There has never been a plan or strategy. I have always gone with my instinct. I always listen to my inner voice, and respond to my instinct, as that is what has made me who I am. Whatever decisions I have made, and whatever work I have done in the past two decades, has been a result of my instinct.
You last directed a film in 2012 (Student Of The Year). Why don't you direct films as often now?
I would like to direct more frequently. In fact, from now on, I will make sure that the gap between the films I direct doesn't exceed a year and a half. I really feel I need to use my directorial energy more often. That's my core and my primary passion. Everything else is a result of who I am as a film-maker. I need to do this for myself, as I have so many stories to tell, and so many characters that I want to showcase on celluloid.
READ: Film with Shah Rukh, Alia not shelved: Karan Johar
What have been your greatest learnings in life so far?
I have learnt that faith, trust and belief, sometimes, come at a cost. I have always put my faith very easily in people and circumstances. But now, I have realised that I have to tread a bit carefully because not every time will you get the kind of response you believe you should get. I have dealt with many people, and not all of them have been beautiful experiences. But despite everything, you have to make sure that you don't become cynical or negative. So, one must maintain the spirit, but tread with care.
Is it true that you are launching Saif Ali Khan's daughter, Sara Ali Khan, and Shahid Kapoor's brother, Ishaan Khattar?
I can't deny that certain things are churning within our production house. You have to wait for these exciting 'young' announcements to be made. They will be given their due. I have great faith in the young voices that are emerging as directors and actors. All of them teach me new things, and help the company grow. In fact, in the past six-seven years, we have worked with some of the youngest talent of the industry. I feel proud to have launched so many directors and talented actors. I want to continue doing that, as they have played an important role in making my company successful.
We've heard that you will have a big birthday bash in London.
It's not really a party; I haven't even sent out any invites. It is just about spending time with a few friends, as we are all in the same city at the same time. So, we will meet for dinner. It is not a big bash, which it is being made out to be. People I love will be with me, and I also love those who will not be able to make it. I don't want to celebrate my birthday like a teenager, and get overexcited about it.
Rumour has it that you will soon launch Shah Rukh Khan's son, Aryan.
Aryan is like my godchild. He and Suhana (Shah Rukh's daughter) have grown up in front of me. Shah Rukh, Gauri (Khan), Aryan, Suhana and AbRam are extensions of my life and my family. Who wouldn't want to see Aryan on the big screen as a film star? I am sure, when he decides to enter Bollywood, I'll be there, professionally and emotionally, if he needs me. But right now, it's too soon. He still has four years left to finish his studies. He isn't going to be on the radar for the next four years.
Read: I will launch Aryan Khan only after he finishes studies: Karan Johar
Is it true that you have approached Salman Khan again for Shuddhi?
There's no truth to this. Having said that, it is the desire of my production company, and not just me, to work with Salman on an important film. Shuddhi, for now, is on hold due to logistical reasons, but it will be made one day, and it will be directed by Karan Malhotra, maybe in a couple of years.
Close Story
Personalise your news feed. Follow trending topics