Priyanka Chopra meets PM Narendra Modi, opts for a demure anarkali. See pic
Updated on Apr 12, 2018 09:13 AM IST
Last time Priyanka Chopra met PM Narendra Modi wearing a dress, trolls had a field day. Was that on her mind when she chose a full-sleeve anarkali as she met the PM in Delhi on Wednesday?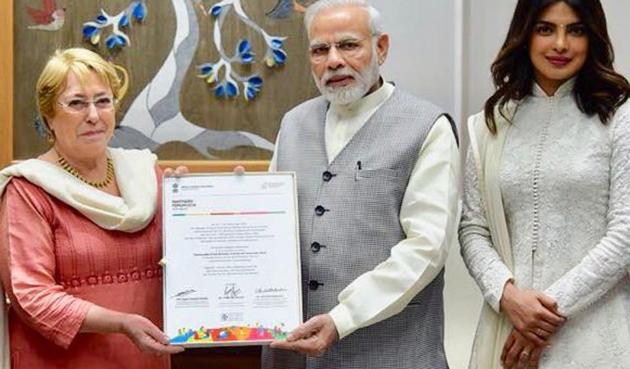 Actor Priyanka Chopra met Prime Minister Narendra Modi in New Delhi on Wednesday to invite him to an upcoming conference of Partnership for Maternal, Newborn and Child Health (PMNCH). She was part of a delegation that included Union health minister JP Nadda and former President of Chile and incoming chair of PMNCH Board Michelle Bachelet. Priyanka was there in her capacity as the UNICEF Goodwill Ambassador.
However, what seems to have caught the eye of people on Twitter is her choice of dress -- the actor was dressed in a demure anarkali that had full-sleeves and a high neck. Priyanka had faced a backlash online for wearing a short dress when she met PM Modi in Germany more than a year ago.
Priyanka had met the PM in May 2017 in Berlin where she was promoting her Hollywood release, Baywatch. Modi was on a four-nation tour during which he happened to meet the actor. Refusing to take the trolling, the actor had replied on social media as well.
Later, Priyanka's mom had said, "All I taught her, if you have done no wrong, you have nothing to fear. She was going for Baywatch promotion, suddenly she bumped onto Mr Modi, she cannot go for a dress change and come back to say hello? The meeting was not pre-planned, it was impromptu." However, many on Twitter pointed out that Priyanka's choice of dress is decidedly different from last time, others applauded her sartorial style.
She was going for Baywatch promotion, bumped into PM: Priyanka's mom on controversial pic
The actor also shared an image of her meeting with the PM on Wednesday and wrote, "Very grateful to the honorable @PMOIndia, Shri @narendramodi to meet me, Shri @JPNadda and Mrs. @mbachelet in regards to being a patron for the Partners' Forum... #2018PMNCHLive https://www.instagram.com/p/BhcCY8VAQI1/ "
In her post, the actor has expressed gratitude to PM Modi for meeting them and described the conversation with the Prime Minister as "insightful".
"Very grateful to the honorable Prime Minister of India, Shri Narendra Modi to meet me, Shri J.P. Nadda (Indian Health Minister) and Mrs. Michelle Bachelet, (former President of Chile, incoming #PMNCH Chair) in regards to being a patron for the Partners' Forum which is being held in New Delhi in December this year. The aim is very important - the improvement and transformation of access to quality healthcare at at every life stage for women, children and adolescents, in an effort to help achieve the Sustainable Development Goals in 2030," she wrote in her post.
"This year, India will play host to the largest ever Partners' Forum, with more than 1,200 delegates from more than 92 countries. It was an insightful, positive conversation which was very heartening and inspiring because of the personal commitment of everyone at the meeting. We covered a lot of ground from the various efforts being taken by individual countries & partners to building a collective environment that could help propel the change we seek for a better world. We started something important today and I am looking forward to what is being set in motion," the post read.
Priyanka Chopra shuts up trolls, gives it back to haters in style with more legs
While she does not have any Bollywood projects at hand, Priyanka is currently awaiting the third season of her American sitcom Quantico and will soon be seen in two Hollywood films -- A Kid Like Jake and Isn't it Romantic?
Follow @htshowbiz for more
Close Story
Personalise your news feed. Follow trending topics