Rishi Kapoor remembers Sridevi: We will miss her, no female star has achieved such glories
Updated on Feb 26, 2018 09:29 AM IST
Rishi Kapoor remembers his Chandni co-actor Sridevi as a "shy person" who achieved a star status that "made her a superhero".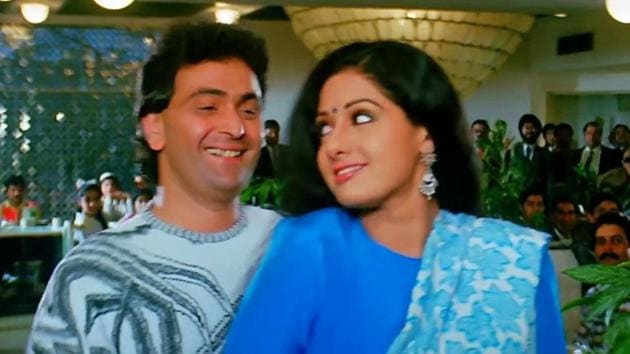 As told to Monika Rawal Kukreja
I didn't work with Sridevi until 1984, when we first starred in Nagina. Initially, I thought she was a very shy person and arrogant, as she didn't talk much. Later, I realised it was not arrogance but just that she was not comfortable speaking in English or Hindi, because they were not her main languages.
One of my very first conversations happened with her during a rather awkward moment. We were shooting and the camera's film magazine ran out. While the crew was changing the magazine, the bright lights were still on for about three minutes and we stood in that position with the whole unit around us. I told her, "Sridevi, you danced very well." She smiled and said, "thank you". She then added that she saw Khel Khel Mein four times. That was very sweet of her. Those were the first words I heard from her during the making of Nagina.
Thereafter, the kind of confidence and star status she earned, she became a superhero. She was a complete actor, a fabulous dancer and a person who could just switch faces. She could be quiet and be in her own mood, and then suddenly do a great comic scenes or tragic one. She had that rare ability in her.
After the great success of Nagina, and she had also done Mr. India (1987), we got to work together in Yash Chopra's film, Chandni (1989). By then, Sridevi had become very popular and was at the peak of her career. During Chandni, we became friendlier and got along well.
I often noticed that after every two, or may be three shots; she would remove her makeup, and do it again. I never understood the reason, but I think she always wanted to give her best, let her work to speak and also, look gorgeous. And it was not a mere touch-up, but removing makeup from her nose and cheeks and then applying putting it again. Also, she didn't have any makeup man back then. She put in great efforts to look good and perform well.
She didn't have any hang-ups or nakhras that which profile of hers looked good on camera. She was very cool about the fact that she is what she is, take it or leave it.
During Chandni, she often improvised her scenes and lines. The complete 'Cognac sharaab nahi hoti' sequence was improvised by Sridevi, Yashi ji and me; it was never a part of the script. In another sequence, I had to buy ice-cream for both of us. In the shot, she was to ask me for a bite and I was to give it to her. But when I asked her back, she showed me her thumb (a gesture to tease). This, too, was improvised. As a co-star, she really helped because acting is all about reaction and she was a great reactor.
And what a dancer! During a song in Switzerland, Saroj Khan had choreographed a dance sequence for her with Indian classical, and some western steps. They all left for the location at 11am and while Yash Chopra thought it will take the whole day, they were back by 2 pm. Sridevi was so terrific at dancing that she finished it in just two hours. Sarojji later told me that Sridevi is so good and even her rehearsals were so perfect that you could take that as the final shot. Such was her professionalism.
I have lovely memories of her as an actor and a person. When she was carrying her first child, Boney Kapoor had come to meet her on the set of our film Kaun Sachha Kaun Jootha (1997). It was so cute of her to say, "This is the last film and my last few days of shooting." That was the last time I worked with her, and it remains my parting shot with her. She was bidding adieu to film industry to start a new life, get married, build a home and raise her children.
I missed her for the last 20 years because we didn't get to work together after that film. We only met socially. I see her films today and I know how she focused on the nuances, and tried to look different each time. She believed in breaking the typecast. She was a very gifted artiste and I don't think there has ever been a female actor in Bollywood who attained such glory and marvellous heights.
Also, Mr Amitabh Bachchan very graciously told me that to mark respect to Sridevi and show solidarity, love and affection to her, we should cancel our shoot, as we were supposed to do a promo song for 102 Not Out, and I agreed with him. Both of us have worked with her in several films and we have danced and sang together, so it would have not looked nice to do that on the day when she has passed away. We will miss her.
Follow @htshowbiz for more
Personalise your news feed. Follow trending topics