Taapsee Pannu says whoever has a problem with Mulk, the problem lies within their minds
Taapsee Pannu feels that it is important to start a discussion about the prejudice that people are conditioned to have.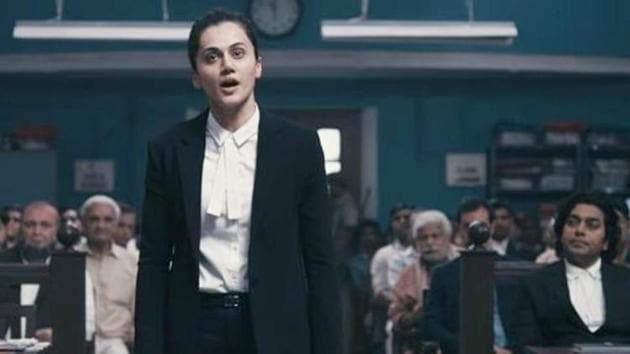 Updated on Aug 01, 2018 03:36 PM IST
Indo Asian News Service |
Indo Asian News Service
Talented Bollywood actor Taapsee Pannu, who turned 31 on Wednesday, says her forthcoming film Mulk presents "true patriotism and nationalism" and those who are having problems with it need to have an open mind.
"True patriotism and nationalism have been presented in this film, and if anyone has a problem with it, then their idea is probably diluted and they are not open-minded (enough) to see the point from the other side as well. Whoever has a problem with it... the problem lies within their minds," Taapsee told IANS in an e-mail interview.
"I feel it's better we have an open mindset to see what exactly we are trying to say. In Mulk, we have not criticised any community, and neither have we said any community is good or bad. We have just shown the true picture and left it to the audience to make the choice," she added.
Directed by Anubhav Sinha, the film tells the story of a Muslim family trying to reclaim its lost honour. Releasing on Friday, the film also stars Rishi Kapoor, Prateik Babbar, Rajat Kapoor, Ashutosh Rana and Neena Gupta. Asked how the film could contribute to changing people's mindsets, Taapsee said her intention was not to preach.
"There has been a lot of prejudice around beliefs about communities and religion, (and also) caste, for that matter. In this film, we deal with those prejudices and how they are wrong and how this conditioning has been done to our minds over all these years and to the benefit of certain people. Over the years, we have been conditioned that certain communities need to be looked upon in a certain typical way. So I think we need to question the logic behind it. Mulk is going to question that logic -- and where did it start and why did it start and the need to change it immediately," said the actor.
She said that, with Mulk, they are not providing any solutions, but only hoping for discussions to begin. "We are hoping that, after this film, people will discuss this issue amongst themselves, talk about these questions, ask each other these questions and eventually try to find a solution. It's only you and me who can make a difference -- and no third person can help us out," she said.
Keeping in mind the criticism that some filmmakers are facing, the big question is about creative freedom in cinema nowadays. Taapsee said, "Cinema is a form of art and like every other art form, cinema also needs freedom of expression. It does come with a sense of responsibility... but when we try to do that, it should get support from the media and the public because we are trying to raise social issues that are prevailing in our society right now and that needs certain consideration and help."
She added, "That's why cinema needs to be given a certain sense of freedom, so the director and writer can portray what they actually feel. And then it is up to you if you really want to watch it. It's a democratic country and people can do what they want to do."
After her powerful performance in Pink and Naam Shabana, Mulk promises to add more feathers to her filmography. "With every movie, I am trying in my own little way to do whatever I can to change the way female characters have been presented and how an actress that comes from a family outside the industry is making an impact. All this is slowly getting noticed and my ultimate goal is to get that faith and trust from my audience."
Follow @htshowbiz for more
Close Story