Who is Kamli? Sanju star Vicky Kaushal says he isn't based on Paresh Ghelani
Jul 15, 2018 04:49 PM IST
As the world wonders who the real people depicted in the Sanjay Dutt biopic Sanju are, actor Vicky Kaushal has opened up about his character Kamli and his real-life counterpart, Paresh Ghelani.
Vicky Kaushal, whose performance in the Sanjay Dutt biopic Sanju is being praised by many, has opened up about his character in the film, his relationship with Dutt and the film's lead, Ranbir Kapoor.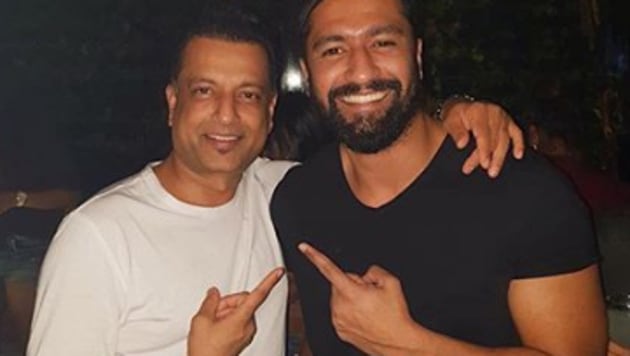 In an interview to Spotboye, Kaushal, who broke out after his debut film Masaan, said that his character Kamli wasn't based on one person but was an amalgamation of three or four people from Dutt's life. It has been widely reported that Kamli is based on Dutt's real-life friend Paresh Ghelani.
"I had met Pareshji, he had come once to meet Dutt sir when we were shooting," Kaushal said. "The characterisation of Kamli in Sanju is pretty fictionalised but yes, the incidents between the two friends did happen. Kamli's characterisation is an amalgamation of 3-4 friends of Dutt sir, it's not Pareshji per se."
Earlier this week, Kaushal had shared a picture of their meeting, and captioned it, "Real & Reel. Paria & Kamli."
Dutt also thanked Paresh after the success of Sanju. He took to Twitter to thank Paresh for being his 'pillar of strength'. The 59-year-old actor wrote on Twitter, "@pareshghelani you are the pillar of my strength. Thank you for being there, then and now. Welcome to the world of social media buddy! Love you lots."
A day earlier, Paresh had made his social media debut by writing about Sanjay and their friendship. He wrote the letter after watching the film.
"Sanju is an ode to falling, rising, making mistakes and learning, flaws, imperfection – everything that defines the core of friendship. It is more importantly a relentless pursuit of life with all its shades. I know I share this sentiment with all friends and family close to him," he wrote about the biopic.
In the film, Sanju and Kamli paint the town red with their antics. Some the most hilarious moments from the film are picturised on the duo. Kamli also serves as Sanju's moral compass, particularly when it comes to his difficult relationship with his father, Sunil Dutt, played by Paresh Rawal.
Vicky and Ranbir formed a bond while filming the movie, and while he is currently abroad shooting Uri, he texted Ranbir to congratulate him on the film's success. Ranbir replied that he wishes he could hug him.
Sanju has crossed ₹500 crore in worldwide earnings, and has made more than ₹300 crore in India, according to trade reports.
Follow @htshowbiz for more