Indian fashion industry doesn't need any validation from the West anymore: Narendra Kumar Ahmed
Updated on Mar 21, 2017 07:16 PM IST
The veteran designer opens up about the business of fashion, secrets of creating a sustainable brand, and the influx of talent hunt shows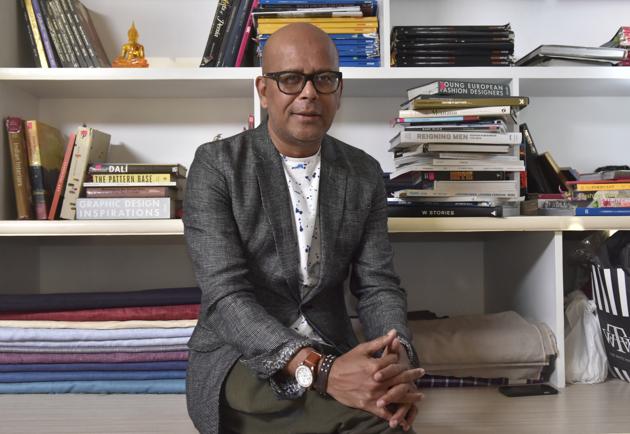 From being the first fashion editor of Elle India, to becoming a trail blazer in men's wear fashion and being the only designer whose store was been featured alongside iconic brands such as Tom Ford, Prada, Louis Vuitton and Valentino on Esquire's prestigious Big Black Book of Style, to being the first ever Indian fashion designer to embrace e-commerce by becoming the creative director at Amazon.com, Narendra Kumar Ahmed aka Nari has got an enviable CV. We caught up with the veteran at Liva Protégé '17, where he was sharing his industry expertise with a bunch of budding designers. Excerpts:
What are your tips to aspiring designers?
It is important to have the conviction in yourself as that affects the direction of your style. Also, it is important to keep an open mind and read about everything. You never know what will inspire you. Also, learn about the history of fashion as trends work in a cyclical manner. Also, do not focus of fame and don't think you have already made it big by just graduating from an acclaimed design school. It is just the beginning. You might be a topper in your class, but in the business of fashion, marks don't really matter. Design is subjective and needs to tell a story.
Has it become too easy to get an entry into the industry which is impacting the quality and creativity?
Actually, the competition has made it tougher for young people to enter. However, it also true that there are too many opportunities to showcase talent today, which is leading to a surfeit of designers. This is why it is important to tell a sustained story through your work. You need to master the craft and put a sharp focus on standing out among the crowd.
Why do you think most designers sink into oblivion after a few successful shows these days?
I believe that your second show is the more important than the first. The first show is about all those pent up ideas you have been working on in your mind for years. It is your second show that indicates staying power. For a sustained career in this field, on needs patience, endurance, focus, and a long term view. Most young people get carried away with early success. They must learn that failure is also a part of the rhythm of success. You cannot always have a great collection but learning from it can help you hone your creativity.
Do you think the fashion industry today is growing laterally?
The fashion industry in India became big in the early 2000 with Lakme India Fashion Week. Since then it has expanded exponentially. While much of the early years it was just focused to the mains cities of Delhi and Mumbai, today it has grown to map the entire country. Moreover there has been a great influx of youth focused brands that has expanded the market awareness for fashion. Moreover, today fashion is not just limited to designers but has been overtaken by Street Style bringing with it a focus on Indian textures and silhouettes mixed with global brands. Further expansion is happening with e-comm taking it to all parts of the country making it democratic like never before.
You have been working in the industry for a while, what is your secret behind sustaining a brand and staying relevant and young for such a long period?
Design means nothing if you do not evolve with the times. I have always looked ideas that are at the cutting edge of trends other than fashion that are shaping this country. I am a good listener and I take influence from music, society, economics, and politics. This imparts a sense of zeitgiest to my fashion.
How do you create a balance between being experimental and being profitable?
Being experimental brings an edge to your creative endeavour but profitability is what will allow you to experiment. It's a balance that one needs to keep ones business going for a long term and evolve at the same time. Evolution necessitates experimentation without alienation, keeping your relevance and hence your profitability intact.
Do you think online retailing dilutes a designer's brand?
Online retailing helps a designer expand his or her reach. It's just that in India the first phase of getting people e-savvy and it is all about enticing buyers with discounts. But I am hopeful that just as in advanced countries, where there are various platforms that cater to different market segments at different price points, India will soon adapt to a similar model. Online retailing should not been viewed with trepidation but as an opportunity to grow your brand.
For the longest time, you stuck to just menswear, when most designers around you were specialising on women's wear…
Actually that was the smartest move I had ever made. I realised that most designers were catering to a few women fashionistas whereas the real opportunity lied with catering to the male stars who apart from being the highest paid, commanded unparalleled stardom. They also needed someone to give them a fashionable step forward. It in turn gave me the opportunity to explore my true passions--fit and cut. It was market waiting to be taken. What also helped I believe was my experience as a fashion journalist with Elle India and also my stint as an image and brand consultant to some of the biggest textile and fashion brands.
What are the international Spring/Summer trends that you think will become big in India this season?
The biggest trend one can see in both menswear and womenswear is athleisure.Individual item wise for men it's the bomber jacket that will become big this season.For women it's the great white shirt in all its ruffled glory that will make a comeback. Also, it will be a trip down the '80's glamour with shinny metallics in the form of cropped tops and pleated skirts.
In the larger scheme of things, how important do you think it is to showcase your collection at an international fashion week?
Given the dour economic environment almost across the globe and its impact on designer wear leading to closure of brands ,downsizing, growing importance of e-retailing, and the burgeoning mass branded market, it makes greater sense today to work the brand in the domestic market. There was a point ten years ago, when Indian design needed validation from the west, that situation no longer exists.
Follow @ananya1281 on Twitter
Follow us on twitter.com/HTBrunch
Connect with us on facebook.com/hindustantimesbrunch
Close Story
Personalise your news feed. Follow trending topics