The lure of the shopping malls
Try as you might to avoid them, there is no escaping the retail labyrinth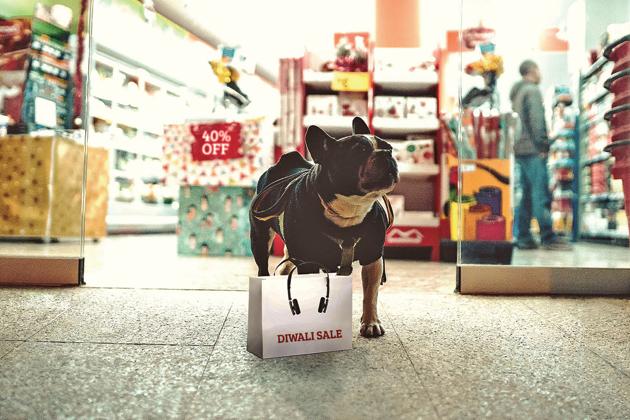 Updated on Nov 10, 2018 11:15 PM IST
Hindustan Times |
Rehana Munir
Yesterday I did the unthinkable. I spent about two hours at a mall. On a Sunday close to Diwali. During a Halloween celebration. While nursing a migraine. I'm ready for my Param Vir Chakra now. I must admit that I spent all of the time on non-shopping pursuits. For about 40 minutes, I savoured an unsavoury chai that tasted remarkably like the dishwater brew I'm famous for. Another half hour was spent far more profitably: receiving a head massage that promised to rid me of migraine. All it rid me of was a thousand bucks. But I can't say I didn't enjoy the foot soak in an elaborate silver trough. Trough times don't last, however. In 45 minutes, I was ejected into the mall, with Halloween celebrations on in full swing. I put my shades on and ghoulishly made my way to the appointed meeting place where my friend greeted me with shopping bags. Turns out my absence was very gainful indeed. In a moment I was out into the real world of abject temperatures and unseemly sights. Ahh, bliss.
Honeysuckle and liquorice
The festive season is indeed upon us. And I've never really been a Scrooge about celebrations, but it's a yearly reminder about how retail-oriented our world has become. A mall is the place where my inner Gandhian-Marxist jumps out at me from behind the candy bar that's peddling honeysuckle and liquorice-flavoured gummy delights. Nearby, the Japanese minimalist brand announces its Diwali joy. A Scandinavian fashion brand implores me to come in and try its cig pants with a crop top and bomber jacket. I actually need my 16-year-old niece to play translator, even though I'm technically a millennial. (Did you know the category includes those born between 1981 and 1996. Did you?)
Then there are the many festive delights. Tarot-reading and face-painting. Hair-braiding and tattoo-printing. In the air-conditioned lobby of a mall, life is a Disney carnival. For your listening pleasure, there are earnest but excruciating on-the-spot singing contests. I am, however, madly envious of people who can perform for strangers, without any training or inhibition. Sadly, it's just the voices in my head that are stage-ready.
Crisis escalation
So why walk into a mall? You ask. Because there's no escaping it. Though you may have avoided the crowded escalators and confusing parking areas through the year, there comes a time when the call of the mall is unavoidable. It comes in the form of a niece or a lover, a sibling or a friend. It takes the shape of your biggest fear: of being deemed rigid and stuck up. "It's just a mall! No need to be so superior!" you hear your inner voice say, a few octaves higher than your outer voice. And there goes the resistance.
At this juncture, I must mention the obvious uses of these retail labyrinths.
The loos are clean and many.
They provide shelter from inclement weather.
Food.
Multiplexes.
Ideal surroundings to refine your existential crisis.
While writing this little list, I'm struck by how the first three of these services should be provided to the needy by the government for free. But that's a Gandhian-Marxist thought for another column.
A case for the defence
Apart from the practical list above, malls do something other things quite well, I admit. Something about the mall makes lovers more loving. You can see it in the way they stroll, hand in hand, or around each other's waists. Languidly. Forgetfully. They make teenagers slide on the smooth floors, loud and conspicuous. Families arrive from far-flung places to share a burger, or ride a roller-coaster. Even when the money is spent, they linger on in the larger-than-life hallways, soaking in the festivities.
The thing is, in cities, where public spaces are few and rife with problems, from unhygienic conditions to insistent hawkers, malls provide a safe retreat. These synthetic giants are meant to make you feel safe and welcome. It's more than just shops selling stuff. It's an environment where you're not afraid of either lawlessness or policing. It's where you can get a pav bhaji as easily as an artisanal gelato. I've heard stories of malls turning away customers "who don't look right". But it's the democratic character, the inclusive quality, of the mall that to me is its greatest feature. And I aim to admire this quality from a safe distance for as long as I'm able to.
From HT Brunch, November 11, 2018
Follow us on twitter.com/HTBrunch
Connect with us on facebook.com/hindustantimesbrunch
Close Story
Personalise your news feed. Follow trending topics