CAG audit finds expired medicines at govt hospitals, acute shortage of doctors
Jul 21, 2017 11:00 PM IST
CAG also rapped the government for not being able to manage funds properly, with unspent amount having increased by almost 30% from 2011 to 2016.
Unspent public health funds of over R9,500 crore, using expired and substandard medicines at government hospitals and acute shortage of doctors and specialists is plaguing India's public healthcare delivery, showed the Comptroller and Auditor General's (CAG) performance audit of reproductive and child health under Union health ministry's flagship National Rural Health Mission (NRHM).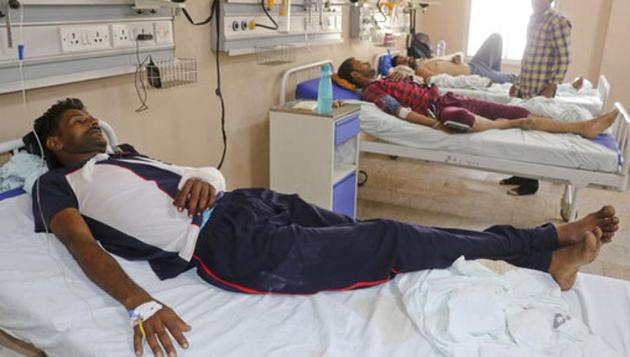 Health secretary dismissed the report saying these were stray gaps in an otherwise robust system.
"These are stray incidents and shouldn't generalize. We now have an absolutely robust quality control mechanism in place," said CK Mishra, secretary health.
The report found in 14 states medicines were issued to patients 'without ensuring the prescribed quality checks and without observing the expiry periods of drugs, thus exposing patients to grave risks.'
The states in question are Assam, Bihar, Haryana, Jharkhand, Karnataka, Kerala, Maharashtra, Manipur, Odisha, Punjab, Telangana, Tripura, Uttar Pradesh and West Bengal.
Non-availability of drugs as basic as paracetamol, B-complex and Albendazole was a huge problem in 24 states and union territories surveyed. Out of which eight did not even have essential medicines and consumables such as contraceptive pills, ORS packets and obstetric kit needed for reproductive and child health services.
Shortage of doctors, especially specialists in villages and districts was another issue that CAG pointed out in the report, and was observed in almost all selected facilities because of which people are forced to travel longer distances for treatment.
"In the selected community health centres of 27 states, the average shortfall of five types of specialists (general surgeon, general physician, obstetrician/gynaecologist, paediatrician and anesthetist) ranged between 77 and 87 per cent."
In selected 236 CHCs in 24 states/UT, only 1303 nurses were posted against the required 2,360.
One CHC in Odisha and two in Tripura were functioning without any doctor.
"More than 40% of the patients we see are from outside Delhi and most are from remote areas of the country. One of the reasons for us being overloaded is the ill-equipped public health facilities in our villages and districts," said a senior doctor at AIIMS, Delhi.
CAG also rapped the government for not being able to manage funds properly, with unspent amount having increased by almost 30% from 2011 to 16.
The unspent amounts with the 27 states rose from ₹7, 375 crore in 2011-12 to ₹9,509 crore in 2015-16, with worst performing states and UTs including Meghalaya, Andaman & Nicobar Islands, Uttar Pradesh, Telangana and Karnataka.
CAG recommended the health ministry to rationalize funds flow arrangement keeping in view the absorptive capacity of states and also to monitor and maintain details of interest earned on the unspent balances to ensure efficient utilization of funds.
"These are issues that we are looking into," said Mishra.