After Joshimath, Kinnaur panchayat members urge govt to ban more hydel projects
Jan 23, 2023 02:48 PM IST
Kinnaur is the largest district in Himachal Pradesh in terms of hydel generation. Due to indiscriminate construction of projects, it has become vulnerable to disaster
In the wake of the Joshimath land subsidence allegedly triggered by an under-construction power project, panchayat representatives in Kinnaur have urged the government to learn a lesson and ban the construction of more power projects in the district, which has a fragile ecology.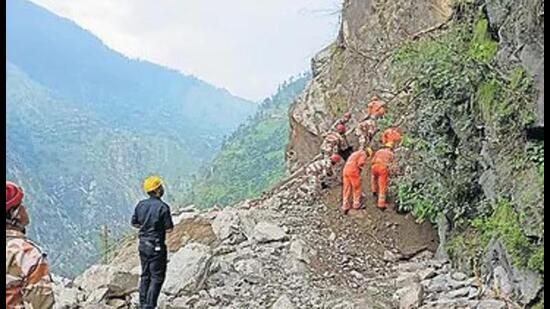 Also read: Climate change, fragile ecology make Kinnaur a ticking time bomb: Experts
The village representatives raised the matter in a four-point demand letter handed over to Jagat Singh Negi, the revenue, horticulture and tribal development minister of Himachal Pradesh, during his visit to the constituency on Sunday.
More than 50 panchayat representatives endorsed the letter.
Dinesh Negi, a block development council (BDC) member, says Kinnaur is the largest district in the state in terms of hydel generation. Due to indiscriminate construction of these projects, it has become vulnerable to disaster. "Landslides and flash-flood incidents have become frequent over the past decade. Hydel projects are threatening the existence of Kinnaur. Our government should learn from Joshimath," Negi said.
He said the people of Kinnaur want local MLA Jagat Singh Negi to take up the matter at the state and central levels for stopping all proposed hydel projects and respect local sentiment.
Through the demand charter, the panchayat representatives also raised the issue of laxity in the implementation of the Panchayat (Extension to the Scheduled Areas) Act in Kinnaur.
Zila Parishad member Shanta Kumar said Kinnaur and Lahaul-Spiti districts and Bharmour and Pangi areas of Chamba district come under the 5th Schedule of the Constitution. The Act of 1966 gives privileges to communities living in such areas.
The representatives wanted the Forest Rights Act (2006) implemented. During the previous BJP government, nearly 100 individual claims in Kinnaur district were recognised by the district-level committee. However, the representatives raised questions about the incomplete implementation of the Act.
Padma Dorje, a BDC member from Maling, said: "Only official documents have been recognised as evidence by the administration as per Rule 13(1)A of the Act, violating Rule 13(1)C of the Act as claims were returned to gram sabhas without written objection."
The Kinnaur district-level committee accepted the claim of community forest rights under Section 3(1)B of the Act of Lippa gram sabha only, but the administration has neither registered the claim in the Records of Rights under Rule 8(H) of the Act nor has the legitimate title been given to the panchayat.
Zila Parishad chaiman Nihal Singh said instructions should be issued to take action under nautor rules for allotting land to the landless and owners with less than 20 bighas in Kinnaur district.