Punjab CM-designate orders probe after cow carcasses found in Hoshiarpur
Mar 12, 2022 08:59 PM IST
Protesters block Jalandhar-Pathankot highway demanding arrest of culprits; police suspect cattle were slaughtered elsewhere before being dumped near rail track
Punjab chief minister designate Bhagwant Mann on Saturday directed the state director general of police to get a thorough probe conducted after a dozen cows and a few bulls were found slaughtered at Tanda in Hoshiarpur district.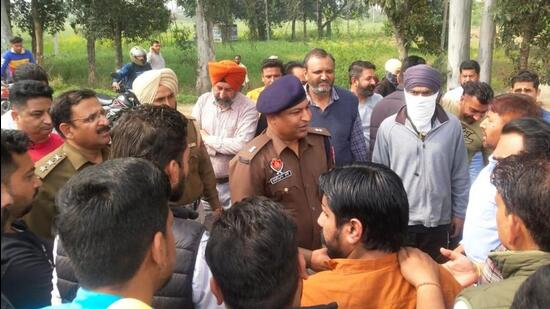 Taking serious note of the incident, Mann said bad elements should refrain from such inhuman acts as law and order would be maintained at all cost. Directing the DGP to "book the culprits of this heinous crime", he said that none would be allowed to vitiate the peaceful atmosphere of the state by perpetrating such crimes.
Earlier, during the day, tension prevailed at Tanda after the carcasses were found near the Cholang railway crossing. The suspects had removed the edible portions of the cattle and dumped the remaining parts.
As the news spread in the area, cow vigilantes and members of certain right-wing groups gathered at the spot. To exert pressure on the police to arrest the culprits, they started a sit-in on the Jalandhar-Pathankot highway. Local residents said the carcasses had been strewn all around. A broken part of a slaughter knife was also recovered from the spot.
The cattle had probably been slaughtered elsewhere and their carcasses dumped near the railway track, the police said. Newly elected Aam Aadmi Party legislator from Urmur Jasbir Singh 'Raja' Gill visited the site and met the protesters. He promised prompt action against the perpetrators.
Senior superintendent of police (SSP) Dhiruman H Nimbale claimed to have picked up vital clues on the basis of CCTV footage. "We are close to reaching the culprits. We have got vital clues in the case and will hopefully arrest them soon", said Nimbale.
He said that the railway police had registered an FIR under Section 295-A (maliciously outraging religious sentiments), 153 (wantonly giving provocation to cause riots) and various Sections of the Punjab Prohibition of Cow Slaughter Act at the Government Railway Police station in Jalandhar.
He said veterinary experts would conduct the autopsy of the cattle once the police collected evidence from the spot. The protesters lifted the dharna in the afternoon after getting a copy of the FIR. Meanwhile, Gau Sewa Mission president Swami Krishnanand condemned the incident and demanded a high-level inquiry.
Meanwhile, the CM designate appealed to the people to exercise restraint in this situation in larger public interest as the state police had already been directed to take strict action against the "perpetrators of this dastardly act".