Uttarakhand's Joshimath declared 'unsafe for living' after land subsidence
Jan 08, 2023 04:47 PM IST
The Uttarakhand government has started evacuating people from Joshimath, where land subsidence has resulted in cracks in over 600 houses
The Uttarakhand government has declared Joshimath's all nine municipal wards as 'disaster affected' and 'unsafe for living' under the Disaster Management Act in view of the growing threat from land subsidence that has resulted in cracks in over 600 houses in the holy city and has started evacuation of the people from these areas.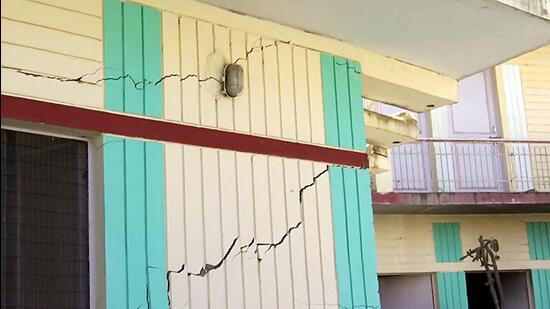 Ranjit Kumar Sinha, secretary of disaster management, said a notification under Section 23 of the Uttaranchal Disaster Mitigation, Management and Prevention Act 2005, has been issued and the decision came after an expert team, which is surveying houses in Joshimath, made a recommendation in this regard to the state administration.
"Four areas, which include two zones in Gandhinagar, one zone in Singhdar, two in Manohar ward and one in Sunil ward within municipal limits of Joshimath, have been declared unsafe for living and have been made no entry zones under the Disaster Management Act. We have deployed a team of state disaster response force and directed the officials to carry out evacuation of people from these zones," said Himanshu Khurana, district magistrate (DM), Chamoli.
Khurana said according to section 23 of the Disaster Management Act, during the period an area remains a disaster affected area they can work on prevention of disaster, mitigation of effects of disaster, facilitate, coordinate and monitor emergency relief, and monitor and coordinate reconstruction and rehabilitation.
Khurana said health department has been directed to send a team of psychologists and psychiatrists to address the mental trauma being faced by some residents of the town due to land subsidence activities.
Meanwhile, chief Minister Pushkar Singh Dhami said he had a telephone conversation with Prime Minister Narendra Modi on the emerging situation in Joshimath and what steps have been taken for the rehabilitation and safety of people in the area. Dhami said PM Modi has assured all possible help to save Joshimath and its people.
Piyush Rautela, executive director of Uttarakhand state disaster and mitigation authority, said " We have recommended that the municipal area of Joshimath facing land subsidence should be declared as disaster affected area and this will help in reducing the problems faced by the people regarding insurance and other relief measures".
According to Chamoli district officials, till now eight hotels have been acquired by the administration as a precautionary measure.
"We are ready if people want to shift elsewhere to safe places. One family in the Marwadi area raising cattle requested to be shifted nearby. We have shifted the family to a homestay facility near their affected house," said DM Chamoli.
Meanwhile, district administration distributed food packets and ration to the affected people in several wards of Joshimath.
Dikka Devi, a member from ward number 1, said, "Over 50 cooked food packets and ration were distributed in the Marwadi area on Sunday".
Kailash Rana, a resident of Manohar Bagh, said, " Mentally it is very taxing as it is for the first time I am witnessing a disaster of this magnitude in my area".
Some areas in Gandhi Nagar have been facing extensive land subsidence resulting in the widening of cracks. Many families have started packing their belongings.
Yogendra Singh, chief executive officer (CEO) of the Badrinath Kedarnath temple committee (BKTC) said, "Some cracks have been reported from two staff quarters near Narsingh temple out of 16 staff quarters under BKTC and so far, the Narsingh temple, the winter abode of Lord Badrinath, is safe from any land subsidence activity".
"BKTC is also providing shelter to the affected people at its guest house in Joshimath and the staff have been directed to help the administration in humanitarian relief measures," said Yogendra Singh.