Delhi mayor election: No polls, House adjourned after shocking AAP v BJP fight
Jan 06, 2023 03:29 PM IST
MCD Mayor Election 2023: The Aam Aadmi Party won last month's MCD election to end the Bharatiya Janata Party's 15-year control of the national capital's civic body.
The Delhi mayoral polls began Friday morning (unsurprisingly) amid ruckus with Aam Aadmi Party and Bharatiya Janata Party members shoving, jostling and fighting with each other; visuals from the meeting showed shocking scenes, with councillors clambering over each other to climb on top of desk and dais.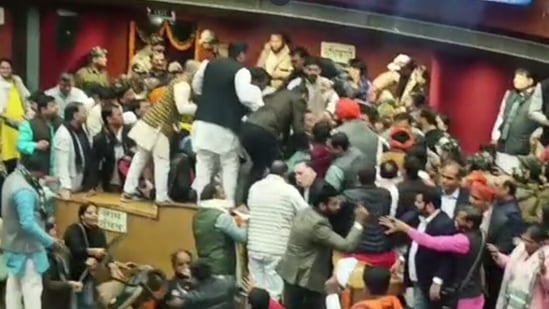 The clashes, which quickly turned violent with blows exchanged and a chair thrown, led to the meeting being adjourned before voting could take place.
The AAP - which recorded a thumping win in last month's civic body election to end the BJP's 15-year reign - has accused its rivals of 'hooliganism'. Not to be outdone, the BJP has claimed 'ruckus (was) started by AAP leaders'. Either way chaos broke out within minutes and marshals had to control matters.
LIVE COVERAGE | Some BJP-AAP councillors resort to fighting, chair thrown
The fracas began after presiding officer Satya Sharma - appointed by Lieutenant Governor VK Saxena over the AAP's recommendation of Mukesh Goyal - invited nominated councillors or aldermen (those who traditionally cannot vote) to take oath ahead of elected members (those who can vote).
READ | What does 'aldermen' mean; why are BJP, AAP fighting over this?
AAP leader Saurabh Bharadwaj tweeted: "Till date in the history of MCD, nominated councillor has never voted in the House. (BJP) want(s) to take possession of MCD by dishonesty."
"BJP doing hooliganism. Swearing-in of nominated councillors was held first. Ruckus broke out when we objected, asked that swearing-in of elected councillors be first," the AAP's Praveen Kumar told news agency ANI.
Delhi chief minister Arvind Kejriwal said it was 'unconstitutional' to let nominated councillors vote in the mayoral polls.
READ | 'Unconstitutional': Kejriwal after mayoral voting disrupted amid ruckus
In visuals shared by ANI, Kumar's - who also claimed BJP leaders 'threw a memento' as their share of the violence - shirt appeared to be torn open.
In videos shared by ANI utter madness follows as AAP and BJP councillors clash over the invitation to aldermen, with some grabbing shirts and collars of rival political leaders and others seemingly on top of desks raising slogans.
READ | Delhi mayor polls see high drama as AAP, BJP councillors clash
Security personnel struggle to regain control of the situation.
Earlier the LG's office had said he had - as 'administrator' - exercised powers under the Delhi Municipal Corporation Act (1957) to nominate 10 members.
The AAP had objected to this saying the appointments had been done without consulting its government in Delhi, and claimed the LG - who is the central government's rep in the national capital - was trying to skew the polls.
The BJP hit back at the AAP's allegations via MP Meenakshi Lekhi, who claimed the ruckus had been started by Kejriwal's outfit.
"... they are unaware of the rules. When they are in majority, why are they afraid? AAP MPs do the same in Rajya Sabha as well. They should allow voting."
The AAP, which now controls the Delhi government and municipal body, has fielded Shelly Oberoi for mayor with Ashu Thakur as a back-up. The party has also fielded Aaley Muhammad Iqbal and Jalaj Kumar for deputy mayor.
The BJP has fielded Rekha Gupta and Kamal Bagri, respectively.
Adding to the row over order of oath-taking and the issue of aldermen was the appointment of the BJP's Satya Sharma as the presiding officer, an appointment that prompted another jab from AAP MLA Bharadwaj.
"It is the tradition that the senior most member of House is nominated as protem Speaker or presiding officer. But BJP is hell bent destroying all democratic traditions and Institutions," he tweeted.
In last month's election the AAP claimed 134 of the MCD's 250 wards to relegate the BJP to second place. The BJP had initially said it would not contest the post of mayor (the Congress has also bowed out) but later made a U-turn.
With input from agencies