AAP wins 134 seats in MCD election, secures big win and ends BJP's 15-year reign
Updated on Dec 07, 2022 03:20 PM IST
Delhi MCD elections: Voting for control of the Delhi municipal corporation was held on December 4, after it was postponed due to the centre merging the three MCD bodies.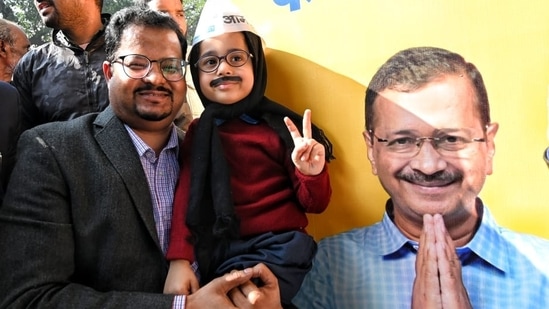 The Aam Aadmi Party (AAP) on Thursday claimed an emphatic win over the Bharatiya Janata Party (BJP) in the 2022 MCD election. Exit polls had given chief minister Arvind Kejriwal's AAP - which controls the city government - a clear win and relegated the BJP - which controls the city civic body - to a distant second. Initial trends suggested otherwise, with the BJP neck-and-neck and even ahead at times, but the AAP rallied and began steadily pulling ahead.
Kejriwal, speaking shortly after the win was confirmed, thanked voters and urged on all of the city's residents to work together to make the city prosper.
"Thanks to people of Delhi for this grand victory and many congratulations to all. Now all of us together have to make Delhi clean and beautiful," he tweeted.
READ | Kejriwal celebrates MCD win in Delhi with top AAP leaders
The chief minister also called on all opposition parties to unite and ensure a 'corruption-free' municipal corporation for the national capital.
"I want cooperation of BJP and Congress (in) working for Delhi... I appeal to the centre and ask for prime minister Narendra Modi's blessings to make Delhi better. We have to make MCD corruption-free," Kejriwal - flanked by senior party leaders, including Punjab chief minister Bhagwant Mann - said.
Delhi deputy chief minister Manish Sisodia tweeted shortly after the AAP's victory was confirmed, expressing 'heartfelt gratitude' to Delhi's voters.
"By defeating the world's biggest and most negative party, the people of Delhi have made a staunch honest and working Arvind Kejriwalji win," he said.
"For us, this is not just a victory, it is a big responsibility."
Final results for MCD election
Final results were declared at 3.16 pm.
The Delhi State Election Commission said the AAP had won 132 seats.
The BJP won 104, the Congress nine and independent candidates three.
2022 MCD election results: Follow live coverage
The Delhi Municipal Corporation has 250 seats, or wards, after a (contentious) re-drawing of boundaries earlier this year removed 22 seats.
The majority mark is set at 126.
READ | Full list of BJP, AAP and Congress winners / leading candidates
BJP and AAP both claim victory
For the AAP, MLA Saurabh Bharadwaj had said the party will win 180 and maybe even 230+ seats. "We are going to get over 180. If voters favour us, we can also cross 230. Mayor will be from our party. I think exit polls are pointing to AAP."
READ | 'Will get over 180, can also cross 230' - AAP's bold claim
The AAP's Aaley Mohammad Iqbal won the Chandi Mahal seat with the highest winning margin (recorded so far) - 17,134 votes.
READ | AAP's Bobi is first transgender MCD member: 5 things to know
Another key win went to the AAP's Timsy Sharma, who claimed the Jahangirpuri ward in which there were communal riots in April.
Background
Delhi witnessed a charged election campaign by the two leading parties, for whom top leaders - including union ministers and chief ministers of other states - went door-to-door to ask for votes and public support.
The BJP has governed the Delhi MCD since 2007 and the AAP has led the government since 2013. Historically the saffron party has enjoyed success in Delhi civic polls - even when beaten in the Assembly election.
READ | Why MCD poll results are crucial for BJP, AAP
This is the first election after wards were re-drawn and municipal corporations merged; there were 272 and three - the New Delhi, South Delhi and East Delhi bodies - from 2012 that were reduced to 250 and re-unified into one in May.
In 2017, the BJP won 181 of 270 wards for which voting was held, while the AAP won 48 and the Congress just 30.
With input from PTI