Drizzle on Thursday may snap 3-month dry spell: IMD
Jan 12, 2023 08:07 AM IST
Delhi last received rain on October 12, 2022, when the Safdarjung observatory logged 0.4mm of rainfall.
Delhi, which has currently gone without rain for 91 days -- one of the longest dry spells in the city in recent years -- is likely to receive light drizzle on Thursday, forecasts by the India Meteorological Department (IMD) show.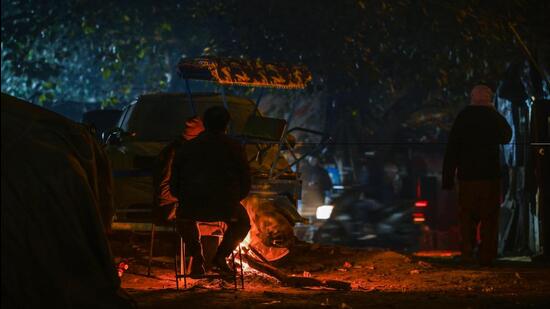 Delhi last received rain on October 12, 2022, when the Safdarjung observatory logged 0.4mm of rainfall. Since then, despite the weather in NCR being affected by western disturbances, the Capital has not received any rainfall.
Met officials said while north India was impacted by western disturbances in November and December, they were mostly feeble. "It is not that western disturbances have been missing this winter, but either they have been feeble and rarely influenced Delhi, or they have been far from the Capital and only brought cloudiness and no rain. Normally, we see one or two spells of light rain between November and December each year, but in 2022, that was missing," said RK Jenamani, scientist at IMD.
The rain forecast on Thursday will likely occur due to a western disturbance currently influencing the region until January 13 (Friday). Saturday onwards, cold northwesterly winds are predicted to return, leading to a drop in mercury.
The current western disturbance is likely to be stronger than the ones in November and December, officials said. "At present, there is a possibility that some drizzle or light rain is recorded in parts of Delhi. Even if trace rainfall is recorded at Safdarjung, this extremely long dry spell will be snapped," a Met official said on condition of anonymity.
To be sure, as per Delhi's long-period average, Delhi receives 6mm of rainfall in November, 8.1mm in December and the normal mark for January is 19.1mm. The Capital had received 128.6mm of rainfall in October 2022, as opposed to a normal mark of 15.1mm, however, all of this rainfall came in the first 12 days of the month.
According to IMD data, Delhi witnessed similar dry spells in 2018, when the city logged no rain for 72 days between January 24 and April 7. Before that, Delhi had gone 82 days without rain in 2011, between September 17 and December 9, 2011.
Last January, Delhi had recorded 88.2mm of rainfall, the highest for the month in 121 years.
Meanwhile, Delhi recorded a minimum temperature of 5.9 degrees Celsius (°C) -- one degree below normal for this time of the year and only slightly below the 6.4°C logged on Tuesday. The maximum, or day temperature, was 20.2°C, the normal for this time of the year and 1.5 degrees higher than the 18.7°C on Tuesday.
Delhi also witnessed fog on Wednesday, with visibility dipping to as low as 50m at both Palam and Safdarjung. Delhi's Indira Gandhi International (IGI) airport recorded dense fog between 4:30am and 8:30am, with the lowest visibility of 50 metres recorded at 7:30 am. While no diversions were recorded, some flights were delayed due to poor visibility. Trains too were impacted, with at least 26 trains running late by an hour or more in the morning, northern railway data showed.
Forecasts for Thursday show an increase in the city's minimum to around 8°C, while the maximum temperature is likely to hover around the 20-degree mark. Moderate fog is expected on Thursday, while dense fog is likely to return on Friday, IMD forecasts show.