Nasal vaccine at govt centres in Delhi from Feb 15
Jan 28, 2023 04:52 AM IST
Union health minister Mansukh Mandaviya and science and technology minister Jitendra Singh launched Bharat Biotech's nasal Covid vaccine, iNCOVACC, on the occasion of Republic Day on Thursday
India's first nasal vaccine for Covid-19, iNCOVACC, which was formally launched on Thursday, is likely to be made available at government centres in the national capital by mid-February, senior officials of the Delhi government said on Friday. The availability of the vaccine in private centres will, however, depend on the bookings made by each hospital, they added.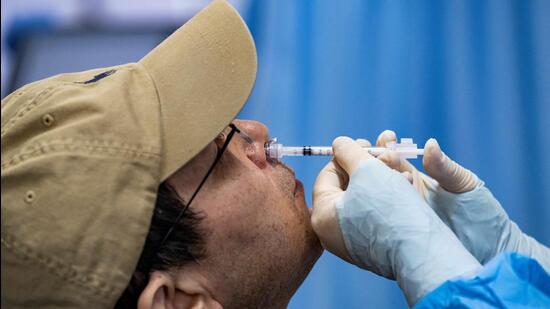 "We will start procuring stocks. After February 15, the nasal vaccines are expected to be administered in our centres," a government official said.
Union health minister Mansukh Mandaviya and science and technology minister Jitendra Singh launched Bharat Biotech's nasal Covid vaccine, iNCOVACC, on the occasion of Republic Day on Thursday.
The nasal vaccine was approved by the Central Drugs Standard Control Organization (CDSCO) in December. Later that month, India's technical expert committee on immunisation, the National Technical Advisory Group on Immunisation (NTAGI), also recommended it be included as one of the "precautionary dose" adults can take as boosters.
In a statement issued on Thursday, the manufacturers said that for large procurement by the Centre and state governments, iNCOVACC will be priced at ₹325 per dose, and for private vaccination centres, it will be priced at ₹800 per dose. The vaccine has been approved for use as a primary series vaccine and heterologous booster in India. However, in Delhi, where the coverage of the two primary doses is over 97%, the focus of making the nasal variety available is to improve the booster coverage.
ALSO READ: India launches world's 1st intranasal Covid vaccine: Check price, availability
Delhi government data shows that currently less than 30% of the city's population has taken the Covid booster dose. The coverage of the first dose is 112% (vaccination crossed 100% as several people from other districts and a migrating population were also vaccinated in Delhi) and for the second dose, it is 97% against the national average of 92%.
Dr Sandeep Budhiraja, group medical director, Max Healthcare and senior director, Institute of Internal Medicine, said that the nasal vaccine can give a fresh push to the government's vaccination drive.
"I think people will be encouraged to get the nasal vaccines as their booster because of the ease of administration. Some people have a phobia of needles so it is an easy vaccine to administer. Currently, just about 27% of the population in India have taken their third dose. There is a need for people to take their booster doses and with this sort of nasal vaccine being propagated and approved, the uptake among the people would be higher," Dr Budhiraja said.