MCG seeks police help after locals abuse and assault sanitation staff
Updated on Nov 23, 2022 11:19 PM IST
Civic body officials said residents are still trying to give sanitation staff their mixed waste and then get into confrontations and brawls with the staff when they refuse to pick it up and ask them to segregate the waste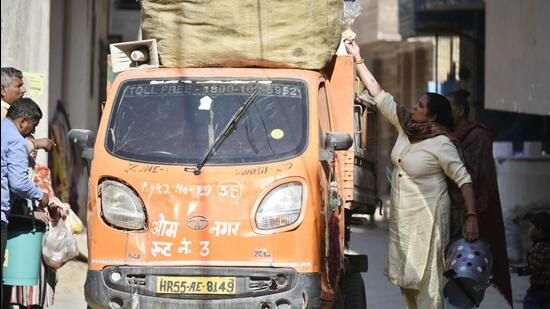 The Municipal Corporation of Gurugram (MCG) on Wednesday sought police help after at least three sanitation workers were assaulted by residents of Old Gurugram after they refused to collect mixed waste. Police said they have been receiving similar complaints from sanitation staff deployed in other areas following which a probe has been launched into the matter, said officials.
Civic body officials said residents are still trying to give sanitation staff their mixed waste and then get into confrontations and brawls with the staff when they refuse to pick it up and ask them to segregate the waste. Three staff members were assaulted by the locals in Sector 7, Sector 28 and Sector 51, the municipal commissioner said, adding that major resistance has been reported from Feroze Gandhi Colony, Mianwali Colony, Subhash Nagar, Hans Colony, Harijan Basti, Sector 28, Sector 39, Sector 52, Chakkarpur, Sector 45, Rajiv Nagar, Patel Nagar, Wazirabad, Sector 51 and Naharpur Rupa village, among others.
Preet Pal Sangwan, assistant commissioner of police (crime), said they will take action against the offenders once they receive written complaints from the concessionaire and civic agency. "Our teams had gone to the spot after calls were made on the police control room but no formal complaint has been made. We are scanning CCTV footage from the areas where trouble was reported to identify the culprits," he said.
Sangwan said any person who tries to abuse or assault any public servant will be booked under the Indian Penal Code.
MCG joint commissioner Naresh Kumar on Tuesday had said the police had to be called to at least three spots after locals started creating a ruckus and threatened waste collectors. "Residents slapped the drivers and the concessionaire staff when they went to collect household waste. This has been taking place for the past three days in these areas. Residents have said they will not segregate no matter what. If the waste is not collected, they will throw it on the roadsides. The vehicles are returning without collecting waste but that is only creating more garbage vulnerable points (GVP) -- where waste is dumped in the open -- in the area," he said.
Kumar said seeing police on the spot, residents start complaining that the team was misbehaving with them and forcing them to segregate waste on the spot. "There are CCTV cameras installed in most of these areas and we have asked police to scan the footage to know what actually transpired. Three staff members were assaulted by the locals in Sector 7, Sector 28 and Sector 51," he said.
Kumar said their teams did not collect mixed waste from Maruti Vihar, Saraswati Vihar, Silver Oaks Apartments and RBS hospital on Tuesday and Wednesday.
The corporation has issued directions to its sanitation wing and door-to-door waste collection concessionaire Ecogreen to ensure that they collect only segregated waste from November 21. A month-long awareness drive was launched across the city to make citizens aware of the change and sensitise them on the need to segregate waste at home.
Kumar said their attempts to coax people in these areas to segregate waste have failed to yield results. "When police intervened on Wednesday, residents said they were not aware that they had to segregate waste every day and had thought it was only for November 20," he said.
However, residents said sanitation workers do not visit their localities with any regularity. "Even if we segregate the waste, no one comes to collect it forcing us to dump it at vacant lots. When we ask the staff employed by the concessionaire staff they start misbehaving. We are ready to sort our waste if waste collection agents agree to collect it every day," said Sandeep Singh, a resident of Sector 7.
Sanjay Sharma, deputy chief executive officer of Ecogreen Energy, said, "We gave residents enough time but people are still adamant that they will not segregate. The residents are not cooperative and despite repeated warnings and awareness campaigns, they hand over mixed waste. In some areas, they're abusing our drivers and also manhandling them. We're politely asking people to segregate and refusing to pick mixed waste."
"Apart from segregation issue our three MRF centres are also not operational due to the ongoing protest by the residents in Carterpuri, Ullawas and South City-2," he said.
Personalise your news feed. Follow trending topics