Passengers left in lurch as GMCBL shuts four bus routes due to bad roads
Published on Nov 24, 2022 11:23 PM IST
Officials said the cancelled routes originated from Gurugram bus stand and ended in Pataudi (route no. 254B), Farrukhnagar via Wazirpur (254), Chandu (255) and IMT Manesar via Hayatpur (254A)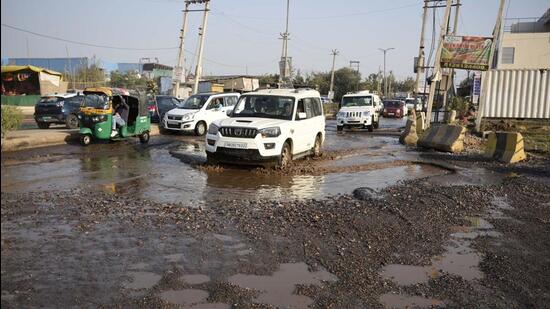 The Gurugram Metropolitan City Bus Limited (GMCBL) has closed four important routes owing to damaged roads, officials said on Thursday, adding that these routes have a monthly ridership of about 300,000, which had dwindled to about 150,000 a month owing to the bad condition of roads.
Officials said at least 24 buses were operating on these routes earlier with an average ridership of about 300,000 a month. Authorities kept reducing the number of buses to avoid damage and only 12 were operating in the end, bringing the ridership down to 150,000 before the routes got finally closed.
Officials said the cancelled routes originated from Gurugram bus stand and ended in Pataudi (route no. 254B), Farrukhnagar via Wazirpur (254), Chandu (255) and IMT Manesar via Hayatpur (254A).
Officials said the GMCBL bus fleet is low-floored and bus breakdowns have become frequent mostly due to the poor road conditions.
Officials said the damaged stretches are Kadipur chowk to Hayatpur, Wazirpur T-point to KMP, Hayatpur to IMT via Baskusla and Basai to Dhankot. These four routes, of a total 37, generate the highest revenue for GMCBL, they said.
Anju Chaudhary, GMCBL chief executive officer and director, said they had raised the issue of bad roads damaging buses before the coordination committee meeting of Gurugram Metropolitan Development Authority a few weeks ago.
"These closed routes would restart once road repair works are completed. Authorities have been directed to complete the repair works as soon as possible," she said.
Dinesh Yadav, a resident of Hayatpur, said the shutting of the bus route has affected everyone. "Worst sufferers are those who work in factories in IMT Manesar or Gurugram and live in Hayatpur on rent. GMCBL bus service was a smooth and easy transport service for them," he said.
Yadav said a sewer line was constructed in the village due to which the road got damaged. The road was dug up more than two months ago and it is still in the same condition. "Thus, buses could not come here anymore," he said.
Manoj Kumar, a resident of Pataudi, said earlier the GMCBL buses used to be visible on the roads but for the past several weeks, he has not seen them. "I don't know if they are plying or not but people with meagre income suffer in the absence of these government run buses. Villagers had complained in the past to improve service and extend the routes but nothing happened," he said.
Chaudhary said private buses also ply on these routes and their fares are more or less the same as that of GMCBL and commuters are using them as well. She said the heavy rain in September made the road conditions worse.
GMDA authorities said GMCBL conducted a joint survey of damaged roads with Delhi Integrated Multimodal Transit System (DIMTS) authorities on September 27.
They said GMCBL submitted to them and the Gurugram deputy commissioner a survey report on November 18 urging that roads be repaired immediately so that the suspended routes be restarted.
Neha Sharma, GMDA public relation officer, said these damaged roads are not actually of GMDA but of the Municipal Corporation of Gurugram or the public works department.
"In light of the GMCBL report, instructions were issued to concerned authorities to carry out repairs on priority so that these buses could restart services as soon as possible.
"GMDA CEO Sudhir Rajpal has given clear instructions that the common public must not suffer from any inconvenience due to non-plying of these buses," she added.
A senior government official said the GMCBL runs low-floor buses with ramps and an incline on its side to facilitate the entry/exit of wheelchair-bound persons.
"Even a small pothole or uneven road surface damage these buses. The ground clearance is hardly 1.5ft but craters are 2-3 foot deep," he said.
"Suspension system, including parts such as a cow horn, rubber air bellows, shockers, transmission system including gear boxes and axle, get damaged frequently from poor roads," he said.
Another officer said these buses have monocoque body structure, which means that there is no separate chassis, and the entire structure gets damaged by jerks.
₹1.5 crore spent on spares and repairs monthly
Officials said around ₹1.5 crore is spent monthly solely on repairs to keep the buses, damaged from poor roads, running. They said a rubber air bellow costs ₹4,500, gear box around ₹12 lakh, cow horn system up to ₹2 lakh, shocker up to ₹8,000 and all these result in heavy expenditure owing to damages.
"Around 65-70% of fleet got damaged in the past four years. These buses must operate for a decade as per agreement with the private firm that runs and maintains them for GMCBL. But if they could run for six to seven years in such a condition, it would be appreciable," he said.
GMCBL runs 208 buses of which 50 are plying in Faridabad while rest in Gurugram.
Personalise your news feed. Follow trending topics