Surajkund Crafts Mela gets underway in Faridabad
Feb 04, 2023 12:34 AM IST
The 36th edition of the Surajkund International Crafts Mela, showcasing the cultural fabric of the country, opened to public in Faridabad on Friday
The 36th edition of the Surajkund International Crafts Mela, showcasing the cultural fabric of the country, opened to public in Faridabad on Friday. It will continue until February 19 and will be open to visitors daily from 10.30am to 8.30pm, organisers said.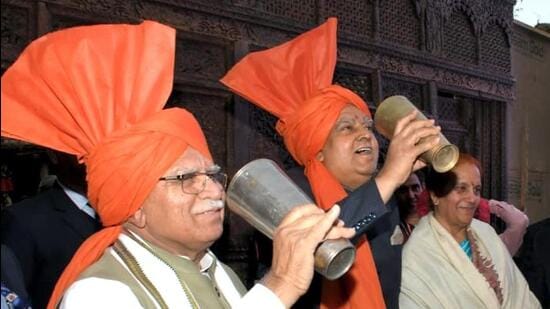 Jointly organised by the Surajkund Mela Authority and Haryana Tourism, in collaboration with the Union government, the mela is one of the largest handicraft and cultural fairs in the country and is expected to see around 50,000 visitors daily on weekdays and about a 100,000 on weekends.
This year, the theme state is the north-east region and the partner nation is Shanghai Cooperation Organisation (SCO), which, apart from India, has China, Tajikistan, Russia, Kazakhstan, Kyrgyzstan, Pakistan, and Uzbekistan as its members. Besides them, 40 other countries, including Russia, Turkey, Cambodia, and the United Arab Emirates, are participating in the event.
Inaugurating the mela on Friday, vice-president Jagdeep Dhankhar said India has become the fastest-growing economy in the world, and art and craftsmen have made significant contributions. "Earlier, our country was in 10th place in terms of economic progress, whereas under the leadership of Prime Minister Narendra Modi, it has now jumped to 5th place and I am hopeful that India will soon be at the first position," said Dhankhar.
Describing the Surajkund Mela as a confluence of diverse cultures, he said the participation of Shanghai Cooperation Organisation countries in this mela is a historic moment.
Speaking at inaugural event, Haryana chief minister Manohar Lal Khattar said, "Every year, there is a participating nation and a theme state. For this year, the SCO is the partner nation, while the eight states of the north-east -- Arunachal Pradesh, Nagaland, Sikkim, Assam, Manipur, Meghalaya, Mizoram, and Tripura -- have been made the theme state. The artists of these states will come together to showcase their arts, handicrafts, and cuisines on a single platform."
Khattar said these past 35 years, Surajkund Mela has been a great platform for craftsmen and handloom artisans to showcase their skills and craft. "This mela allows every artist to get acquainted with the folk arts, cuisine, music, dances, and costumes of different regions," he added.
One of the major attractions of the fair this year are the products made by inmates of 19 Haryana jails.
Muhammad Akil, the director general of police (prisons), said, "This is the second year that we have displayed more than 110 types of items and there are people who are paying in advance for these products. Furniture, bakery, sweets and other items made by inmates are in high demand in Delhi-NCR, and also abroad. We are trying to cash in on the opportunity so that even inmates can make some profit," he said.
Jai Kishan Chillar, superintendent of Faridabad jail and nodal officer of staff at Surajkund Mela, said they have clocked a revenue of ₹50,000 on the first day itself. "We have launched a "Jail" brand, the logo of which is embossed on all our products. Even foreign nationals have bought our products and many of them have placed orders to ship items back to their countries," he said.