Surveillance cameras upgraded to detect traffic violations
Aug 18, 2021 11:38 PM IST
The process of installing these cameras started early this year and 13 such cameras were installed till March. However, work stalled due to the second wave of the Covid-19 pandemic
The Gurugram Metropolitan Development Authority (GMDA) has upgraded cameras installed at 28 points to simultaneously help with surveillance and traffic management, as part of its Safe City project.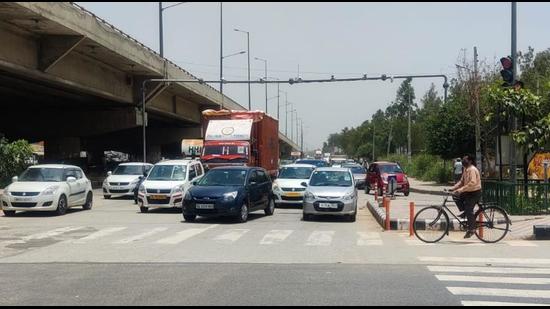 Officials said that full-surveillance cameras have been installed at 28 points that can record proceedings as well as read the number plates of vehicles involved in traffic offences. These cameras also facilitate automated issuance of e-challans to violators, as the system is connected with the database of the National Informatics Centre (NIC).
"Earlier, we had installed general surveillance cameras in the city for public safety, but we upgraded cameras at a few sites to full-surveillance ones, especially at busy crossings or places with heavy footfall. At the full surveillance sites, the cameras can read the number plates of the vehicles and initiate e-challans for violators. As the system is integrated with the database of NIC, challans are sent directly to offenders, be it a resident of Gurugram or other states," a senior official with the GMDA's Smart City division said.
Of the 28 cameras, nine full-surveillance cameras have been installed at Bakhtawar Chowk, four at Wazirabad four-way intersection, eight at Rezang La Chowk, three at ATI Chowk near Sector 54 Rapid Metro and four at the Galleria Market intersection. These cameras have additional features, including automatic number plate recognition and red-light violation detection.
The process of installing these cameras started early this year and 13 such cameras were installed till March. However, work stalled due to the second wave of the Covid-19 pandemic. Officials said that e-challans were issued from April 9, but the exact number issued till date was not available.
Officials said that the full-surveillance cameras can also help locate stolen vehicles as specific numbers uploaded to the system will be detected by these cameras and officials alerted. Officials said that these cameras are also monitored by police officials at the integrated command and control centre regularly.
After monitoring these sites for the next few months, the GMDA is likely to increase the number of full-surveillance cameras. However, a timeline has not been set.
Under the Safe City project, the GMDA has already installed 1,100 live-feed CCTV cameras in the city. Another 100 cameras will be installed by the end of this month, officials said.
The authority is also in the process of installing facial recognition cameras at 10 locations to track criminals and improve public safety. Two such cameras have already been installed at Sheetla Mata Mandir and the City Bus Stand. A tentative list of places for the installation of facial recognition cameras includes three metro stations, the railway station, bus stand and a government hospital, among others.