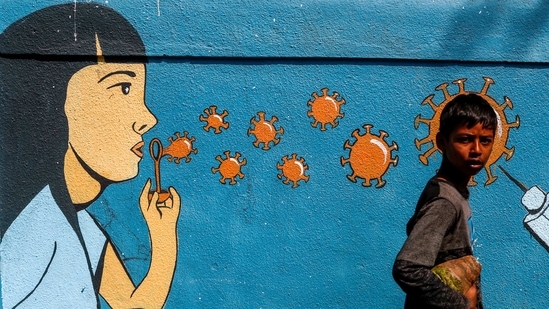 Maharashtra records over 11,000 Covid-19 cases, first time in nearly 5 months
Maharashtra is among the five states that are currently reporting the maximum number of daily cases of the coronavirus disease.
UPDATED ON MAR 07, 2021 08:27 PM IST
Maharashtra reported a daily spike of more than 11,000 cases of the coronavirus disease (Covid-19) on Sunday, for the first time in nearly five months, which has pushed its tally to 2.21 million, the state's health department bulletin showed. There were 11,141 cases of Covid-19 in the last 24 hours in the western state. It had logged 11,447 infections in a single day on October 16 last year. The state's capital city of Mumbai also witnessed the highest number of daily cases at 1,361 since October 28 last year when it had recorded 1,354 cases in one day.
Maharashtra's positive cases have reached 2,219,727. Of these, 2,068,044 people have recovered from the viral infection while 52,478 people have died with 38 fatalities recorded in the last 24 hours. Of the total cases, Mumbai contributes 333,569 infections and 11,504 have died in the metropolitan city due to the coronavirus disease.
Follow latest updates on Covid-19 here
Amid the worrisome figures, that have been rising almost every day since the last month, the central government has sent a high-level team to the western state led by chief minister Uddhav Thackeray. The panel was sent on Saturday to Maharashtra and Punjab to assist their health departments and review the prevailing surveillance, control and containment measures.
Another team of experts which was in Maharashtra on March 1 and 2 has cited local body elections, crowding in public transports, opening of schools and increased gatherings as the possible reasons for the Covid-19 upsurge in the state. "While the exact causes of the surge are not known— since laxity in Covid-19 behaviour is not specific to the state — the possible factors are Covid-inappropriate behaviour due to lack of fear of disease, pandemic fatigue; miss outs and super spreaders," the report stated.
As cases had begun to rise in the state last month, starting from the Vidarbha region, the chief minister had warned of another lockdown. While shutdowns and night curfews have been imposed in districts reporting a high number of cases, there is so far no word on the statewide lockdown even though Thackeray has said he was not in favour of it.
Maharashtra is among the five states that are currently reporting the maximum number of daily cases of the coronavirus disease. Along with it, Kerala, Punjab, Karnataka, Gujarat and Tamil Nadu accounted for 84.71% of the 18,711 new daily cases reported in a day by Sunday morning, the Union ministry of health and family welfare said.
Topics
Close