Malavika's Mumbaistan: No Flies Undone Zone
Jan 07, 2023 12:21 AM IST
Areas designated for relieving oneself are always suitably identified by symbols and lettering that clearly state 'Toilet' and are secured by locked doors and therefore are quite distinct from the appearance of one's fellow passengers (who to the best of our knowledge) do not bear any such lettering or symbols on their personage, at any given time mid-air
Dear international flyers,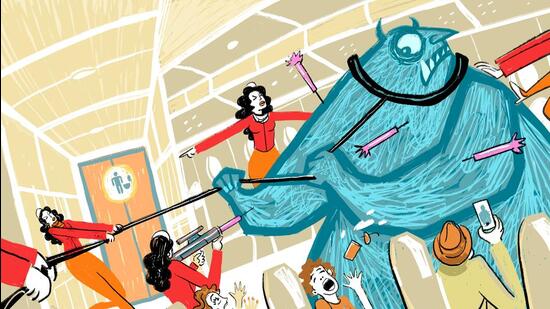 Recently, it has been brought to our notice that there is a rather disturbing trend that is becoming prevalent on some of our aircraft, one which flies in the face of all standards of public decency and consideration: that of inebriated (male) passengers choosing to relieve themselves (i.e. urinate) on fellow (female) passengers, rather than in the lavatories provided explicitly for the purpose.
It would be stating the obvious to say that this is a practice that flies in the face of every standard of decency, propriety and consideration, regarding one's fellow passengers or even airline crew, who dare we remind you fly the flag of their airline with admirable dedication and responsibility and to the best of their ability.
Regarding the two recent incidents of this practice, we have been informed by a fly on the wall that not only were the crew completely at a loss to provide adequate relief to the victims of these dastardly criminal acts but that its perpetrators were not suitably reprimanded and had disembarked the flight without any repercussions - or in simple words were allowed to fly the coop!
Hence, rather than fly off the handle we would like to give the matter a fly and place on record our deep concern over this growing trend of retrograde passengers who are proving to be a fly in the ointment of all rules and standards of smooth and safe international travel because they have not been potty trained or are unable to hold their liquor, or their bladders-or all of the above!
Given the seriousness of the situation, the following are a set of rules and regulations which we hope will be adopted as standard operating practice henceforth, to avoid such distressing incidents in the future.
1. All (male) passengers are requested to identify the areas designated for the relieving of their bladders and bowels as soon as they enter the aircraft. If they have any difficulty in doing so, they should seek the assistance of members of the aircrew by holding up their pinky finger and saying 'Please Miss, May I?'
2. Areas designated for relieving oneself are always suitably identified by symbols and lettering that clearly state 'Toilet' and are secured by locked doors and therefore are quite distinct from the appearance of their fellow passengers (who to the best of our knowledge) do not bear any such lettering or symbols on their personage at any given time mid-air.
3. If for some reason, a passenger confuses a fellow passenger for an available toilet and does relieve himself on them (her). Not only will they be placed on a permanent no-fly zone, but for the rest of the duration of the flight they will be addressed as 'Mr Piss Artist' by all members of the flying crew and will be required to sit in the seat they have soiled for the remainder of the journey; meanwhile, their victim and the passengers in the two rows ahead and behind them will be given free upgrades to Business or First Class on the same flight.
4. They will also be given as many tranquilisers as they desire, all the remaining alcohol on board that 'Mr Piss Artist' has not imbibed and a helping of every duty-free perfume and cologne available -no questions asked.
5. In the event that there aren't enough seats for upgrades for all the neighbouring passengers of the victim, they shall be handed vouchers assuring them of free upgrades on the next available flight that they book on the airline.
6. They will also receive free optional therapy sessions to address the trauma that they have undergone so that they can enjoy untroubled and anxiety-free future flying experiences
7. Meanwhile, passengers who cannot tell the difference between a toilet and a sleeping passenger will be required to undergo a psychological evaluation. They will also be required to wear a sign that identifies them as Mr Piss Artist for the rest of their lives when they undertake any future travel (which will have to be on trains, buses and ships on account of their being placed on the no-fly zone.)
8. Also, those air personnel who fail to identify passengers who are approaching the stage when they cannot tell the difference between a toilet and a sleeping passenger and continue to serve them alcohol will be served punitive action, which will be in the form of having to clean up the soiled seat solely on their own (and with no access to any cleaning agents or gloves or deodorants). Also, in lieu of their transgression, their personal luggage will be impounded when they land and until they board their next flight, so that they are forced to wear the same smelly clothes and they fully appreciate the extent of their error.
9. Finally, it is our ardent wish that we can put all this behind us and look forward to smooth and safe flying in the New Year -in which flies are unzipped in no other areas except the toilets!
Sincerely and Hopefully,
The Directorate General of Civil Aviation