Our aim not to take Bollywood from Mumbai to UP: Yogi
Jan 04, 2023 11:25 PM IST
In Mumbai on a two-day visit, Yogi said that UP seeks to take neither the Mumbai's film industry nor any industrial investment here to UP, but wants to have a healthy competition with them. During his visit, Yogi is expected to meet industrialists, investors, bankers and personalities from Bollywood
Mumbai: Uttar Pradesh chief minister Yogi Adityanath on Monday said that the North Indian state is transforming and will emerge as one of the most progressive states in the country by achieving the target of becoming a $ 1trillion economy in the next five years.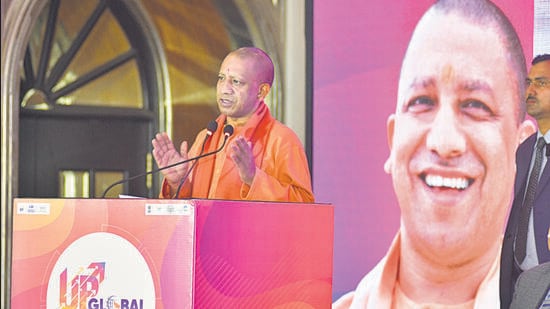 In Mumbai on a two-day visit for a road show, Yogi said that UP seeks to take neither the Mumbai's film industry nor any industrial investment here to UP, but wants to have a healthy competition with them.
During his visit, Yogi is expected to meet industrialists, investors, bankers and personalities from Bollywood. He kicked off his tour by meeting UP diaspora on Wednesday.
On Thursday, he will meet bankers from private and public sectors at 9 am, before a road show for GIS 2023. Representatives from leading industries; including Tata Group, Reliance Industries, Mahindra and Godrej are expected to participate in the road show.
Yogi elaborated on the film city being built in his state. "The film city, we are building in Uttar Pradesh, is spread over 1,000 acres of land (Mumbai Film City is on 500 acres of land).
"Our aim is not to take Bollywood from Mumbai to UP. We are inviting the film industry by giving them world class facilities. Renowned studios, from across the globe, such as Universal Studios are ready to come to us.
"So, we are not snatching anything from anybody, but it will be a healthy competition between the two," he said.
Asked whether UP will achieve its target of $1trillion economy in the next five years, Yogi said the development brought in every sector in the last six years will help the state in achieving the goal.
"Today we have marked development in every field including infrastructure, industries in the last six years. We have 94 lakh MSME units that will drive the development of the state," he said.
"We have brought a paradigm shift in the law-and-order situation in the state. We have not seen a case of single riot in the state in last six years. Industrialists and investors feel safe in the state now," added Yogi.