The Senas can reunite if Uddhav introspects, says BSS chief spokesperson
Surendra P Gangan and Yogesh Naik
Jan 02, 2023 11:47 PM IST
Kesarkar said when he was leaving the party last year, he had "expressed gratitude towards him and told him that he needs to put his house in order". "He should have done some soul searching then. If he does that even today, the party can come together," said Kesarkar
Mumbai: School education minister and chief spokesperson for Balasahebanchi Shiv Sena (BSS) led by chief minister Eknath Shinde, Deepak Kesarkar, caused a stir in political circles on Monday when he indicated the possibility of a patch-up between the two Sena factions. Kesarkar stated that if Uddhav Thackeray, head of Uddhav Balasaheb Thackeray (UBT), introspected about the act of his MLAs' rebellion, the two factions could reunite.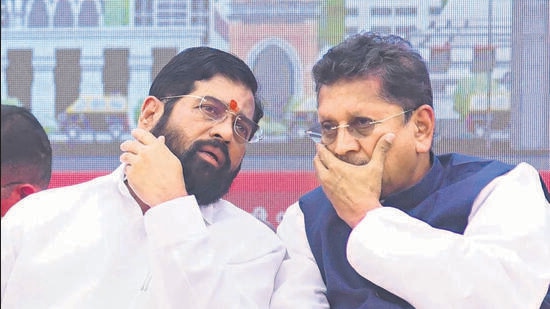 Kesarkar said when he was leaving the party last year, he had "expressed gratitude towards him and told him that he needs to put his house in order". "He should have done some soul searching then. If he does that even today, the party can come together," said Kesarkar.
ALSO READ: 'Putin, Biden, Charles discussing who is Uddhav Thackeray': Sanjay Raut's viral speech
Kesarkar's statement adds grist to rumours of growing unrest within BSS.
Last week, Abdul Sattar, who is under the scanner over giving away agrarian land to a private individual at a throwaway price, remarked that he was dragged into the controversy by his own disgruntled colleagues who could did not secure ministerial berths in the present government. The agriculture minister had also faced allegations of ordering officers to collect funds for the five-day Sillod agri festival from seed and fertiliser traders and dealers.
Kesarkar, however, said Sattar's remarks about his colleagues in public "was unwarranted and he should have spoken to the party leadership at an appropriate forum".
BSS insiders blame this dissonance on the unrest within. "The rebel MLAs were assured with a chunk in the pie of power after the formation of the government. Only 10 of the 50 MLAs (including 10 independents), who stood by Shinde during the rebellion, have been sworn in. The remaining are waiting for the second cabinet expansion. They were optimistic after the first expansion took place on August 9. This prolonged wait is making the aspirants restless," said a BSS leader, adding that they were losing ground in their own constituencies "because of controversies and lack of constructive work".
Sena (UBT) hits back
Incidentally, Kesarkar and Thackeray came face-to-face at the winter session in Nagpur recently, when the former went to meet deputy chairman of legislative council, Neelam Gorhe, (who belongs to the Thackeray camp). Thackeray, who was in Ghore's chamber at the time, is believed to have given Kesarkar an earful.
ALSO READ: 'Not afraid of even his father': Fadnavis replies to Aaditya Thackeray; 'Under his nose'
Another leader from BSS and a senior leader of Shiv Sena (UBT) claimed Kesarkar made the statement to deflect attention from the current controversies the party was facing.
Shiv Sena (UBT) MP Sanjay Raut said the party's doors were permanently shut to the rebels. "The message is clear – the Shinde camp is divided into factions. It is not us, but they need to introspect. The differences within the camp are surfacing anew every day and that is the reason they have started speaking about uniting. Shiv Sena (UBT) will not accept them. They will have to merge with BJP," said Raut. Calling BSS a "demoralised" party, deputy leader and MLC, Sachin Ahir, said, "Their MLAs are very unhappy, as the commitment made to them have not been fulfilled. Despite so many MLAs leaving our party, our base is not disturbed. There is no question of us getting together. These statements are made to divert attention."
ALSO READ: Uddhav was 'greedy' for CM's chair: Nadda
Nationalist Congress Party (NCP) MLA Eknath Khadse concurred: "There is a huge unrest among the 40 rebel MLAs who had defected from their party for the sake of power. Shinde and Fadnavis are not able to expand the cabinet. The rebels went with Shinde not out of affection, but to gain power. There is much discontent among people towards the Shinde-Fadnavis government, which has not been able to fulfil the interest of people. If Kesarkar has spoken about a reunion, there could be something brewing between the two."
While Kishori Pednekar, former mayor, said, "they must speak to Thackeray and rejoin", Anil Parab, Sena (UBT) MLC, said, the disgruntled leaders "have to decide whether to come back or not".
Mumbai based political analyst Hemand Desai said, "I do not think the entire Shinde camp would be able to go back and merge with the original Sena, but yes few of the MLAs may tap the possibility. The public perception about the government is not in the favour of Shinde and so is the sentiment about the MLAs in their respective constituencies. In this backdrop, Kesarkar's remarks are significant."