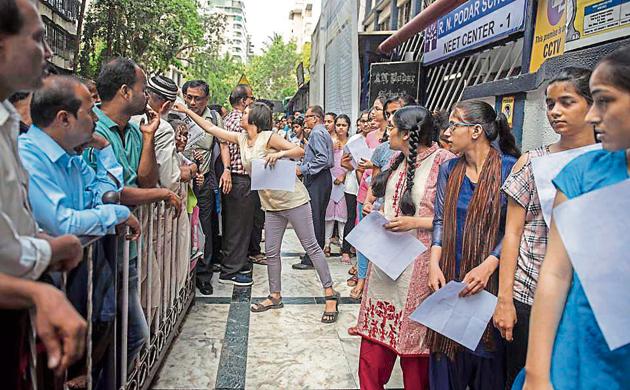 NEET exam in Mumbai: Delay due to biometrics, lengthy Physics section irk students
Most students also complained that the exam was difficult and lengthy in some parts.
UPDATED ON MAY 06, 2018 11:48 PM IST
The National Eligibility-cum-Entrance Test (NEET) to get seats in medical colleges was conducted smoothly across centres in the city on Sunday. A few latecomers were denied entry to exam centres and in some places, there was an initial delay in finishing biometric process.
Most students also complained that the exam was difficult and lengthy in some parts. "We saw two students reach the school gate at 9:32am, but the security did not allow them to enter the campus. Both students said they were travelling from far and got stuck in traffic," said Aarti Mhatre, parent of another NEET candidate whose centre was in Colaba.
The Central Board of Secondary Education (CBSE), the authority organising the exam, had made it clear that all students need to enter their respective exam centres before 9:30am to take the exam at 10am. Maharashtra witnessed the highest registration by candidates for NEET this year with students appearing from 345 centres.
As per the procedure, biometric finger prints of all students were taken at the time of entering and leaving the exam hall. However, at some centres, students were unhappy about finishing the biometric and videography process during the exam. "The process of checking biometric finger prints of students should be done before the exam. We wasted 10 to 15 minutes on finishing this process in the middle of the paper," said Janhvi V, who took the exam from a centre in Malad.
The paper was a mix of 180 questions divided between physics, chemistry and biology sections. Many found the physics part the toughest. "Physics section had many questions based on calculations which is why many found it lengthy. Chemistry section had a mix of questions from National Council of Educational Research and Training (NCERT) and state board syllabi. Biology section was easiest as compared to other sections," said Subhash Joshi, a teacher.
Close