16 new accident-prone 'black spots' identified in Ghaziabad district
Published on Jan 21, 2023 12:35 AM IST
The district administration will take several steps to make these stretches safer for commuters, such as improving the infrastructure and deploying more traffic police officers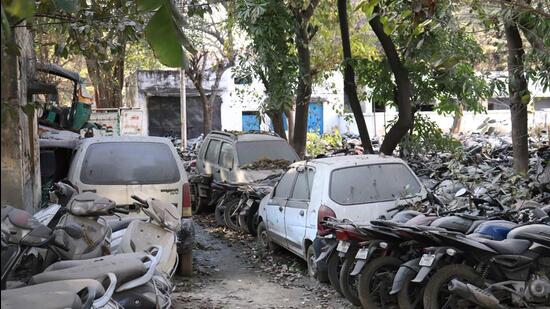 Transport officials have identified 16 'black spots' or accident prone spots where the district administration will take corrective measures to make them safer for commuters.
The steps include improving the infrastructure and road design and also deploying more traffic police officers.
The Supreme Court-appointed committee on road safety defines a black spot stretch as a 500 sqm area where five or more accidents have taken place or 10 or more people have died in a year.
"The new black spots have been identified on the basis of the high number of accidents and fatalities there. The agencies maintaining these intersections and roads have been asked to carry out road infrastructure improvements in a 500 square metre (sqm) area to reduce the number of accidents and resulting fatalities," said KD Singh, additional regional transport officer (enforcement) on Friday.
The identified locations are Vijay Nagar intersection, Lal Kuan intersection, Ghookhna Morh on Delhi-Meerut Road, Duhai, intersection at ITS College at Muradnagar, intersection at Ordnance Factory, Hanuman Mandir, Rawli Road intersection in Muradnagar, Sethli intersection, Muradnagar canal, Jalalpur intersection, Mohan Nagar intersection, Arthala intersection, Rajendra Nagar, Seemapuri border and Karan Gate.
The measures that will be taken up at these spots include widening of U-turns, road repair, installation of signs, rumble strips and zebra crossings, modification of rotary design, closure of illegal exits, barricading on the central verge and deployment of traffic police officers.
Eight of the black spots are under the jurisdiction of Muradnagar police station and on the Delhi-Meerut Road where the construction and trial runs of the Regional Rapid Transit System project are underway.
Five others are located in the jurisdiction of Sahibabad police station.
According to Ghaziabad traffic police data, from January to December 15, there were 854 road accidents in 2022 that resulted in 353 deaths and left 615 people injured.
The data shows that there were 392 road fatalities in 2021 (824 accidents), 327 in 2020 (708 accidents), 385 in 2019 (890 accidents) and 412 in 2018 (1,043 accidents).
Vikrant Sharma, a social activist and lawyer, said, "The figures are alarming. If road infrastructure improvement is not taken up, the numbers may rise considering that the city is now surrounded by many highways, state roads and expressways. Traffic offenders should be penalised strictly, otherwise they tend to repeat the offence."
Overall, in the last five-year period, there were 4,319 accidents which led to 1,869 deaths and left 3,024 people injured, the police data showed.
"We have increased the strength of traffic police personnel and are taking up strict enforcement steps against errant drivers, especially on highways and expressways. We will deploy suitable number of personnel to man the 16 black spots till infrastructure improvement works are completed," said Ramanand Kushwaha, assistant commissioner of police (traffic).