Leopard suffered broken ribs in high-speed impact with vehicle on e-way; FIR lodged
Published on Jan 18, 2023 11:48 PM IST
The incident took place 25km from Ghaziabad city and close to Meerut district, which also houses part of the Hastinapur wildlife sanctuary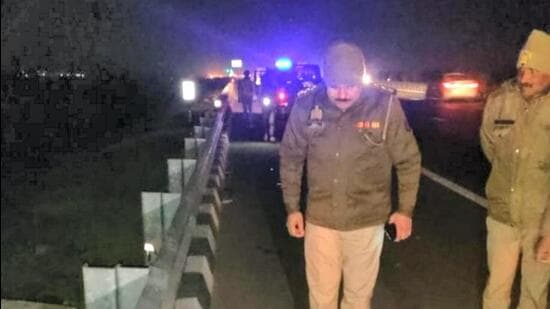 A 3.5-year-old male leopard, which was found dead on the Delhi-Meerut Expressway (DME) near Bhojpur in Ghaziabad on Tuesday night, suffered several broken ribs and injuries to the face, possibly in the impact of a collision with a high-speed vehicle on the expressway, officials of the divisional forest department said on Wednesday.
The leopard was 3.5 feet in length and its autopsy was conducted by a panel of doctors on Wednesday.
"The final autopsy report is yet to be received but prima facie, it appears that the animal suffered broken ribs on the left side from the high-speed impact with an unidentified vehicle on the expressway. Since there is a human aspect involved in this incident, we will give a police complaint against unidentified persons to Bhojpur police and a FIR will be registered," said Manish Singh, divisional forest officer (DFO), Ghaziabad.
The incident took place on a DME stretch under the jurisdiction of Bhojpur police station. The incident site is 25km from Ghaziabad city and close to Meerut district. The Hastinapur wildlife sanctuary in western Uttar Pradesh, is spread across 2,073 square kilometres in Meerut, Hapur and Bulandshahr districts.
Forest officials said leopard sightings in urban areas are generally reported during winter due to loss of habitat -- a leopard seek out safety in sugarcane fields where it would get ample water and small prey. Leopards prefer travelling at night and can travel 15-25km at one go, foresters said.
"Leopards generally venture out when sugarcane fields are harvested. They have a tendency to travel alongside rivers. Western Uttar Padesh has several rivers -- the Yamuna, Hindon and Ganga -- and also the Hastinapur wildlife sanctuary. So, it is a possibility that the animal ventured out due to loss of habitat," said Singh.
According to officials, leopard is protected under Schedule 1 of the Wildlife Protection Act, 1972, and its killing and hunting is banned in the country.
Several leopard sightings have been reported in Ghaziabad district in the past several years.
In November, 2021, a leopard entered the official residence of the vice-chairperson of the Ghaziabad Development Authority in Raj Nagar.
On December 17, 2019, a 3.5-year-old male leopard was found on the Hindon airbase and released into the Saharanpur range by the forest department.
A suspected leopard sighting was reported from Vaishali's Sector 3 on August 1, 2020. In April 2017, a male leopard was also captured from Krishna Vihar Kuti near Hindon airbase after it injured two people and cattle.
In December 2014, a leopard carcass was found near Yamuna river in Pychara village in Loni. A day later, another leopard was found dead in a field in Abupur in Modinagar and officials believe it was electrocuted.