Autopsy of Russian found dead on ship off Odisha port delayed
Published on Jan 04, 2023 08:36 AM IST
Sergey Milyakov died even as Odisha's Criminal Investigation Department (CID) was probing the mysterious deaths of two other Russians, including a multi-millionaire last month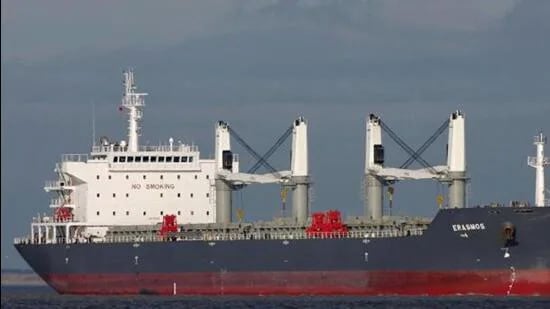 The post-mortem of a 50-year-old Russian engineer, who was found dead on a ship anchored off Odisha's Paradip port on Tuesday, was delayed as the vessel waited to be berthed and the body could not be taken to the nearest hospital.
"The ship was some 8-9 km from the port and was waiting to be berthed. ...we sent our officials on a small boat. ...our people could not enter the ship...to take the body out... We decided to wait till the ship berths...," said police superintendent Akhileswar Singh.
Sergey Milyakov, the engineer, died even as Odisha's Criminal Investigation Department (CID) was probing the mysterious deaths of two other Russians, including a multi-millionaire in the state last month.
Singh said Milyakov's post-mortem would be video graphed and the viscera preserved as the cause of death is unknown. "We have informed the external affairs ministry about the death [of Milyakov] so that they inform his family," he said.
Odisha police chief Sunil Bansal said a CID probe will be ordered into Milyako's dead if necessary.
Paradip Port Trust chairman PL Haranadh said MV Al Danah's crew found Milyakov lying in a cabin at 3am following which captain Podokozin Dmitry informed them. "We are told that Milyakov is suspected to have died of cardiac arrest."
The vessel with 23 crew members left Chittagong last month and was to transport cargo to Maharashtra.
Milyakov died days after two Russian nationals died within two days at a hotel in Odisha's Rayagada district under mysterious circumstances.
Four Russian nationals checked into the hotel on December 21. Vladimir Bidenov, 61, allegedly died of cardiac arrest a day later. On December 24, Pavel Antov was reported to have fallen to death from the terrace of the two-storey hotel. His post-mortem indicated he died of internal injuries. Bidenov's autopsy indicated he died of a heart attack.
The CID seized Antov's smartphone, laptop, and passport on Monday. It earlier took samples from the ashes and remnants of the two Russians, who were cremated. The cremation triggered a controversy as the two were Christians.
A CID official said they may seek Interpol's help in probing Pavel's death. Investigators have questioned assistant sub-inspector SK Singh, who was the first to visit the hotel after the death of Bidenov, and three ambulance drivers.
The National Human Rights Commission also sought a report on the deaths.