Bihar education minister's remarks on Ramcharitamanas sparks controversy
Jan 12, 2023 12:54 PM IST
Bihar's eduaction minister Chandrashekhar claimed that religious texts like Ramacharitmanas spread hatred just as 'Manusmriti' and MS Golwalkar's 'Bunch of Thoughts' created social divide
Bihar's eduaction minister Chandrashekhar on Wednesday stoked a controversy after he claimed that religious texts like Ramacharitmanas spread hatred just as 'Manusmriti' and MS Golwalkar's 'Bunch of Thoughts' created social divide in different eras. The Rashtriya Janata Dal (RJD) legislator was speaking at the convocation of Nalanda Open University, where Bihar governor Phagu Chouhan was also present.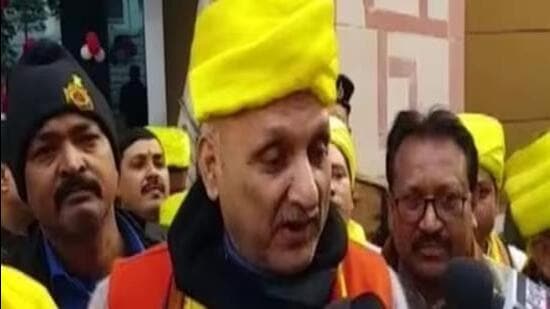 "A nation becomes great with love and affection. Books like 'Ramacharitmanas', 'Manusmiriti' and 'Bunch of Thoughts' sowed the seeds of hatred and social divide. This is the reason why people burnt Manusmriti and took exception to a portion of Ramcharitamanas, which talks against education to the Dalits, backward (castes) and women," he said, citing a couplet from Ramacharitmanas 'adham jati me vidya paye, bhayatu yatha dudh pilaye' means 'Lower caste people become poisonous after getting education like snake becomes after consuming milk' to support his argument.
Ayodhya seer Jagadguru Paramhans came out heavily against the minister for his controversial remarks. "The whole country is hurt by it, it is an insult to all Sanatanis, and I demand legal action for this statement. That he should be sacked from the post of minister within a week. And he should apologise, if this does not happen, then I declare a reward of ₹10 crores, to the one who will chop off the tongue of Bihar's education minister Chandrashekhar," news agency ANI quoted him as saying.
Acharya Kishor Kunal, secretary of the Mahavir Mandir Trust, said the minister's remark was like the the story of the 'blind men and the elephant'. "Ramcharitamanas is the greatest epic of love and compassion… It cannot be called a text of hatred," he said.
Poet Kumar Vishwas described Chandrashekhar as an "illiterate education minister". "Respected (chief minister) Nitish Kumar ji, your illiterate education minister badly requires immediate education," he tweeted.
Union minister Ashwini Kumar Choubey said that Ramayan inspires people to follow rich ideals and human values. "The statement of the foolish education minister, who could not get the inherent message, is aimed at social divide," he added.
Earlier this month, RJD state president Jagtanand Singh also courted a controversy after he said that the Ram Temple in Ayodhya was being built on the "land of hatred".
"Ram has been confined to the four walls built of stones. Ram is everywhere, in the hearts of the people. Now Ram of the poor, Ram of Sabri will not be there. Ram of Bharat (country) will remain omnipresent," he added.
Social analyst Nawal Kishor Choudhary said that politicians making loaded statements and misinterpreting facts according to their own political convenience is a trend, though wrong, and doing great harm.