Bihar university ex-professor, wife found dead at their residence in Arrah
Jan 31, 2023 01:17 PM IST
Police said that they found CCTV footage of three persons going towards the professor's house on Monday evening and suspect them to be behind the alleged murder as two of them had their faces covered
A retired professor at Veer Kunwar Singh University (VKSU) and his wife, also a retired teacher at M M Mahila College were found dead at their residence at Arrah in Bhojpur, police said.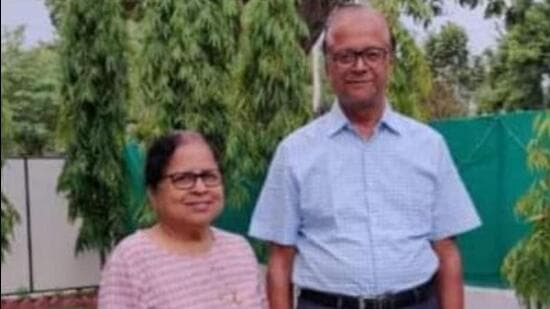 According to the police, the couple, identified as Mahendra Prasad Singh, 70, and his wife Pushpa Singh, 65, were killed using a sharp object as wounds were found on their bodies. Police said, however, the reason behind the alleged murder is still not known.
Upon knowing of the incident, Bhojpur superintendent of police (SP) Pramod Kumar and assistant superintendent of police (ASP) Himanshu reached the incident spot.
According to the SP, they found the body of Mahendra Prasad in his dining room, while the body of Pushpa Singh was found in her bedroom.
Also Read: MAGH MELA: Woman killed by live-in partner, accused on the run: Police
The couple was survived by three daughters, all married.
Police said that they got to know about the incident after one of their daughters, a resident of Lucknow in UP, asked the relatives to check on them as they were not picking up her call despite several attempts. When the relatives reached the professor's house on Monday night, they found the house door open and their dead bodies, police said.
Police said that they found CCTV footage of three persons going towards the professor's house on Monday evening and suspect them to be behind the alleged murder as two of them had their faces covered.
An investigation into the matter has been launched to nab the accused, and police are further scrutinising the CCTV footage for details, SP said.
Apart from being the university professor, Mahendra Prasad was also the former state president of Bhartiya Janata Yuva Morcha (BJYM) and dean of students' welfare. He also contested the elections from the Karakat assembly constituency.