Nitish unable to act on his own, I want my share: Kushwaha
Jan 31, 2023 10:02 PM IST
The former union minister said it was true that Nitish Kumar made him the parliamentary board chairman and amended the party constitution to make such a provision, but it was made meaningless and reduced to a mere "jhunjhuna (a child's rattle)" by the way he was treated
Janata Dal-United (JD-U) parliamentary board chairman Upendra Kushwaha, who has been upset with his own party leadership, on Tuesday attacked Bihar chief Minister Nitish Kumar once again, saying he was not more "able to act on his own".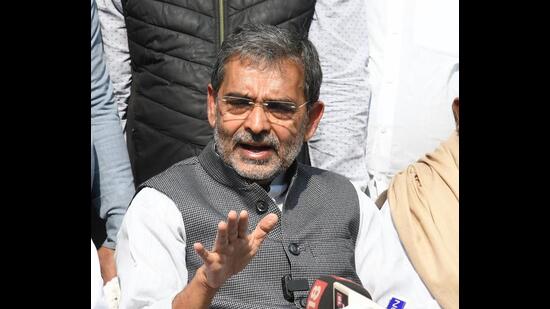 "The CM said the other day that he gave respect to me and has affection for me. I also respect him and therefore I want him to be alert and handle things well, else the party will be damaged. I want him to take his own decisions. As long as he acts as per wishes of others, things will go wrong. I still hope he will act and save the party. He is not able to act on what he wants. It was proved in Kurhani assembly by-poll, when the CM said he gave the ticket as people in the party wanted. Even when JD-U changed alliance, he said from public platform it was not his decision. Now only CM can say whose wishes he is acting on," Kushwaha said at a press conference.
"What kind of affection is this that he wants me to go out," he said.
The former union minister said it was true that Nitish Kumar made him the parliamentary board chairman and amended the party constitution to make such a provision, but it was made meaningless and reduced to a mere "jhunjhuna (a child's rattle)" by the way he was treated.
"The amendment says the national president of the party will nominate the chairman and also the members. Even that would have been fine had the members been nominated in the last two years. I cannot even nominate members and they did not in two years. So, how can the board function without the committee, which has not been allowed even to take shape," Kushwaha said.
"I have in the past renounced my berths in the Rajya Sabha and later in the union council of ministers ... The party may take back my party post and strip me of my status as an MLC if it thinks these are big privileges bestowed on me," he added testily.
Kushwaha claimed that unlike in 2013 when the JD(U) had its first break up with the BJP, "the spectre of disintegration now looms large on our party".
"I have been asked to clarify what I meant by claiming my own share (hissa) in the party. I am doing that today," he said.
"I am speaking of the same share that Nitish Kumar had demanded at the famous rally of 1994 when Lalu Prasad was reluctant to give our leader his due," he said. Kushwaha was referring to "Luv Kush" rally in Patna, a veritable gathering of Kurmis and Koeris upset with supposed hegemony of numerically powerful Yadavs which Prasad, then helming Bihar, was seen as embodying.
Kumar's presence at the rally had set the tone for his separation from the undivided Janata Dal and charting of an independent political journey.
"I gave suggestions several times that there should be a leader from the extremely backward classes to champion their cause, as ministers, MLAs, MLCs and MPs were not able to devote time beyond their respective areas. Ministers are there, but they have been mostly relegated to a position where they have to follow their officers," Kushwaha said.
He also referred to the alleged attack on his vehicle in Ara, which the district administration refuted, and showed a short clip. "The subdivisional officer and the subdivisional police officer have said in their preliminary report that there was no such incident. Therefore, I wanted to show you the video clip. I urge the chief secretary and DGP to get the incident of stone pelting on my vehicle probed at their level," he said.
Kushwaha had founded Rashtriya Lok Samata Party (RLSP) in 2013 and his party won three Lok Sabha seats in 2014 as part of the BJP-led National Democratic Alliance (NDA). He himself became a union minister but quit NDA ahead of 2019 parliamentary polls in which he fought from two seats and lost from both. After drawing a blank also in 2020 Bihar assembly polls, he merged his party with Kumar's JD-U in March 2021 and was later made an MLC (member of legislative council).