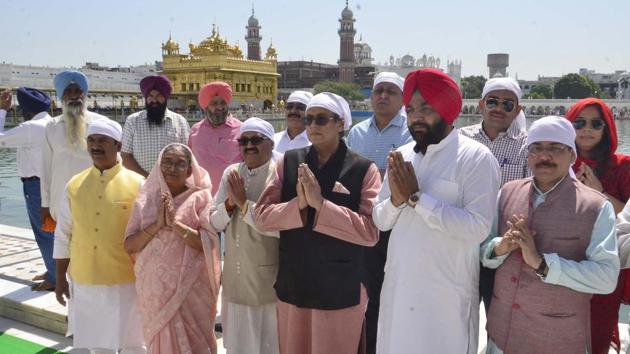 Snap all ties with Pak, says Amar, Tharoor disagrees
UPDATED ON MAY 02, 2017 09:29 AM IST
Senior Samajwadi Party leader Amar Singh, a member of the Parliamentary Standing Committee on Ministry of External Affairs that visited the border region and other important establishments today, said he was not in sync with the Centre on ties with Pakistan, and India should snap all relations with its neighbour. Singh said he will officially register his dissent regarding relations with Pakistan. His comments come on a day when news of Pakistani forces mutilating the bodies of two Indian soldiers sent shock waves across the country.
As the committee visited the local passport office and also the Integrated Check Post to see Indo-Pak trade and interacted with troops, Amar Singh said, "India must not keep any ties with Pakistan. India has always gone ahead with positive gestures but Pakistan has only responded with back-stabbing and terror."
He said until Pakistan behaves itself, India should not keep any cultural, sporting or trade ties with the country. "Former PM Atal Bihari Vajpayee went with a Dosti bus as goodwill gesture and Pakistan responded with Kargil. Even now PM Modi went to Nawaz Sharif on a surprise visit, but our jawans were attacked soon afterwards. Pakistan must be made to understand in a language that it comprehends," he added.
However, chairman of the Parliamentary Committee and senior Congressman Shashi Tharoor was not in favour of snapping all ties. Commenting on cutting off trade relations, Tharoor said, "I don't think that will be right. One has to think ahead. If today we end all ties then what tomorrow. Keeping one line is not good."
He said the committee was visiting the ICP to review border trade between the two countries and would also be going to the Attari-Wagah joint check post. "We will interact with the security forces and then submit our report. We don't want it to be a rushed affair," said Tharoor.
Reacting to this, MP Amar Singh said, "I have a viewpoint that all ties with Pakistan must be snapped. I will officially give my dissent to the committee."
Pak wrong in Jadhav case: Tharoor
Hitting at the Pakistan Government on the Kulbhushan Jadhav case, Shashi Tharoor said, "Whatever Pakistan did is against the international rules. How can you just pick up a person and announce such a punishment. Even consular access was denied to Jadhav. In which country is such a law followed," asked Tharoor. He said that all Indians are united in the Jadhav case. The MEA committee also paid obedience at the Golden Temple and visited the Jallianwala Bagh.
Close