Ambedkar as career advice: Forget the ladder, make your own way
Updated on Apr 14, 2017 01:25 PM IST
Where millions are trapped in the holes of the elite, digging a tunnel to relinquish the dominant culture of the hole has proved profitable for many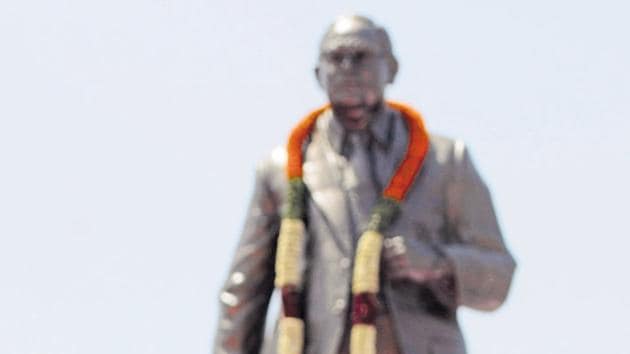 When you are in the bottom of a hole, leave the hole. Mistrust the ladder because the ladder is usually the ruse of those who made the hole. Dig a tunnel. This is the summary of a theory of Babasaheb Ambedkar, whose 125th birthday was recently an unprecedented news cycle partly because of the persistent human infatuation with numbers that are divisible by five, and chiefly because Indian society has transformed. Almost everybody is in a hole.
Ambedkar's idea that those who are born in the bottom of the Hindu caste system should not hope to reform the hole or trust the late invention of the social ladder, which is merely the aesthetics of ethics with yawning gaps between the rungs that the emaciated cannot scale, is largely perceived as a political thought. Which it is, but it also illuminates a path to dignity and happiness for everyone in the modern economic system, and not just Dalits of another time.
Read | Ambedkar Jayanti brings little joy to his flock
Caste is everywhere; in most places it is called hierarchy, even order. And almost everyone today is on a rung of a system rigged by the greatest beneficiaries of the system. You don't have to be in the bottom of a hole to be the oppressed anymore. People do believe that if there are rungs, they can climb them and emerge at the top, but these ladders, even in the corporate world, are designed to be perilous. There is wisdom in following Ambedkar's advice and just disappearing from the hole. There would be losses, but there would be dignity. The happiest people in society are probably those who have done just that.
On what is the meaning of feminism, most people, including women, claim it is about equality. This view contains the notion that the best that women can become is something that resembles successful men. That is why the writer Germaine Greer once asked, "Equal to what?" She scoffed at the life of the modern man and said she did not wish women to be "equal" to that. Women must dig their own tunnels and invent their own systems, was her message. And millions are doing just that. Men, too, of course.
People are ejecting themselves from corporate rungs and starting their own enterprises; artists who waited for years to find recognition in the film industries are reinventing television; and many are relinquishing the very idea of city-life without surrendering to the ways of the Indian village, which is a deeper hole than cities.
But millions are entrapped in the holes of the elite. An unknown number of writers are toiling away on 'the literary novel' fooled by notions of high art and a reward system regulated by a global elite. The poor who pursue doctorates in liberal arts because they imagine it is a path to respectability are wasting their best years in a Brahminical academic system where the social elite, who of course say all the right things, have absolute control over the very distribution of acclaim. Such researchers, if they are digging only for respectability and not for knowledge, would be better off in the holes of journalism or even politics.
Read | From Mahad to Mumbai to Hyderabad, the story of India's caste blues
Over a decade ago, on the sidelines of the Lakme Fashion Week, which was so new then that serious editors from Delhi flew to Mumbai to be in the audience, I saw a bunch of impoverished girls from the chawls of Mumbai. They wished to be fashion designers, they wished for success in an industry where it is mandatory to hail from a particular social class to have a shot at success. And, scores of ambitious youth toil in television journalism hoping to become anchors, not realising the importance of fair skin, pedigree, social contacts and accent. This columnist has earlier argued that all of Indian elite is a system where there is a hundred per cent reservation for its own genetic material. But, the poor think they can climb the rungs up the hole.
A crucial observation of Ambedkar is that culture must always be viewed with suspicion because it is the relic of the upper castes that they present as the history of all. The culture of the poor is usually called folk.
An important part of digging the tunnel is to relinquish the dominant culture of the hole and everything that is considered sacred. Millions of Dalits did just this when they developed a contempt for the idea of the Indian village, which Gandhi venerated. Ambedkar, a far superior and honest writer, wrote, "The love of the intellectual Indian for the village community is of course infinite, if not pathetic. … What is a village but a sink of localism, a den of ignorance, narrow mindedness and communalism?"
As we know it was not only the Dalits who profited from relinquishing culture. In fact, the first Indian middle class was a creation of rustics relinquishing culture. They relinquished not only their village origins, but also their mother tongues in favour of English.
Read | Mahad relives BR Ambedkar's water satyagraha for Dalits
It is not easy to abandon the hole, because it is home. In fact, Ambedkar's effort to convert the "untouchables" into Buddhism failed in his lifetime and has been largely a failure after his death. Hinduism is not an easy home to leave. Ambedkar himself took two decades to convert after he announced that he would relinquish Hinduism. And he converted days before his death. The delay was, of course, because he wanted hold out the threat as long as he could to get his way with the Indian National Congress. Also, he had to prepare his people to abandon their faith. Even so, it is possible that he himself was affected by the idea of the hole of Hinduism as home.
Among all the politicians who lined up to pay their respects to Ambedkar on April 14, the most honest might have been the Hindu nationalists. They owe him a debt. When Ambedkar decided to convert he was lured, among others, by Muslims. If Ambedkar had chosen Islam it would have created an extraordinary havoc. But he did not wish to be a Muslim. He found Islam culturally alien to his being and regressive. In relinquishing one hole he did not wish to enter another.
Manu Joseph is a journalist and the author of the novel, The Illicit Happiness of Other People
Twitter: @manujosephsan
The views expressed are personal.
Personalise your news feed. Follow trending topics