Depression or oppression: What led to Rohith Vemula's suicide?
Jan 25, 2016 08:39 AM IST
Did clinical depression kill Rohith Vemula or did a cultural cartel? There are reasons why 'both' does not make for a robust answer
Did clinical depression kill Rohith Vemula or did a cultural cartel? There are reasons why 'both' does not make for a robust answer.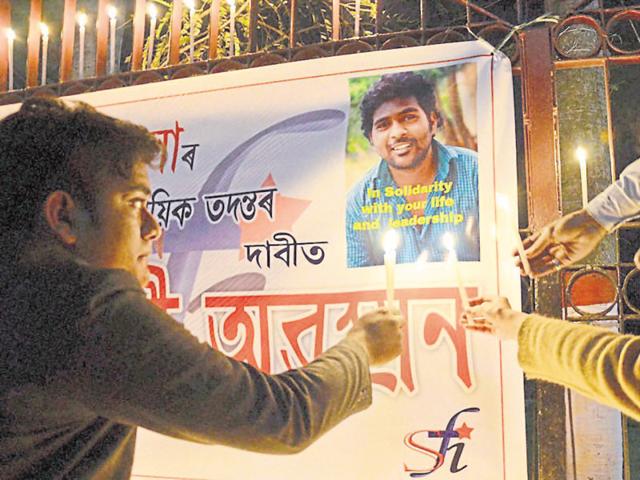 On January 18, Rohith Vemula, a scholar of the Hyderabad Central University, who was a Dalit, a significant detail, hanged himself in a hostel room. In a few days he would have turned 27. He left a coherent hand-written note. "It was always with myself I had problems. I feel a growing gap between my soul and my body. And I have become a monster…I loved people without knowing that people have long since divorced from nature…It has become truly difficult to love without getting hurt…Never was a man treated as a mind. As a glorious thing made up of star dust…My birth is my fatal accident. I can never recover from my childhood loneliness. The unappreciated child from my past."
Nothing in the entire note points to anything other than the storms within that may have pushed him to his death. But his death was preceded by a string of events. There was considerable pressure from at least two major politicians of the Bharatiya Janata Party on the university to punish Vemula and other Dalits for how they reacted to the humiliation of Dalits in the campus. On occasion they had turned violent. Eventually, the university suspended Vemula and a few other activists. On December 18, Vemula had written a letter, by hand, to the vice-chancellor, stating, "Please serve 10 mg of Sodium Azide to all Dalit students at the time of admission. With direction to use when they feel like reading Ambedkar" and "Supply a nice rope to the rooms of all Dalit students."
People tend to understand a suicide by ascribing reasons. Usually, they tend to give an inordinate importance to the suicide note. The living are seldom believed when they explain themselves, but the dying are in their final hour. But Vemula's final letter has been ignored by those who are most moved by his death. In the note, the young man, who was not known to restrain his words, took pains to absolve everyone but himself for his action. As a result, his well-wishers had to find other reasons, reasons that make sense to them, powerful reasons, for his death. As Vemula had written in his final note, "The value of a man was reduced to his immediate identity."
His death united the archipelagos of liberal activism in developing the hypothesis that he was driven to his death by a cartel of Right-wing politicians and academics.
Read: Rohith Vemula suicide: The mystery behind Mayawati's silence
A few months ago, when Deepika Padukone had revealed that she suffered from depression and suicidal tendencies, there appeared to be a consensus in the refined society that it was time we gave depression the respect of a severe disease and not the contempt we have for a character flaw. Can we extend the consideration to Vemula? Is a Dalit activist allowed to be clinically depressed? What if he was? Does, all of a sudden, depression become a tasteless explanation for a death? What if Vemula, like almost all of us, including Dalits, was a person who would not take his life just because the world has been unfair? What if he had ended his life because of a "gap between my soul and my body", that he could not bear anymore? This would be inconvenient for activists because it would diminish the crime of the despicable cultural cartel.
What if, on the other hand, Vemula was like any other 26-year-old, who wished dearly to live, and was "driven" to end his life by the cartel? We can believe that people with no suicidal tendencies can be driven to suicide in the face of great atrocities or deep loss. Young women whose sexual acts have been recorded and shared on the Internet have killed themselves. A woman in Mumbai, who had killed her infant in a fit of rage, soon killed herself. Robin Williams may have ended his life because he did not wish to suffer a debilitating disease. But, as unpleasant as this question might be, did Vemula face such an extraordinary atrocity or tragedy?
What if the reason for his death was a bit of both — what if he was depressed, and he was pushed to take the extreme step by the cultural cartel? But then the fact that thousands like him who face far worse do not end their lives, points to one dominant influence. The nature of clinical depression is that it is in constant search for reasons to bring the pain to a close.
Well-meaning activists who push the theory that Vemula killed himself because of discrimination convey the lethal message to thousands of clinically depressed young men and women in India that there is a sensible reason to end their lives. Such a transmission occurred in the hypothesis of 'farmer suicides', too.
There is strong evidence that India's economic policies have failed small farmers. But the notion that poverty is the cause of 'farmer suicides' is merely a successful myth. In a country where most people can be termed 'farmers', it is not anomalous that most people who kill themselves would be 'farmers'. In fact, what is anomalous is that a huge majority of farmers who commit suicide are male. If both official and activist statistics are considered, it would appear that women in impoverished farming communities are among the least likely Indians to commit suicide. Activists who ascribe social, economic and political reasons for suicides would never be able to explain why.
Poverty then is a factor, not a cause. Farmer suicide is a depression story, not an economics story. Tibetan monks who immolate themselves in protest against China are a depression story, not a political story. Suicide bombers are a depression story, not a radical-Islam story. Rohith Vemula, from all evidence in plain sight, is a depression story, not a Dalit story.
Manu Joseph is a journalist and the author of the novel, The Illicit Happiness of Other People.
Twitter: @manujosephsan
The views expressed are personal.
Read: The media's caste: How it's to blame for Rohith Vemula's death
Lal Salaam to Jai Bhim: Why Rohith Vemula left Indian Marxists