Indian Council of Social Science Research: Past, present and a troubled future
The appointment of the new ICSSR chairman shows that the Modi Government has contempt for thinkers and scholars (as distinct from loyalists and ideologues).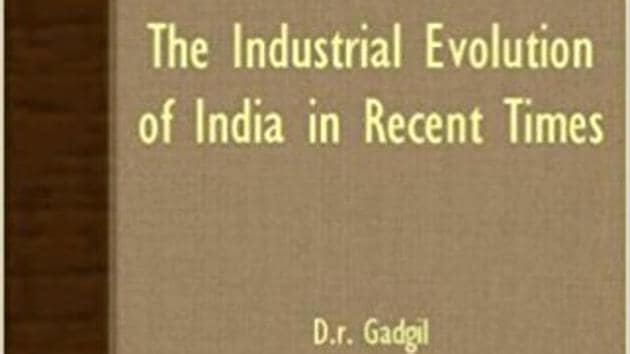 Updated on May 28, 2017 09:28 AM IST
A recent PTI report communicated the news that the Indian Council of Social Science Research (ICSSR) has a new Chairman. His name is Braj Bihari Kumar, and he is (so the report says) the author or editor of (hold your breath) 136 books.
The news of Kumar's appointment encourages me to write about the first Chairman of the ICSSR, a remarkable scholar unjustly forgotten today. His name was Dhananjay Ramchandra Gadgil. Born in Nashik and educated in Mumbai, Gadgil then took a research degree at Cambridge, writing a landmark dissertation (later published as a book) on industrial growth in India.
With his intellect and background, Gadgil could easily have joined the elite Indian Civil Service. But he chose to forge his own path instead. In 1930, he set up the Gokhale Institute of Politics and Economics in Puné, the country's first social science institute, run and staffed entirely by Indians with no connections to the British colonial regime.
While nurturing younger scholars, Gadgil continued to do his own research. He wrote important monographs on federalism, on economic planning, and on the sociology of business communities. Keen to combine theory with practice, he played a critical role in the formation of agricultural co-operatives in his native Maharashtra.
DR Gadgil was a scholar of a conspicuous independence of mind. The well-known columnist DF Karaka wrote of him that 'it would be difficult to find a truer picture of all that is best in the ancient Indian tradition than Gadgil. A slim, gaunt man, argumentative and aggressive on the right occasions, full of courage and with a wisdom grounded in deep knowledge of both theory and facts, Gadgil had devoted himself for many years to the building up of a true school of politics and economics, eschewing all profitable pursuit.'
In his politics, DR Gadgil was a classical liberal, opposed to the dogmatism of both Left and Right. He was a close friend of that other principled liberal, BR Ambedkar. Through the 1950s and 1960s, Gadgil made clear his opposition to Soviet and Chinese Communism, writing extensively about the importance of cultural pluralism and human rights. His son, the distinguished ecologist Madhav Gadgil, recalls his father telling him that he detested Communism because it stifled freedom of thought and expression.
In 1969, when the Indian Council of Social Science Research was set up, DR Gadgil was appointed its first Chairman. After Gadgil died in 1971, he was succeeded as ICSSR Chairman by another fine liberal scholar, the sociologist M S Gore. However, the key person in the Council was the Member-Secretary, J P Naik, who built up the institution lovingly and painstakingly. Like Gadgil, Naik was a person of great integrity, who respected good scholarship wherever and by whomever it was done.
The ICSSR incorporated existing research centres such as the Gokhale Institute, the Institute of Economic Growth (IEG) and the Centre for the Study of Developing Societies (CSDS), while setting up a network of new research centres across the country—such as the Centre for Development Studies (CDS) in Thiruvananthapuram, the Centre for Social Studies in Surat (CSS), the Centre for the Study of Social Sciences in Kolkata (CSSS), and the Madras Institute of Development Studies (MIDS). Eventually, almost all the major states of the Union came to have their own social science research institute, funded by the ICCSR.
I have worked in two of these institutes myself, and closely followed the work of the others. The CDS has produced a series of fine studies on health, education, employment, fisheries, and agriculture. The MIDS has done important work on irrigation and on affirmative action. The CSDS has done pioneering research, admired the world over, on electoral behaviour. Kolkata's CSSS has made a mark with its analyses of the political culture of modern Bengal. The faculty of the IEG have undertaken solid empirical research in demography, macro-economic policy, gender and development, and environmental economics. These studies by ICSSR institutes have shed much new light on the trajectory of economic growth and political development in independent India.
To be sure, there are some institutes that are below par, while every institute has some laggards. And there have been periods when the ICSSR was run by Congress loyalists. On balance, however, when compared to most public sector initiatives the record of the ICSSR is quite impressive. It is far better than that of the Indian Council of Historical Research, set up in 1972. The ICSSR is different from the ICHR in three ways: (i) It has never been a Marxist cabal; (ii) It is not Delhi-oriented but genuinely decentralised, with active research centres across India; (iii) Its constituents have produced a substantial body of research of both practical and theoretical importance.
Founded by visionaries, the ICSSR's later chairmen have included the political scientist Rajni Kothari and the sociologist André Béteille, both internationally renowned for their scholarship. Other high-quality, non-doctrinaire, scholars such as T N Madan and R. Radhakrishna have served as its Member-Secretaries.
The new ICSSR Chairman, however, is not exactly a familiar name among the social science community in India. Following his surprise appointment, several newspapers have carried extracts from Shri B B Kumar's writings. His views therein may be summarised as: Muslim monarchs and T B Macaulay, wicked; Narendra Modi, wonderful. In a remarkable feat of intellectual legerdemain, the new ICSSR Chairman even blames Muslims for the creation of the caste system.
Defending Shri Kumar's appointment, the HRD minister claimed he had written not 136 books but three hundred.
Perhaps Shri Kumar's writings are avidly followed in RSS shakhas. But none of the scholars I talked to had heard of even one of his 136 or 300 books. It is said that his special fields are tribal studies and anthropology. These are fields I have done research in myself; yet I have cannot recall seeing Shri Kumar's work cited in the scholarly literature.
Despite his prodigious output, the new ICSSR Chairman's impact on the world of scholarship is negligible. On the other hand, among the books Shri Kumar's very distinguished predecessors at ICSSR wrote were D R Gadgil's The Industrial Evolution of India in Recent Times, André Béteille's Caste, Class and Power, and Rajni Kothari's Politics in India, all books discussed and debated by scholars and researchers for decades after they first appeared, across India and the world.
This latest appointment provides further confirmation that the Modi Government has contempt for thinkers and scholars (as distinct from loyalists and ideologues). As a consequence, even the few moderately good academic institutions the country possesses face an uncertain and troubled future.
Close Story
Personalise your news feed. Follow trending topics