Metro Matters: Delhi can't let this chance to sort its trash go waste
This World Environment Day on June 5, the North and East Delhi Municipal Corporations launched a waste segregation drive in 10 colonies. It is the first step in garbage management and also the most difficult one.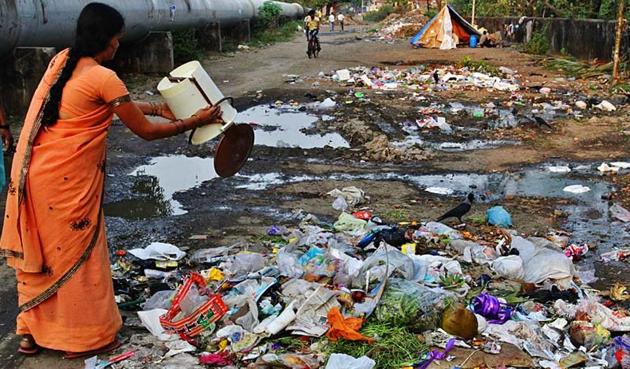 Updated on Jun 12, 2017 02:43 PM IST
This World Environment Day on June 5, the North and East Delhi Municipal Corporations launched a waste segregation drive as a pilot project in 10 neighbourhoods. In a city choking with garbage, this tiny step could lead to big gains in the future.
The pilot project requires residents to split biodegradable and non-biodegradable waste into green and blue bins. The municipality-appointed waste-pickers will collect this trash in customised tippers. The kitchen waste will go into compost plants and recyclables to recyclers. If all goes as planned, there will be hardly any rubbish left to be taken to the overflowing dump sites.
All this is easier said than done. Segregation is the first step in garbage management. It is also the most difficult to enforce. The efforts of the entire neighbourhood can go waste if one household fails to put its plastic bags, glass bottles and tins in the blue bin or if the garbage-collector mixes the two types.
Many cities have tried waste segregation by enforcing penalties. In the developed world, households pay by volume for the garbage they discard under 'pay as you throw' (PAYT). Every fourth American, the Economist reported, lives in a PAYT community. The US Environmental Protection Agency estimates that they reduce the volume of rubbish by 14-27% and increase recycling by 32-59%.
Even the Solid Waste Management Rules — notified by the Union government last year and now to be implemented across India — gives power to the local bodies to decide user fees and spot fines for non-segregation.
Shelling out money for what you discard is only logical under the 'polluters pay' principle. But experience shows that fly-tipping or illegal dumping is commonly reported from cities across the world that have enforced waste segregation.
The scenario at home is very different. Last year, a study published in the environment journal 'Sustainability' showed that 97% respondents in Delhi were selling newspapers, glass bottles and plastic oil cans to Kabadiwalas because this was their household tradition, which also earned them some money.
Of the 3,047 residents surveyed, 60% did not know the difference between biodegradable and non-biodegradable waste as they continued to chuck plastic bags, wrappings, smaller containers, broken glass and batteries along with the rest of the garbage. Worse, only 2% of the Delhi households surveyed actually segregated waste at source.
While the simmering landfills on Delhi's borders experienced landslides due to overloading, the capital's garbage crisis never really hit us in the city except for the stray municipal strikes. But Bengaluru learned it the hard way when in August 2012 the 'garden city' became a 'garbage city' after the surrounding villages blockaded the trucks that were carrying the city's untreated toxic waste to dump sites in their backyards.
Soon after, the Karnataka High Court ordered the Bruhat Bengaluru Mahanagara Palike to make waste segregation at source mandatory. Today, BBMP runs dry waste collection centres in all 198 wards. It has had problems in finding space to build them, especially in inner city wards. Some operate from under bridges and flyovers. But these teething problems haven't derailed the project. Going ahead, the corporation is constructing 16 bio-methane plants to treat organic waste. This February, it also made it mandatory for all city households to segregate waste.
Once the segregation drive takes off, Delhi too will have to make some institutional changes in waste management. For a start, it will have to recycle and compost waste locally. Today, at least 70% of the money spent on garbage management goes into transporting it to composting plants, incinerators and dump sites on the city's periphery.
The same cost dynamics make a compelling case for involving ragpickers in a formal set-up. Safeguarding them against health hazards and including them in an institutional framework, primarily for collecting recyclables, will also help fight urban poverty.
Changing individual or household habits usually takes longer than putting in place the infrastructure required for the desired new order. Since 2012, Bengaluru could convince only 35% of its residents to segregate their daily garbage. "It took a city like London a good 10 years to achieve 80% segregation," says Sobia Rafiq, a consultant with the BBMP. The IT city is not giving up yet. Hope the civic authorities in Delhi lead the change with the same zeal.
Close Story
Personalise your news feed. Follow trending topics