Ashes 2017-18: Five things we learnt from Australia's 4-0 rout of England
Agence France-Presse, Sydney |
Agence France-Presse
Jan 09, 2018 06:08 PM IST
A look at some of the takeaways from Australia's comprehensive 4-0 rout of England in the recently-concluded Ashes series
Australia finished off a 4-0 series win over England with another comprehensive victory in the final Test in Sydney on Monday. AFP Sport highlights five talking points: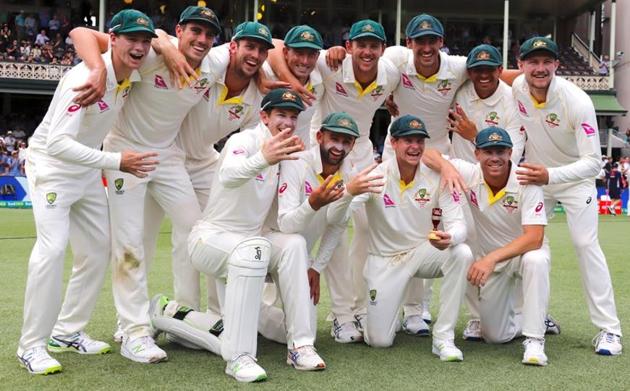 Setting the pace
Australia's four front-line bowlers -- Mitchell Starc, Josh Hazlewood, Pat Cummins and Nathan Lyon -- dominated the series, emulating predecessors Mitchell Johnson, Ryan Harris, Peter Siddle and Lyon in the 5-0 home series whitewash four years earlier. The current lot all finished with 20 or more wickets in the series to take 87 in total, while England's bowlers only managed 55. The three pacemen bowled considerably quicker than their English counterparts and did not waver from going after the tailenders with short-pitched deliveries, limiting the tourists' ability to build competitive totals.
Bradman-esque Smith
Australia skipper Steve Smith was the undoubted man of the series. He finished with 687 runs including three centuries at 137.40 and lifted his career Test average to 63.75, second only to the mighty Don Bradman's 99.94. Smith showed immense levels of concentration and application, facing a total of 1,416 balls. As a contrast, England captain Joe Root topped his team's series averages with 378 runs at 47.25, but faced just over half as many balls as Smith, who was the major point of difference between the two sides.
England fail to capitalise
England did not handle the pressure moments throughout the series, and Australia did. England's all-time leading wicket-taker James Anderson conceded that the tourists were unable to make their moments count. "We've just not capitalised on the key moments where if we kick on with the bat and get a big score in the first innings then we've put them under more pressure," Anderson said after the Sydney defeat. "Similarly, if we get them a few wickets down early, then a couple more would get us in the game and get us on top." Steve Smith said the series-changing moment for him was Nathan Lyon's brilliant direct-hit run out of James Vince on 83 in the first Gabba Test.
Australia's selectors vindicated
There was much outcry before the series over the selections of wicketkeeper Tim Paine and batsman Shaun Marsh, who was recalled to the Test side for an eighth time. But they were, along with Shaun's recalled brother Mitchell, outstanding successes. Paine took 25 catches and a stumping, and chipped in with 192 lower-order runs at 48.00 in his first Test series after a seven-year gap. Shaun Marsh, batting at five and six, amassed 445 runs at 74.16, including two centuries and a man-of-the-match performance in the day-night second Adelaide Test. Mitchell Marsh, derided as statistically the worst number six in the history of the game, made his critics eat their words with two Ashes centuries in the last three Tests to finish second behind Smith on the Australian series averages, with 320 runs at 106.66.
'Everyone is very disappointed'
There are likely to be changes in the England set-up after their upcoming tour of New Zealand. The England and Wales Cricket Board is backing Andrew Strauss, director of England cricket, and Tom Harrison, chief executive, to make the right decisions when they sit down and review the Ashes tour. "Everyone is very disappointed. Everyone gave their all but we have to do things better going forward," ECB chairman Colin Graves said in the wake of 4-0 onslaught. Graves says there will be no "witch hunt" and that coach Trevor Bayliss still retains the full support of his employers.