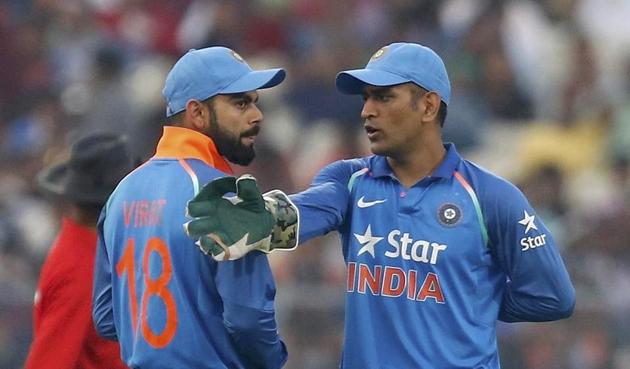 Why Virat Kohli wants to be 'joker', rather than captain fearless of Indian team
Virat Kohli was gifted an autographed ball by former captain MS Dhoni after India national cricket team defeated England in the ODI series. The India captain added that he would prefer to be players' friend first and then their skipper
UPDATED ON JAN 24, 2017 09:04 AM IST
The Virat Kohli era in India's ODI cricket has taken off on the right note. With a 2-1 series win over England, the new India national cricket team captain has given enough indication of successfully taking over the mantle from MS Dhoni.
Dhoni, who won the 2007 World T20 and 2011 ICC World Cup, was a crucial factor in the series win. He scored 134 in the second ODI in Cuttack and was involved in a 200-run stand with Yuvraj Singh (150) as India beat England by 15 runs to take an unbeatable 2-0 lead.
It helped Kohli seal his first ODI series as captain and was a special occasion. He wanted to keep a memorabilia from the occasion, and Dhoni came up with a unique gift.
"MS gave me the match ball in the second game. The stumps are too expensive nowadays and they don't allow us to take it home (smiles). He gave me the ball and told me it was my first series win as captain and a memorable one," Kohli told bcci.tv.
Kohli turned into a 'fan' for a moment after receiving the gift. "It was a special moment for me and I got the ball signed from him as well," he added.
Joker Kohli
He added that despite being the leader of the gang, he would prefer being the team's friend first.
"I prefer being the joker in the change room. It has been a series of finds, character building, people expressing themselves and not worrying about the number of games they have played. The team has showed character and intent of being smart cricketers, winning games for the country," he said.
"There is no better feeling and I feel that the guys have really encashed the opportunity wonderfully and delivered every time we have been under the pump. Especially youngsters stepping up with special mention to Kedar Jadhav and Hardik Pandya, the way they performed in the series has been outstanding. Everyone has contributed throughout the series and that's the hallmark of a good team."
Asked about the three biggest takeaways from the series, Kohli said: "Kedar's batting performance in the 1st ODI. Yuvi (Yuvraj Singh) and MS (Dhoni), the way they batted in the second game and the way Bhuvi (Bhuvneshwar Kumar) bowled in the death overs.
"Then, the way Hardik and Kedar strung the partnership (3rd ODI). I think it is commendable for two guys after having lost all the experienced guys in the team to stitch a partnership like this on a difficult wicket, is something outstanding for me. These three events stand out for me because this is something that we always wish to execute as a team."
Close