IPL 2020 Highlights, MI vs RR: Suryakumar's fifty, Bumrah 4-fer lead MI to 57-run win against RR
IPL 2020 Highlights, Mumbai Indians (MI) vs Rajasthan Royals (RR): A magnificent fifty from Suryakumar Yadav followed by a clinical spell from Jasprit Bumrah (4/20) scripted Mumbai Indians' 57-run win against Rajasthan Royals in Abu Dhabi. Besides Bumrah, James Pattinson (2/19) and Trent Boult(2/26) scalped 2 wickets apiece while Rahul Chahar (1/24) and Kieron Pollard (1/24) settled one wicket each. This win propelled MI to the top position on the points table. RR batsmen were completely outplayed by MI bowlers. In pursuit of 194-run target, they ended up scoring 136 runs.Jos Butler came out as the top-scorer with 70 runs against his name. Earlier, MI won the toss and elected to bat first. Defending champions Mumbai Indians registered their first win against RR since 2015. Follow the MI vs RR IPL 2020 Highlights Here: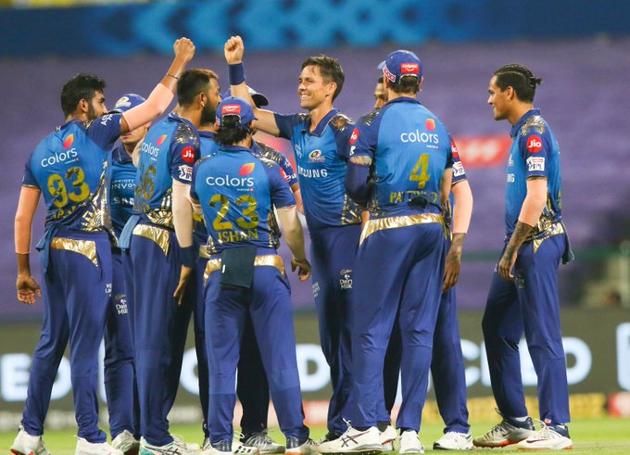 Updated on Oct 06, 2020 11:37 PM IST
Hindustan Times, New Delhi |
hindustantimes.com
23:15 hrs IST
Game end - Mumbai Indians win by 57 runs
James Pattinson hits the final nail in the coffin - Gets rid of Ankit Rajpoot and wraps up the RR business tonight. Rohit Sharma takes the final catch as Mumbai Indians beat Rajasthan by 57 runs with 11 balls to spare.
23:12 hrs IST
OUT! Archer gone, 4th one for Bumrah
OUT! Bumrah gets Archer this time and Pollard takes another good catch to help his teammate notch his 4th wicket tonight.
23:06 hrs IST
Boult to Archer - SIX!
SIX! A shorter on from Boult and Archer executes it well. Tonked over long-on for a six. An outstanding shot but Rajasthan Royals need a lot of it now.
23:03 hrs IST
OUT! Bumrah gets Shreyas Gopal
Bumrah to Gopal - OUT! Another caught behind tonight, perhaps the third one after Yashasvi and Smith. Ball moving inside, gets and outside edge off batsman's bat and de Kock takes another one. RR - 115/8 after 16
22:58 hrs IST
Bumrah Strikes back, Tewatia BOWLED!
OUT! That was an amazing delivery to take down Rahul Tewatia. A yorker clocking 142.1 km/h from Bumrah just goes through the wickets. Tewatia had hardly sighted that, and now walks back to the dressing room. A Bumrah classic!
22:54 hrs IST
Pollard to Tom Curran - OUT!
OUT! Another poor show from another RR batsman this evening. A slower one from Pollard and Curran tries to slams it hard over long-on . Turns out to be a failed attempt as the ball doesn't get the and distance. Hardik runs in and takes the catch.
22:50 hrs IST
Words of appreciation by the Master Blaster!
HA HA HA.... only @KieronPollard55 can take such catches consistently! 😋#MIvRR #IPL2020

— Sachin Tendulkar (@sachin_rt) October 6, 2020
22:43 hrs IST
OUT! Buttler departs, Pollard takes a stunner!
Pattinson to Buttler - OUT! Buttler launched it over the long-on but a tall man Kieron Pollard jumps off and completes a stunning catch to shatter all hopes of Rajasthan Royals. Buttler departs for 70, RR - 98/5 after 13.3 overs.
2:35 hrs IST
Buttler welcomes Pollard with SIX, FOUR!
Some fireworks from Buttler tonight in Abu Dhabi. Unfortunate Pollard who is at the receiving end currently. A huge SI over long on followed by a four on the on side - that's how Buttler treated the big man, Pollard.
22:32 hrs IST
Krunal to Buttler - SIX!
A flat delivery from Krunal and Buttler goes big over deep mid-wicket. An absolute cracker of a shot that went like a tracer buller. Buttler is gradually getting their and so are Rajasthan Royals.
22:26 hrs IST
SIX! Fifty for Buttler
Chahal to Buttler - SIX! The Englishman brings up his first fifty in IPL 2020 with that 82-meter maximum. The bowl just slipped out of Chah's hand and Buttler made the most of it. Belts it over long-on to notch his half-century.
22:20 hrs IST
Krunal to Buttler - SIX!
SIX! Another great shot of Buttler's bat. An slower short ball from Krunal and Buttler slaps it over extra cover boundary for a six. All RR hopes on Buttler now. Can he save the game from here?
22:17 hrs IST
OUT! Rahul Chahar strikes to remove Mahipal Lomror
OUT! Lomror gets trapped in Chahar's leg spin. The batsman tried to towards leg-side but was outplayed by the spin. The ball went up in the air and substitute fielder, Anukul Roy pulls of a blinder. Lomror departs for 11, MI - 42/4 after 8.1 overs.
22:12 hrs IST
Pattinson bowls a beauty
Pattinson brilliantly bowls his second over and concedes just seven runs. A beautiful over to add more to Rajasthan Royal's woes tonight. MI - 42/3 after 8 overs.
22:06 hrs IST
FOUR! Mahipal Lomror off the mark
FOUR! An excellent from the in-form young batsman. A wider one from Pattinson and Lomror cuts it through cover-point. more runs to Rajasthan Royals.
22:03 hrs IST
Bowling change - James Pattinson into attack
Be it Bumrah or Boult - MI pacers have been right on the money tonight. They have excellently executed their plans to defend the score of 193. Adding to it, here comes another one - James Pattinson.
21:56 hrs IST
Boult to Buttler - FOUR
FOUR! a back of a length delivery and Buttler opens the face of his bat to guide it past short third man. A good one for the Englishman to ease off the pressure from Rajasthan Royals.
21:51 hrs IST
Sanju Samson's downfall in IPL 2020
vs CSK - 74
vs KXIP - 85
vs KKR - 8
vs RCB - 4
vs MI - 0
21:47 hrs IST
Boult strikes again, Sanju Samson is OUT!
OUT! Some terrific stuff from Trent Boult tonight. Samson failed to execute the pull shot and ended up getting caught by Rohit Sharma at the mid-on area. Worst outing this for Samson in IPL 2020 so far, his first duck. A quicker than expected delivery sends back the batsman back to the dressing room. RR - 12/3 after 3 overs.
21:44 hrs IST
OUT! Bumrah gets Steve Smith
What's happening to Rajasthan Royals. They has just began chasing and lost their second wicket. This times goes the skipper. Lost his wicket, quite similar to that of Yashasvi's dismissal. Smith tried slogging Bumrah but ended up with an inside edge and easy one for Quinton de Kock.
21:40 hrs IST
OUT ! Boult gets Yashasvi
Boult to Jaiswal, OUT! A duck on return or Yashasvi. Poor shot selection from the batter, only to send him packing. A dolly for de Kock behind the stumps. First wicket for Mumbai Indians, RR yet to open their account.
21:36 IST
Rajasthan Royals begin the chase
RR need 194 runs to win and to begin the run chase, here comes Yashasvi Jaiswala and Jos Buttler take guard. For Mumbai Indians, Trent Boult comes into attack.
21:27 hrs IST
Suryakumar Yadav registers Highest IPL Score
An unbeaten 79 tonight against RR happens to be Suryakumar Yadav's highest individual score in IPL. Let's have a look to his previous best scores:
79*vs Rajasthan Royals, Abu Dhabi 2020
72 vs Rajasthan Royals Jaipur 2018
71*vs Chennia Super Kings Chennai 2019
21:23 hrs IST
A tough way ahead for Rajsthan Royals
Innings Break!

After opting to bat first, #MumbaiIndians post a total of 193/4, courtesy some brilliant batting by SKY (79*)

Will #RR chase this down?#Dream11IPL #MIvRR pic.twitter.com/8Q8IUZRe9R

— IndianPremierLeague (@IPL) October 6, 2020
21:20 hrs IST
End of MI innings
Mumbai Indians' innings have come to an end. They scored 193/4 in 20 overs.
Rajasthan Royals need 194 to win.
21:15 hrs IST
Revenge of Surya - Reverse laps, SIX to Archer
What a way to give it back to the bowler after getting hit on the helmet. A fuller from Jofra and terrific shot from Suryakumar. He went down on knees and reverse slapped over Buttler's head for a maximum... This shot would surely win Surya an award tonight!
बैठक! 😍

How often do you see a pacer being swept for a six?

Live Updates: https://t.co/EqTAbIZhaN
Ball-to-ball: https://t.co/3BObuDJ9TN #OneFamily #MumbaiIndians #MI #Dream11IPL #MIvRR @surya_14kumar pic.twitter.com/yYFbJxr5yl

— Mumbai Indians (@mipaltan) October 6, 2020
21:12 hrs IST
Suryakumar hit on the helmet, courtesy - Archer
Archer is completely after MI batsmen. First Hardik and now Surya. The impact has definitely shaken and physio is running towards the field. Suryakaumar gets checked for concussion. Good news, he is good to go!
21:08 hrs IST
Pandya survives Archer's beamer
A lethal one Archer. Felt like it's going to hit us right on the head. Luck Hardik, who just ducked in time and survived this bomb shell. The ball went cleared the boundary though, 5 runs - a no ball wrapped with a boundary.
21:04 hrs IST
Hardik dropped on 16, Suryakumar exploits Curran
What a sheer piece of bad luck for Top Curran off his 3rd over. Firstly, he dropped Pandya off 16 and then Suryakumar belted him for a SIX followed by a FOUR, towards backward square and short fine-leg respectively. Curran gave away 19 in the 18th over, MI - 161/4.
20:58 hrs IST
FOUR! Pandya haunts Archer
FOUR! Hardik Pandya off the mark and welcomes Archer with a boundary in the 17th over. The ball was in Pandya's zone and he belted it past mid-off. He needs to do some more of this now.
20:55 hrs IST
Harbhajan Singh lauds Suryakumar's efforts
Surya Kumar meethi churi 🔪 @surya_14kumar well played

— Harbhajan Turbanator (@harbhajan_singh) October 6, 2020
20:48 hrs IST
Fifty for Suryakumar Yadav
A fine innings from MI's No 3 who has been struggling to find himself among runs in the tournament. He hit a four to Tom Curran towards third-man to bring up his fifty in IPL 2020.
20:44 hrs IST
Ishan Kishan's fifth duck in IPL
Ishan scored his fifth duck in the history of Indian Premier League. It was the fourth occasion when the young batter grabbed zero off the first ball.
His GOLDEN DUCKs are as follow:
2016 - GL vs RPS, Pune
2018 - MI vs RCB, Mumbai
2018 - MI vs RCB, Bengaluru
2020 - MI vs RR, Abu Dhabi
20:40 hrs IST
OUT! Krunal fails against Archer's short ball
Krunal's weakness against short ball revealed once again as Jofra Archer knocked him in the 14th over. Senior Pandya attempt a half-hearted pull and Gopal grabs a dolly at mid-wicket. just 2 from from the over and a wicket. MI - 117/4 after 14 overs.
20:33 hrs IST
Rohit Sharma against leg spin since 2017
Balls faced - 140
Runs scored - 154
Dismissals - 10
Average - 15.40
Strike rate - 110.00
20:28 hrs IST
Krunal's six brings some relief
Rahul Tewatia to Krunal - SIX! A huge six from the left-hander. Krunal slog swept the ball straight down the ground for a humongous maximum. That might relief some pressure of MI after the removal of their skipper.
20:25 hrs IST
100-up for Mumbai Indians
The Mumbai Indians have notched up 3 figures, 100 runs added up on the scoreboard during the 12th over. Shreyas Gopal ends up with 28/2 off his four overs. MI - 104/3 after 12 overs.
20:20 hrs IST
2 in 2 for Gopal - Ishan Kishan goes after Rohit Sharma
Right after he cleared off Rohit Sharma, Gopal had Ishan Kishan off his next ball. Another wrong'un and Kishan fell in the trap, getting caught by Sanju Samson at cover. Ishan Kishan goes for a GOLDEN DUCK.
20:17 hrs IST
Shreyas Gopal take down Rohit Sharma
OUT! Shreyas Gopal has hunted down Rohit Sharma. A well executed wron'un that bamboozled Rohit as he ends up getting caught at long-on. Rohit departs for 35, MI 88/2 after 9.1 overs
20:10 hrs IST
Kartik into attack, Suryakumar smashes
Kartik into his third over and Suryakumar Yadav welcomes him with three fours in the over. The first one was glided over backward point, second one towards third man and the last one went through an empty slip cordon. MI - 88/1 after 9 overs.
20:03 hrs IST
FOUR, SIX - Nightmare for Shreyas Gopal
After a tight first over, Shreyas Gopal was heavily punished by Suryakumar and then Rohit Sharma. Gopal was welcomed by Yadav with a four towards cover. Then it was Rohit Sharma who hammered him for a SIX, pulling over mid-wicket. MI -76/1 after 8 overs
19:56 hrs IST
57 runs in powerplay for MI
A decent start for Mumbai Indians in the first six over. Rohit Sharma and Quinton de Kock set the tone well but Kartik Tyagi dented their camaraderie. They could stitch a 49-run stand for the opening wicket. 6 boundaries and 3 sixes came off the powerplay, MI 57/1 after 6 overs.
19:53 hrs IST
Kartik Tyagi strikes on debut
 Miaden IPL wicket for Karthik Tyagi. de Kock was beaten off the short on and ball stood went straight up in the air. Buttler made no mistake in catching that.
Debutant Kartik Tyagi picks up his first wicket.

QDK departs after scoring 23 runs.#MI 50/1 #Dream11IPL pic.twitter.com/tk5Rgedg7R

— IndianPremierLeague (@IPL) October 6, 2020
19:49 hrs IST
Debutant Kartik Tyagi into attack
Tyagi was one of the star bowlers in Indian's U-19 world Campaign in South Africa earlier this year. The day has finally arrived when he will be playing against some of the modern-era greats of the game. Let's wish him a good luck.
19:46 hrs IST
de Kock tarnishes Archer's attack
The MI openers have set the tone and Quinton de Kock presents an example of that. A boundary towards fine leg and then a whooping six that sailed over backward square leg. Two such cracking shots are enough to throttle a pacer's confidence... isn't it?
19:42 hrs IST
SIX, Boundary - Rohit punishes Ankit Rajpoot
Rajpoot returns into attack and Rohit goes after him, smashing a six and a four off the second and third ball respectively. A humongous six over mid-off and then a cracking four towards short fine leg. Looks like the MI skipper is all set to exploit the RR bowlers.
19:39 hrs IST
A tidy over from Gopal
Shreyas Gopal tured out to be spot on. Just 4 runs off the over, cutting down MI's run rate by 7 rpo after a 10-run first over. Commendable job done by the spinner. MI - 14/0 after 2 overs.
19:37 hrs IST
Shreyas Gopal into attack
It's just the second over and Rajasthan Royals have deployed a spinner into the attack. The skipper definitely expects him to cover the damage done in the previous over. Let's see what Shreyas has got for Rohit- de Kock duo.
19:34 hrs IST
Rajpoot to Rohit - FOUR!
FOUR! Rohit Sharma ends the first over with a boundary. A poor delivery from Rajpoot and Rohit punishes by opening the face of his bat and guiding the ball towards third-man for a four.
19:32 hrs IST
Quinton de Kock begins with a FOUR!
First ball of thr match, Ankit Rajpoot to de Kock and it's a FOUR! A half-volley and de Kock drives it trough mid-off. What a start for Mumbai Indians.
19:30 hrs IST
IPL 2020 Live Score: Rohit Sharma, Quinton de Kock take mark
The players are on the filed. Rohit Sharma and Quinton de Kock have arrived to begin the MI innings. Ankit Rajpoot brings up the first over for Rajasthan Royals.
19:15 hrs IST
In-match stats
• 1: Ankit Rajpoot is 1 wicket away from completing 100 T20 wickets.
• 50: Jos Buttler is 50 runs away from completing 6,000 runs in T20s. o He is also 2 sixes away from completing 250 sixes in T20s.
• 43: Tom Curran needs 43 runs more to complete 1,000 runs in T20s.
• 100: David Miller needs 100 runs more to complete 7,000 runs in T20s. o He is also 5 four away from completing 500 fours in T20s.
• 82: Runs Pollard needs to reach 3000 runs in IPL.
• 24.50: Pollard's average vs RR his lowest against any current opponent in IPL.
• 94.50: Buttler's average vs MI his highest against any opponent in IPL.
• 412 & 51.50: Smith's runs and average against MI, his highest against any current opponent in IPL.
• 45: Runs Rohit needs to reach 500 runs against RR, will become the 5th player to do so.
• 82: Runs Rohit needs to reach 9000 T20 runs.
• 85: Runs K.Pandya needs to reach 1000 IPL runs.
• 11 & 9: Archer's average and wickets against MI, his best against any opponent in IPL.
• 1: If Rohit scores 1 more 50, he will become the Indian with most 50s in IPL.
• 8: Boult is the joint highest wicket taker of IPL 2020
• 163: Pollard's average in IPL 2020, highest by a player.
19:08 hrs IST
Steve Smith at the toss
Steve Smith said, "It looks a beautiful wicket. I wasn't sure as to what to do at the toss. But now, we are bowling first, need to do the basics well. We have three changes tonight - Jaiswal is in, Rajpoot is back in and Kartik Tyagi makes his debut."
19:05 hrs IST
Rohit Sharma speaks at the toss
Mumbai Indians skipper Rohit Sharma, after winning the toss - "We will bat first. It looks a good pitch. It had played pretty well in our first match here. We have done very well and have been consistent so far. We have no changes in our playing XI."
19:02 hrs IST
MI vs RR: Playing XI of both teams
Mumbai Indians have fielded the same team. Whereas Rajasthan Royals have made three changes - Yashasvi Jaiswal, Ankit Rajpoot replace Robin Uthappa and Jayadev Unadkat. Kartik Tyagi makes debut and replaces Riyan Parag.
Mumbai Indians: Rohit Sharma(c), Quinton de Kock(w), Suryakumar Yadav, Ishan Kishan, Hardik Pandya, Kieron Pollard, Krunal Pandya, James Pattinson, Rahul Chahar, Trent Boult, Jasprit Bumrah
Rajasthan Royals: Jos Buttler(w), Yashasvi Jaiswal, Steven Smith(c), Sanju Samson, Mahipal Lomror, Rahul Tewatia, Tom Curran, Jofra Archer, Shreyas Gopal, Ankit Rajpoot, Kartik Tyagi
19:00 hrs IST
Time for the TOSS in Abu Dhabi!
Mumbai Indians win the toss, they will bat first.
18:55 hrs IST
Mumbai Indians' need to solve the puzzle of Poweplay
Rohit Sharma led Mumbai Indians have been struggling a bit in the powerplay in this season so far. MI have lost 9 wickets in Powerplay, most by a team in Powerplay. There average of 25 is also the least by a team in the league so far.
18:50 hrs IST
10 minutes to toss
Just 10 minutes left for the toss which will eventually reveal the final playing XI. Meanwhile, some exchange of thoughts between a senior-junior duo who have come a long way from Mumbai. Another fanboy moment for Yashasvi Jaiswal.
Azad Maidan Represent! 💗#MIvRR #HallaBol #RoyalsFamily #IPL2020 pic.twitter.com/DiYMiextKK

— Rajasthan Royals (@rajasthanroyals) October 6, 2020
18:45 hrs IST
Check out RR's new outfit for tonight's clash
Tonight's dress code. 😎

Get yours & get behind us - https://t.co/1c0z9rjWIt#MIvRR | #HallaBol | #IPL2020 pic.twitter.com/cunvfOBFWe

— Rajasthan Royals (@rajasthanroyals) October 6, 2020
18:40 hrs IST
How many points out of 10 to Pollard's new look?
New game ➡️ New look 🏏🧔

How's Polly's classic french c̶u̶t̶ ̶ beard?#OneFamily #MumbaiIndians #MI #Dream11IPL #MIvRR @KieronPollard55 pic.twitter.com/2j1Pp0iDZh

— Mumbai Indians (@mipaltan) October 6, 2020
18:35 hrs IST
Jofra Archer has got his motivation!
Jofra's support system. 🤗

Patrick & Joelle Archer are at Sheikh Zayed to #HallaBol. 💗#RRvMI | #RoyalsFamily | @JofraArcher pic.twitter.com/CAoUfljlet

— Rajasthan Royals (@rajasthanroyals) October 6, 2020
18:30 hrs IST
30 minutes to toss!
Just half-an-hour to go for the toss. Both teams have arrived at the venue and warming-up themselves before the face-off.
18:25 hrs IST
Samju Samson loves to play against MI - Stat Alert
Sanju Samson started IPL 2020 superbly scoring 159 runs with 2 half centuries at a strike rate of 214.86 at batting friendly Sharjah. In the next 2 matches he has managed just 12 runs at a strike rate of 100. However, the stats say that he has scored 392 runs against MI with 4 half centuries which is his most 50+ scores against any opponent in IPL.
18:20 hrs IST
When and where to watch MI vs RR IPL 2020 match Live Streaming?
Here we are to answer all your queries regarding where to catch the live streaming of Mumbai Indians and Rajasthan Royals IPL 2020 match on phone and television. Click here to get the details
18:15 hrs IST
How would Rajasthan Royals look like?
In order to return to winning ways, Rajasthan Royals desperately need to amend their middle-order. Two consecutive losses have exposed the loop holes already and RR think tank has to cover it up as soon as possible. Moving forward, they may have Yashasvi Jaiswal back in the set-up for tonight's face-off.
Click here to check out RR's predicted XI
18:08 hrs IST
Predicted XI - Mumbai Indians
In all likelihood, Mumbai Indians won't alter the intensity of the unit by making any changes to it. Their combination has been spot on and they would deploy the same eleven against Rajasthan Royals tonight.Click here to know the predicted XI of Mumbai Indians.
18:02 hrs IST
Rohit vs Archer: A rivalry to watch out for
Rohit being one of the best at pull shots has a strike rate of 212.67 against short balls in IPL. He has a strike rate of 200 against over chest high bouncers in IPL. Whereas Archer has picked up 6 wickets from over chest high bouncers in his IPL career, at an average of 11.66.
With the looks of these stats, it's going to be a great contest tonight when these two giants face each other.
17:55 hrs IST
Huge milestone for Steve Smith
Rajasthan Royals is on the verge of reaching a remarkable feat in the shortest format of the game.. If he manages to hit three sixes tonight, he will complete 100 sixes in T20 cricket.
17:50 hrs IST
194th IPL match for Rohit Sharma
As soon as Rohit takes the field against Rajasthan Royals, he will overtake Suresh Raina in the list for most matches played in IPL. He will be only behind CSK skipper MS Dhoni who has played 195 matches.
17:45 hrs IST
Poweplay - the biggest concern for RR bowling
Rajasthan Royalss bowling has struggled in IPL 2020,especially in Powerplay. They have picked up just 2 wickets in Powerplay, least by any team in this season. Their economy of 8.42 and average of 101 which stands as the worst in the league so far.
17:40 hrs IST
Jofra Archer - fastest as FLASH!
Archer has been the fastest bowler in IPL 2020. He has bowled 4 of the top 5 fastest balls recorded in this tournament so far. Archer has picked up 6 wickets at an average of 11.66 from over chest high bouncers in his IPL career.
17:35 hrs IST
Out of touch Suryakumar Yadav
Suryakumar Yadav has scored 101 runs in IPL 2020 at an average of 20.20, which is the lowest by an MI player. Since IPL 2019, Surya has struggled to convert his starts, he has got out in the scores between 15 to 40 on 12 occasions out of 20 innings highlighting his inability to convert starts into substantial scores.
17:30 hrs IST
MI's unbeatable pace battery - Right on the money!
MI's fast bowlers have taken 23 wickets, the most by any team's fast bowlers. In fact, the only team with more than 20 wickets. They have have an economy rate of 8.15 and average of 23.78, which is the best in IPL 2020.
17:23 hrs IST
MI vs RR: A look at last five encounters
Mumbai Indians haven't been able to defeat Rajasthan Royals since their return in 2018. Out of last five matches, RR have won four while MI won only one, back in 2015. Will Steve Smith's side be able to maintain this streak in 2020?
17:18 hrs IST
'Keep the intensity going' - Rohit Sharma's mantra
🗣️ "Being a Mumbai boy I've grown up playing in the sun. It's about getting used to the heat."#OneFamily #MumbaiIndians #MI #Dream11IPL @ImRo45 pic.twitter.com/rmn39m2rOj

— Mumbai Indians (@mipaltan) October 6, 2020
17:12 hrs IST
Here's what playing cricket amid COVID-19 looks like
We move. 👊#MIvRR | #HallaBol | #RoyalsFamily pic.twitter.com/yqwGdgTAXr

— Rajasthan Royals (@rajasthanroyals) October 6, 2020
17:07 hrs IST
Rajasthan Royals' journey in IPL 2020
4 matches - Lost 2, Won 2
They entered the tourney with a bang and went a level up in the next game. And then they were hit by an unknown jinx.One that halted their winning run and pushed them off the track. Their top order didn't work, middle-order failed, bowlers went on to leak runs... However, it's never late though. It's a matter of just one game and they will be back agains.
17:00 hrs IST
Mumbai Indians so far in IPL 2020
5 matches, 3 wins and 2 unfortunate loses. That has been MI's story in IPL 2020. After losing one cracker of a game against RCB - the Super Over one - they didn't waste much time in making a comeback. That's the character of this side which makes them outstanding. Their team-work across departments have yielded positive results. Get, set, Go... MI!
16:55 hrs IST
Walking into anther IPL 2020 game be like...
A sense of calmness when this man smiles 😄😎#OneFamily #MumbaiIndians #MI #Dream11IPL #MIvRR @ImRo45 pic.twitter.com/ZbVuJMLSVS

— Mumbai Indians (@mipaltan) October 6, 2020
16:50 hrs IST
Highest Net Run Rate in IPL 2020
Mumbai Indians is the team that has the highest run rate in the tournament currently. Moreover, they are only the secnd team have a positive NRR, i.e. +1.214. If they continue their winning streak tonight, they will rule the rankings with making their ways easier ahead in the league.
16:45 hrs IST
Tough task ahead for Rajasthan Royals
The began their campaign in this IPL season resembling to their franchise anthem - Halla Bol. Two wins on the trot was a statement from RR that they shouldn't be considered underdogs. But then the things turned around and they had a massive fall. Loss after loss pulled them down in the points points table and now they are settled at the 5th spot with 4 points. In order to make their way back to the top four, they need to win this game.
16:40 hrs IST
Mumbai Indians eye the top spot!
Rohit Sharma's side is riding high on confidence. They have beaten Kings XI Punjab and Sunrisers Hyderabad in back to back to games and currently have six points in their kitty. If they manage another win tonight, they will glide up to the first position on the points table.
16:35 hrs IST
IPL 2020, MI vs RR: Live Score and Updates
Hello and welcome to our live blog on IPL 2020 match between Mumbai Indians and Rajasthan Royals. While Mumbai Indians are on a roll in this year's IPL, RR are starting to struggle now despite getting off to a good start. The middle order of RR looks to not be in the best shape, and they have to rely a lot on top three batsmen - Steve Smith, Jos Buttler and Sanju Samson. Pressure, pressure! MI are starting to hit their strides and showcasing why they are the four-time champions. Tough contest for RR.
Close Story
Personalise your news feed. Follow trending topics