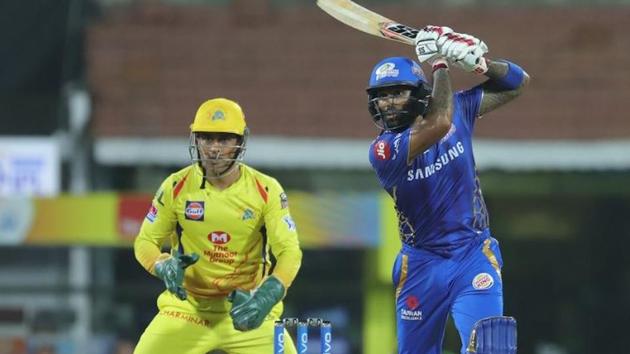 IPL 2019, MI vs CSK, Qualifier 1 Highlights: MI beat CSK by 6 wickets to enter final
IPL 2019 Qualifier, MI vs CSK as it happened: The enormously talented Suryakumar Yadav played one of his finest knocks on a challenging track as Mumbai Indians beat Chennai Super Kings by six wickets in the first Qualifier, entering IPL final for the fifth time on Tuesday. On a sluggish pitch, which offered considerable turn and odd bounce, Suryakumar batted in a copybook fashion scoring an unbeaten 71 off 54 balls with MI reaching the target in 18.3 overs.However CSK will get another chance to make it to their eighth summit clash as they will now play the second Qualifier against the winner of the 'Eliminator' between Delhi Capitals and Sunrisers Hyderabad. Earlier, the Mumbai Indians spinners restricted Chennai Super Kings to 131 for 4. It was an evening for the spinners as no seamer got a wicket. The seamers were okay though. Krunal, Rahul and Jayant spun a web through the opposition and the Men In Yellow just could not find a way past the trio. 11-0-60-4 were their combined figures with Rahul Chahar being the most impressive.
Follow MI vs CSK Qualifier 1 highlights below -
UPDATED ON MAY 08, 2019 09:02 AM IST
23:10 hrs IST
MI chase in a nutshell
Suryakumar Yadav and Ishan Kishan's 80-run stand put Chennai on the back foot. Surya was in good touch but it was Kishan's knock which took Chennai aback. He counter-attacked Tahir and Harbhajan and the fielding side could not recover. Jadeja, Harbhajan and Tahir did bowl well, with combined figures of 12-0-76-3 but they could never really put pressure on Mumbai's middle order.
23:05 hrs IST
Stats to remember
Mumbai Indians win against CSK by 6 wickets
5th time Mumbai Indians have made it to the IPL Finals - second most after CSK's 7.
2nd time they have managed to beat CSK 3 times in a single season
Only team to beat CSK 3 times in a single season
Suryakumar Yadav's highest score in the IPL surpassing his score of 70 he scored in 2018 vs Rajasthan Royals
23:00 hrs IST
Mumbai Indians win by 6 wickets
That's it! Mumbai Indians have beaten Chennai Super Kings by 6 wickets to enter the IPL 2019 finals. It has been a complete performance from the three-time champions. But CSK are out of the race, they will have another at the final against the winner of eliminator between SRH and DC.
22:52 hrs IST
Close shave for Pandya
Oh it's been that kind of night for CSK. Another one lands inches away from the fielder. Hardik Pandya survives and Mumbai's target now down to single figure.
22:48 hrs IST
MI closing in
16 runs required off 24 balls. One would have to say, this is Mumbai Indians' game now. They still have Pollard waiting in the hut.
22:43 hrs IST
Another lifeline for Suryakumar
DROPPED! Almost a team hat-trick for Chennai! Jadeja delivers a flatter delivery on off, Yadav leans forward to defend but it takes the outside edge and hurries behind to first slip. Watson sticks his left hand out but it brushes his fingers and speeds behind for a FOUR!
22:41 hrs IST
Tahir has two-in-two
OUT! It is a clean catch and Tahir indeed has two in two. A full ball outside off, Krunal looked to hit it back but while doing so, the bat hit the ground and the ball lobbed off the bottom of the bat back to the bowler.
22:39 hrs IST
Tahir breaks the stand
OUT! Bowled 'em! A wicket against the run of play and Tahir is up and running in celebration. A skidder from Tahir at 95.6 kph, Kishan walks down the track and tries to pull it after that but it goes right through him and pegs the off stump back.
22:36 hrs IST
Fifty for Suryakumar
FIFTY!@surya_14kumar brings up a well made half-century off 37 deliveries. #MumbaiIndians 100/2 after 13.2 overs. pic.twitter.com/Qb7iOhm3JS

— IndianPremierLeague (@IPL) May 7, 2019
22:27 hrs IST
Stat attack
2nd 50-run partnership for the 3rd wicket this season for MI
This is also the highest 3rd wicket partnership for MI this season surpassing the 58 run stand between de Kock and Yuvraj Singh vs KXIP at Mohali
22:25 hrs IST
Suryakumar takes on Tahir
Two brilliant shots from Suryakumar Yadav. Imran Tahir strayed down the leg side ever so slightly and Mumbai batsman used his wrists to drill the ball between the square leg and long on fielder twice. Two boundaries from the 11th over.
22:20 hrs IST
Good partnership building
Some very matured stuff from Suryakumar Yadav and Ishan Kishan. Their partnership is nearing fifty and this could well turn out to be the deciding factor in the match.
22:09 hrs IST
A quiet period
Only 10 runs from the first two over after the Powerplay. CSK are tightening the screws on the young pair of Suryakumar Yadav and Ishan Kishan, they need to absorb the pressure. MI 54/2 after 8 overs.
22:02 hrs IST
Good over for MI
11 runs coming from the last over of the Powerplay. Ishan Kishan was a bit lucky to collect a boundary from an outside edge but then he played a super slog weep for the first six of MI innings. MI 44/2 at the end of the Powerplay.
21:56 hrs IST
DROPPED
Oh he would be very very disappointed Murali Vijay. Did all the hard work to get there, got both hands to it but it somehow slipped away from his grasp and what's worse? It raced away to the boundary. Surayakumar Yadav gets a reprieve.
21:52 hrs IST
Bhajji strikes
OUT! A wicket well planned by Harbhajan Singh! Brilliant field setting from MS Dhoni. So good when the plan works out superbly. Bhajji has his arms up in celebration. Even before the ball is delivered, de Kock premeditates his movement by moving back. Harbhajan watches it and then delivers a flighted full ball in the line of the stumps. Quinton thinks he has outfoxed the bowler there as he gets enough room to play his favoured inside-out shot. But what the South African has not realized is that he has walked straight into the trap.
21:48 hrs IST
Chahar keeps it quiet
Good over Chahar! Only 5 runs from it. De Kock had the opportunity to collect the boundary twice in the over but on both occasions, he found the fielder. MI: 20/1 after 3 overs.
21:43 hrs IST
7 runs from the 2nd over
3 wides and a four from Harbhajan Singh's 1st over. Mumbai Indians batsmen looking to be positive upfront and rightly so. A cameo from de Kock could well give them the edge in the 132-run chase.
21:34 hrs IST
Ideal start for CSK
OUT! LBW! No use of the review, the umpire's call stays. Deepak Chahar has removed MI captain off the second ball of the first over. A peach of a delivery from Chahar. It moves away after pitching around leg stump, squares up Rohit and cannons on to his pads. Rohit went for the review assuming the ball would miss the stumps but it wasn't to be. MI 4/1 after 0.2 overs.
21:20 hrs IST
CSK innings in a nutshell
After electing to bat on a tricky surface, the hosts never got going. They finished Powerplay at a score of 32/3 but then Vijay and Rayudu steadied them a bit. The 33-run stand ensured that there was no collapse and then Dhoni had a go at the end of the innings. Just 50 came in the first 10 while the next 10 yielded 81. Rahul Chahar was the star with the ball for MI. He finished with figures of 2 for 14 in his 4 overs. The other two MI spinners were good too. Krunal gave away only 21 runs in his 4 overs with the important wicket of Watson to his name. Jayant Yadav finished with 25 for 1 in his 3 overs.
21:14 hrs IST
No big finish
So despite giving Dhoni a life in the first ball, Bumrah does not concede much in the last over. CSK do not get the big finish, they end up with 131 for 4 after opting to bat first. Will that be enough? That is certainly competitive on this track which is offering a lot of turn to the spinners and CSK have plenty of them.
21:09 hrs IST
Dhoni gets a life
Dhoni has been caught! But has Bumrah overstepped? YES! IT IS A NO BALL! A life to a tiger who already has 18 lives...Bumrah does not have his foot behind the line. He bowls a low full toss, outside off, Dhoni looks to swing hard but a thick outside edge behind. The ball goes wide of backward point where Ishan Kishan gets across to his left and takes it nicely. Mumbai celebrate but hang on. Nigel LLong wants a second look. And replays prove that Bumrah has overstepped...
21:05 hrs IST
Monster sixes from Dhoni
Back to back sixes from Dhoni. Malinga missed his mark on both occasions but Dhoni didn't. It was right in the slot and he swung as hard as he could. The ball sailed deep into the stands - the first through deep mid-wicket region, the second one over long-on.
20:59 hrs IST
Good comeback from Bumrah
After conceding a boundary in his first ball. Bumrah gives away only four runs from the next five balls to finish the 18th over, 8 runs coming from it. CSK not getting the finish they need.
20:55 hrs IST
100 up for CSK
Great start to the 18th over for CSK, a boundary from Rayudu's bat. He shuffled across and Bumrah for once, gets his line wrong and Rayudu pulls it throught the vacant deep square-leg region for a four.
20:52 hrs IST
Brilliant from Chahar
What an over, what a spell! Three dots to finish his spell. Rahul Chahar concedes only 3 runs from his last over. His figures read 4 over 14 for 2. CSK 99/4 after 17. Can they get to the 140 mark? That will definitely be a competitive score on this wicket.
20:48 hrs IST
Krunal finishes his spell
A very good over to finish an even better spell from Krunal Pandya, only 5 runs coming from the 16th over. He finishes with figures of 4 over 21 for 1. CSK 96/4 after 16 overs.
20:40 hrs IST
Rayudu joins the party
SIX! Ambati Rayudu sends the ball deep into the stands. CSK have decided to press the foot on the accelerator. Second six off the over, 15 runs coming from Jayant Yadav's 3rd over - the best over of the innings for CSK so far. CSK: 83/4 after 14
20:37 hrs IST
Dhoni gets going
SIX! Right from the middle of the bat. MS Dhoni at his best, skips down the track to negate the turn and hits it straight over the back off Yadav's head for the maximum.
20:30 hrs IST
Dhoni walks in
Chepauk welcomes it's #Thala one final time this season 🧡🧡 pic.twitter.com/OUiRBHcOdG

— IndianPremierLeague (@IPL) May 7, 2019
20:29 hrs IST
Chahar removes Vijay
That turned a mile! Not much Vijay could have done about that. An absolute from Rahul Chahar! Vijay tries to play inside out by skipping down the track but the ball turns viciously after pitching and de Kock does the rest behind the stumps. Vijay goes for 26 off 26. The partnership has been broken. CSK: 65/4 after 12.1 overs
20:21 hrs IST
11 from the 11
Malinga was not up to the mark in this over. A no-ball, a lose delivery to follow it up that Rayudu hits it to the boundary, 11 runs coming from Malinga's second over. CSK: 61/3 after 11 overs.
20:19 hrs IST
CSK struggling
CSK 50/3 after 10 overs
Joint 2nd lowest score for Chennai Super Kings after 10 overs this season
Least runs conceded by Mumbai Indians in the first 10 overs this season
7th time Mumbai have managed to take 3 or more wickets in the first 10 overs of the match
20:10 hrs IST
Krunal follows it up
This has been Krunal's night so far. 3 overs 16 for 1 so far, gives away only 2 runs in the 9th over. CSK: 46/3 after 9 overs.
20:06 hrs IST
Hardik begins well
5 runs coming from Hardik Pandya's first over. Rayudu and Vijay have no option but to be a bit cautious here but credit to Pandya for not bowling a loose delivery.
20:01 hrs IST
Stat attack
After the Powerplay CSK are 32/3
3rd lowest score in the powerplay while batting first for CSK this season
5th instance they have lost 3 or more wickets in the powerplay this season
2nd instance they have lost 3 wickets in the powerplay in the first innings
19:58 hrs IST
Krunal gets into the act
OUT! Watson departs and this is a massive, massive moment in the match. This is as much a wicket for the fielder as it is for the bowler. Short and around off, Watto rocks back and looks to pull, aiming to clear mid on. But he is not quite able to get enough off the bat. Jayant Yadav senses there is a chance at mid on, runs back, keeps his eyes on the ball and takes a spectacular catch. CSK: 32/3 after 6 overs
19:56 hrs IST
Vijay on the attack
The first was one was a bit streaky but the second one was right from the middle off Murali Vijay's bat. He has decided to take Krunal Pandya on and got two boundaries
19:53 hrs IST
Watson getting his groove
2 boundaries from Bumrah's first over, both from Shane Watson's bat. The Australian slowly but surely getting his groove back. And CSK need him. CSK: 23/2 after 5 overs.
19:46 hrs IST
Raina goes
OUT! Did Raina think this was another free hit? He certainly played like one. A dreadful shot and Mumbai have got their 2nd wicket, Jayant Yadav strikes despite not getting off to an ideal start. CSK are in big trouble, both men in form du Plessis and Raina back in the hut very early.
19:42 hrs IST
What an over!
Brilliant from Rahul Chahar, only 1 run coming from his thrid over and the important wicket of du Plessis. There is lot of turn on offer for the spinners. CSK need Raina to fire but be sensible at the same time. CSK: 7/1 after 3 overs
19:40 hrs IST
Rahul Chahar gets FAF!
Wicket number 11 for Rahul Chahar this season. His brilliance continues. What a start for Mumbai! They have got the prized scalp of Faf du Plessis. Chahar delivers it a touch flat and full wide outside off, du Plessis tries to slap it through the line but it spins away with some extra bounce and flies straight into the hands of short third man. Anmolpreet Singh (sub) crouches and takes the catch easily. Du Plessis is disappointed as he walks back.
19:38 hrs IST
Eventful first over from Krunal
So near yet so far. Krunal Pandya came so close in dismissing both du Plessis and Watson but it wasn't to be. The first one from du Plessis just went over a leaping Bumrah and in the last ball of the over, Watson got a close shave. CSK: 6/0 after 2 overs.
19:34 hrs IST
Great start by Malinga
Nearly a maiden! Brilliant start by the ever depended Malinga. Only a single from the last over. That shouldn't surprise many actually. This has been du Plessis and Watson's approach throughout the season. CSK 1/0 after the first over.
19:29 hrs IST
CSK openers
Chennai Super Kings have opted for their tried and tested opening partnership of Shane Watson and Faf Du Plessis despite having Murali Vijay in their team. Watson has struggled to get going in the tournament but in Faf, CSK have a bonafide superstar at the top of the batting order.
19:24 hrs IST
Match Recap
Chennai Super Kings skipper MS Dhoni won the toss and opted to bat against Mumbai Indians in the first qualifier of the Indian Premier League (IPL) at the M.A. Chidambaram Stadium.
Both the teams made one change in their squad as Murli Vijay came in for injured Kedar Jadhav in the Chennai team while Jayant Yadav replaced Mitchell McClenaghan in the Mumbai playing eleven.
19:17 hrs IST
Vijay returns
Monk is back to display super batsmanship at #AnbuDen! #WhistlePodu #Yellove #MIvCSK 🦁💛 pic.twitter.com/9kRJJKGsfP

— Chennai Super Kings (@ChennaiIPL) May 7, 2019
19:12 hrs IST
Final Squads
A look at the Playing XI for #Qualifier1 #MIvCSK pic.twitter.com/L4M3vMgtqF

— IndianPremierLeague (@IPL) May 7, 2019
19:10 hrs IST
Changes on two ends
One change each for Chennai Super Kings and Mumbai Indians - Murali Vijay comes in for the injured Kedar Jadhav while Jayant Yadav replaced Mitchell McClenagan in the MI team.
19:08 hrs IST
MI Playing XI
Mumbai Indians (Playing XI): Quinton de Kock(w), Rohit Sharma(c), Suryakumar Yadav, Ishan Kishan, Hardik Pandya, Krunal Pandya, Kieron Pollard, Jayant Yadav, Rahul Chahar, Jasprit Bumrah, Lasith Malinga
19:05 hrs IST
CSK Playing XI
Chennai Super Kings (Playing XI): Shane Watson, Murali Vijay, Faf du Plessis, Suresh Raina, MS Dhoni(w/c), Ambati Rayudu, Dwayne Bravo, Ravindra Jadeja, Harbhajan Singh, Deepak Chahar, Imran Tahir
19:02 hrs IST
CSK opt to bat
Chennai Super Kings have won the toss and skipper MS Dhoni has decided to bat first against Mumbai Indians. Rohit Sharma also wanted to bat first but it is advantage CSK at the start of this encounter.
18:59 hrs IST
The IIT Connection
The Indian Premier league (IPL) has entered the portals of the premier Indian Institute of Technology – Madras (IIT-M). Help MS Dhoni to decide in a crucial play-off match against Mumbai Indians on Tuesday, the students were asked in their semester examination. Read full story here.
18:50 hrs IST
Hardik, Malinga the key for MI?
• 155.30: Hardik Pandya has the best batting strike-rate for Mumbai Indians in IPL (Min: 125 balls faced). Hardik is followed by Krunal (146.84) and Pollard (146.54) in the list.
• 19.47: Lasith Malinga has the 2nd best bowling average for Mumbai Indians in IPL (Min: 250 balls) after Johnson (19.35).
• 7.09: Malinga also has the 3rd best bowling economy for Mumbai Indians in IPL (Min: 250 balls) after Shaun Pollock (6.54) and Harbhajan (6.95).
• 9.14: Hardik has the highest economy rate among Mumbai Indians bowlers in IPL (Min: 250 balls).
18:48 hrs IST
Some important stats
• 69: With 5344 runs, Raina is 69 runs away from once again becoming the leading run-scorer of the IPL by surpassing Kohli's tally of 5412.
• 78: Ravindra Jadeja is 78 runs away from completing 2,000 runs in IPL. Although, Jadeja is yet to score a fifty in IPL.
• 168.79: Ben Cutting has the 2nd best batting strike-rate in IPL (Min: 125 balls faced) after Russell (186.41).
• 6: Raina is only 6 sixes away from completing 200 sixes in IPL. He can become the 4th player to do so after Gayle (326), AB de Villiers (212) and MS Dhoni (206).
• 3 & 5: Harbhajan Singh and Dwayne Bravo are 3 and 5 wickets respectively away from completing 150 wickets in IPL. Either of them can become the 4th bowler with 150 or more wickets in IPL after Malinga (169), Mishra (155) and Chawla (150).
18:46 hrs IST
Venue details and head to head
• 155: Average 1st innings score at Chennai extrapolated over last 5 completed first innings at this ground in matches of IPL.
• 4/5: Mumbai Indians have won 4 out of last 5 encounters against Chennai Super Kings in IPL.
• 2015 & 2013: The last time when MI and CSK clashed in the 1st qualifier match of IPL. CSK won in 2013 and MI in 2015.
• 4: This will be the 5th time Chennai will be hosting a playoff match in IPL and first since 2012. CSK have played 3 and won 2 of them.
• 63.16%: CSK have the highest win% in playoffs/semis matches of IPL by winning 12 out of 9.
18:35 hrs IST
Hello and welcome
It doesn't get bigger than this. MS Dhoni's Chennai Super Kings up against Rohit Sharma's Mumbai Indians and that too for a place in the IPL 2019 final. Who will emerge on top? We'll know in a few hours from now on. Remember, the loser will get a second shot.
Close