Highlights - India vs Australia, ICC Under-19 Cricket World Cup 2018: Manjot Kalra ton, bowlers give IND record 4th title
Feb 03, 2018 04:03 PM IST
Manjot Kalra blasted a century as India defeated Australia by eight wickets to win the ICC Under-19 cricket World Cup title for a record fourth time. Get highlights of ICC Under-19 Cricket World Cup final as Prithvi Shaw's side create history at the Bay Oval.
Manjot Kalra blasted a century and helped India beat Australia by eight wickets to secure a record fourth ICC Under-19 World Cup title at the Bay Oval. Kalra's century, combined with Harvik Desai's unbeaten 47 and two wickets apiece from Ishan Porel, Kamlesh Nagarkoti, Anukul Roy and Shiva Singh helped India to a commanding win. Australia were bowled out for just 216, with Jonathan Merlo scoring a gritty 76 but he did not have enough support as they lost their last six wickets for 33 runs. With this win, India become the first team to win the Under-19 World Cup four times. Get highlights of ICC Under-19 Cricket World Cup final between India and Australia here. (SCORECARD) (STREAMING OF INDIA vs AUSTRALIA)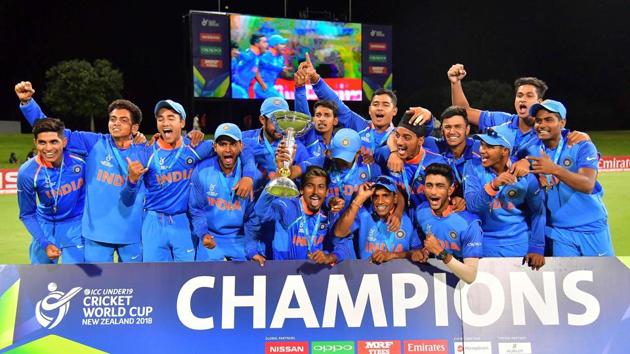 2:05 PM IST: That is all we have from here. More cricket action is happening elsewhere in the world. In Sydney, the Australian senior team are on top against New Zealand in the Twenty20 tri-series while Sri Lanka are piling on the agony against Bangladesh in Chittagong, having crossed 700.
2:03 PM IST: That brings us to an end to this Under-19 World Cup. Australia have been battered but they can be proud of their efforts while India have unearthed a few champions in the form of Kamlesh Nagarkoti, Ishan Porel, Prithvi Shaw, Shubhman Gill, Manjot Kalra and Anukul Roy. All these guys will have a huge role to play in the Indian Premier League and hopefully in the future of Indian cricket. Here is wishing them all the best and more success in the coming years, as quoted by the legend Rahul Dravid himself.
1:59 PM IST: Perfect bowling, brilliant batting and electric fielding. The three perfect factors which makes a champion side. Prithvi Shaw's side have been clinical and sublime in this tournament, which is why they have won the title for a record fourth time.
1:57 PM IST: The Indian cricket team now take a lap of honour along the Bay Oval with their legion of fans cheering and supporting them. It is a fantastic moment. Gone are the days when India were intimidated heading into a major ICC event. This time, it is India's moment to shine.
1:53 PM IST: Prithvi Shaw, India skipper: All credit to our support staff for really supporting us for the last two years. Rahul Sir himself is a legend, the Wall we call him. It was a crucial hundred from Manjot. Gill was batting so well. Both pacers, Kamlesh and Mavi, have been executing things so well through the tournament. It's been wonderful playing matches here.
1:50 PM IST: Jason Sangha, Australian captain: Proud of the guys to get this far in the tournament. Full credit to India. They played very well. Best thing about today was guys tried to grind it. As a captain you can't complain when everyone's giving 110%. India outplayed us.
1:48 PM IST: Shubhman Gill is the Man of the series for his outstanding batting, scoring 372 runs and being the second-highest run-getter for India in this tournament. "We were fortunate enough to have Rahul as coach. He was just telling me to express my game and keep it on the ground."
1:45 PM IST: Manjot Kalra is the Man of the Match for his brilliant century. "Enjoyed a lot. Conditions were very good. It was a flat wicket to bat on. In the team, it's been a great environment."
1:42 PM IST: Here are some of the quotes from the key players
Rahul Dravid: "Really proud of the boys. Proud of the effort they put in and couldn't be happier for them. Hopefully it's a memory they cherish for a long, long time, but hopefully not the lasting memory and they have many more great moments and bigger things in future. We do the best for the kids."
Abhishek Sharma: We have dreamt of this from last year and finally here we are. On top of the world. It's very grateful to be a part of this team.
Ishan Porel: Amazing feeling. I'm feeling on top of the world. I've had messages on my phone from India. Our bowlers have been fantastic throughout the tournament. I can only say team effort."
Riyan Parag: It's amazing. I was thinking I wouldn't get to bat and I proved myself right. For an opener to take the team through is amazing. I thought it would be a tough match. It was a tough match but we made it look easy, I guess.
1:36 PM IST: Abhishek Sharma: It's very grateful to be a part of this team. I can't explain my feelings right now. We'll celebrate this night, the best night of ours
1:35 PM IST: The India flag flies around proudly in Tauranga. The fans have swarmed the ground. The jubilant Indian team are celebrating and are going berserk. Why not? They have eliminated the pain of the final loss in 2016 in grand style.
1:31 PM IST: Just in: BCCI have announced a cash reward for members of the victorious Under-19 side. The following is the breakdown of prize money. Mr Rahul Dravid, Head Coach India U19 – INR 50 lakhs. Members of India U19 team – INR 30 lakhs each. Members of the Support Staff, India U19 – INR 20 lakhs each
1:28 PM IST: India have done it. Harvik Desai slices a full ball to the deep point boundary and India have become the ICC under-19 World Cup champions for a record fourth time. They have defeated Australia by a whopping margin of eight wickets and have remained unbeaten in the whole contest. Rahul Dravid's side, take a bow!
1:25 PM IST: Kalra nudges a short ball from Sutherland to square leg and brings up a century. It has been a splendid effort.The fans are on their feet at the Bay Oval.
1:21 PM IST: Kalra keeps the fans waiting on 99. However, Uppal drops a return catch off Harvik Desai as India need just five runs for a victory.
1:18 PM IST: India need just one big hit to seal the title. The fans are growing excited.
1:14 PM IST: India are just 14 runs away from a glorious win. This will be a stunning achievement, although, not surprising.
1:10 PM IST: Harvik Desai spots the googly and whips it to the deep mid wicket fence. Great placement as India near a win.
1:04 PM IST: Kalra is nearing the 90s. Harvik Desai is giving him good support.
12:55 PM IST: Brilliant from Kalra. Full ball angled in from Merlo outside off and the left-hander effortlessly lifts it over wide long off for a brilliant boundary. He is nearing a brilliant ton.
12:52 PM IST: India need less than 50 runs now. This has been a clinical performance from Prithvi Shaw's side. Rahul Dravid will be mighty proud of these youngsters.
12:48 PM IST: The hopes of Australia are fading quickly here. Pope dishes out a juicy full toss on leg stump and Kalra wallops it into the grass banks over deep square leg. India closing in on victory.
12:45 PM IST: Lloyd Pope is into the attack now. However, one Indian fan is holding a placard that sums up the Australian mood, "Give up Pope, you have no Hope". Poetry in motion indeed.
12:44 PM IST: In the air but safe! Harvik Desai attempts the slog sweep against Pawan Uppal but gets a top edge, the fielder runs back and tries to latch on to it but spills the chance, difficult attempt but Australia need to hold on to any chance that comes their way.
12:39 PM IST: There is plenty of Shikhar Dhawan in Manjot Kalra. Short and wide ball from Hadley, Kalra stands tall and cracks the square cut over backward point for yet another boundary.
12:31 PM IST: India are calmly taking the singles and twos. Australia on the other hand are faintly hanging on to a miracle.
12:22 PM IST: WICKET! Indian Australian gets Indian Punjabi. Pawan Uppal strikes in his second ball. Flighted delivery and Gill stepped out of the crease to drive this offbreak, he misses it and the ball crashes into the stumps. Shubhman Gill b Pawan Uppal 31 (30).
12:21 PM IST: Australia continue to leak runs as Kalra slashes a square cut to the deep point fence. This is becoming too easy for India.
12:14 PM IST: Merlo and Gill exchange words but it is all in good spirit. Australia can do nothing about this situation now. They have to go for wickets while for India, it is smooth sailing.
12:11 PM IST: India need less than a 100 now for a record fourth title. This has been a total display from the Indian cricket team, thorough and clinical.
12:05 PM IST: Awesomeness! Short ball from Will Sutherland wide outside off, Gill does not swing the bat much and he hacks it with power to the deep point fence.
12:02 PM IST: Fifty for Majot Kalra. Brilliant stuff. He had scored 86 against Australia in the league stage and he has hurt them again in the final. India well on course for a famous win.
11:56 AM IST: Sublime batting from Shubhman Gill. Full ball from Sutherland and Gill creams the drive past extra cover for a glorious boundary. The 100 is up for Team India and they are taking full toll of the Australian bowling.
11:52 AM IST: Brilliant shot from Shubhman Gill. Full ball and he uses the wrists Virat Kohli style to pummel this cover drive to the boundary. India are coasting towards the target.
11:45 AM IST: SIX! Brilliant from Manjot Kalra. Pope floats a flighted ball on leg stump and Kalra mauls the slog sweep to the deep mid wicket fence. He is nearing a fifty and Pope has conceded 13 runs in his first over.
11:43 AM IST: Shubman Gill, the leading run-getter for India in the Under-19 World Cup, has come to the crease. Lloyd Pope, Australia's X-factor legspinner, is into the attack. The Aussies need wickets.
11:39 AM IST: WICKET! Australia break the stand. Full and straight delivery on off stump, Shaw plays inside the line of the delivery and the ball hits off stump. Prithvi Shaw b Will Sutherland 29 (41).
11:35 AM IST: Two more boundaries from Kalra, one crunching drive to deep extra cover and one effortless lofted shot over mid off and Edwards concedes 15 runs in his first over.
11:33 AM IST: India dealing in just boundaries at the moment. Edwards bowls a short and wide delivery outside off and Manjot cuts it deliberately in the air but over the slips for a boundary to third man. The run-rate is almost close to six.
11:29 AM IST: 180, 67, 155, 16, 89 and now a fifty in the final. Opening stands for India in #U19WorldCup. Prithvi Shaw and Manjot Kalra simply brilliant. Australia running out of options.
11:25 AM IST: The fifty-run opening stand is up now with another glorious boundary. When it is full, Shaw will go for the drive and this time, he caresses the stroke through deep extra cover.
11:23 AM IST: Shaw is looking in fabulous touch. Too full from Hadley and the skipper creams the drive to the sweeper cover fence.
11:20 AM IST: Superbly played by Kalra. Low full toss from Evans and the left-hander digs it out to the long off boundary. He played that really well as India make smooth progress.
11:15 AM IST: Edged but safe! Hadley angles across a full ball outside off and Kalra drives at it but the edge flies past the gap at slip and gully to third man.
11:10 AM IST: Cracking shot from Shaw. Short and wide from Evans, the Indian skipper crunches the square drive to the deep point fence. India are scoring at a good rate.
11:05 AM IST: No overs have been lost due to this slight delay. However, this gives the Australian bowlers a faint chance.
10:54 AM IST: Rain has stopped and the super soppers are working to clear the outfield of the water. Could restart in about 10-15 minutes if all goes to plan.
10:47 AM IST: The rain is starting to ease off. It might not be too long before play resumes. By the way, if play is washed out today and 20 overs are not completed in this innings, then the match will go into the reserve day and it will start from where it was left off.
10:43 AM IST: The pitch has been covered and some parts of the outfield as well. It is not heavy rain but it is steady rain
10:40 AM IST: The rain has started to get a bit heavy now and the players are walking off. One hopes it is just a passing shower.
10:37 AM IST: Evans' over has gone pair-shaped. He bowls a no-ball and in the free-hit, Manjot Kalra deposits him over the ropes at long on for a big six. India need less than 200 to win now.
10:34 AM IST: Loud appeal for a catch but not given. Evans gets the ball to curve away from a fuller length outside off, Shaw is lured into the drive and it just beats the outside edge. Australia are disappointed.
10:32 AM IST: First boundary of the Indian innings. Too full and on the pads from Hadley, Shaw whips it past the gap at mid wicket.
10:29 AM IST: Steady stuff from Zak Evans. Over 80 mph and generating good swing in the air and off the deck, but India's openers are batting well. There is a slight hint of rain in the air as well.
10:25 AM IST: Some swing on offer for Hadley but Shaw and Kalra play out the over without much difficulty. Zak Evans from the other end.
10:20 AM IST: Right, we are all set to start this historic chase. Prithvi Shaw and Manjot Kalra are opening the batting and Ryan Hadley is opening the bowling.
10:08 AM IST: 217 might look to be a small total, but these totals are challenging. In Under-19 World Cups, these totals are also match-winning. In 2010, Australia were restricted to 207/9 by Pakistan at Nelson but the Aussies held their nerve and secured a 25-run win.
9:56 AM IST: India have bowled Australia out for 216. Prithvi Shaw's side will require just 217 runs to win the title for a record fourth time.
9:49 AM IST: WICKET! Absolute harakiri in the running. Good work from Shiva Singh. Holt miscues the pull shot and it falls in front of Shiva Singh at backward square leg, the fielder recovers well and fires a good throw to the keeper and Holt is caught short of the crease despite the dive. Baxter Holt run out 13 (13).
9:44 AM IST: Another one bites the dust. Nagarkoti bowls a full length pacy delivery on off stump and Zak Evans is late in getting the bat down, the ball clips the off stump.
9:39 AM IST: WICKET! Anukul Roy now becomes the joint-highest wicket-taker in the 2018 ICC Under-19 Cricket World Cup. Merlo top-edges the reverse sweep and is caught at sweeper cover. Good knock from the Australian but he needed to be there till the end. Jonathan Merlo c Shiva Singh b Anukul Roy 76 (102).
9:35 AM IST: Absolute madness in the running between the wickets. Holt nudged the delivery to short mid wicket and went for a suicidal single, however, Shivam Mavi misses with a simple run-out. India's fielding has been below average today.
9:33 AM IST: Shiva Singh has finished his spell: 10-0-36-2. Good spell from him. Now, it is upto the pacers to restrict Australia in the death overs.
9:28 AM IST: Australia have reached 200 in the 43rd over. Merlo has reached 70. Can Australia go past 250?
9:24 AM IST: Run-out chance missed! Baxter Holt taps it to point and Merlo wants a single, there is hesitation and Anukul Roy fires the throw from point at the striker's end but misses, Merlo was a goner.
9:21 AM IST: WICKET! Shiva Singh gets his second wicket. He pushes this quicker delivery through and Sutherland aims for the drive, gets an inside edge that is sharply taken by Harvik Desai the keeper. Will Sutherland c Desai b Shiva Singh 5 (8).
9:19 AM IST: India's poor day in the field continues. Will Sutherland steers a square drive to deep backward point and Riyan Parag misfields.
9:13 AM IST: Will Sutherland, the son of Cricket Australia CEO James Sutherland is next. Can he make a difference with just 10 overs to go?
9:11 AM IST: WICKET! Yet another caught and bowled. India desperately needed this wicket before the death overs. Tossed up delivery from Shiva Singh and Nathan McSweeney closes the bat face a bit too early, gets a leading edge back to the bowler. Nathan McSweeney c and b Shiva Singh 23 (29).
9:09 AM IST: In the air but safe! Merlo top-edges a short ball from Mavi and it goes behind the keeper, harvik Desai runs back and tries to catch the swirling catch but cannot latch on to it. Tough chance and India are distraught.
9:06 AM IST: Good over from Shivam Singh. But India are unable to break the stand.
8:57 AM IST: Another partnership is building up for Australia with McSweeney giving Merlo good company.
8:49 AM IST: Shaw misfields as Nathan McSweeney continues to make confident progress. Merlo has settled in and is looking set for a long haul.
8:43 AM IST: Kamlesh Nagarkoti and Ishan Porel are operating from both ends. India are desperately trying to get the wicket of Merlo.
8:38 AM IST: Jonathan Merlo scores a fifty off 60 balls. On the big day, he has stepped up to the plate. Australia need him to hang on till the end if they are to reach a good score.
8:34 AM IST: Nathan McSweeney has started confidently as he opens the bat face to steer a quicker delivery past the gap at third man for a boundary.
8:30 AM IST: Merlo comes closer to his fifty as he slogs across the line and thwacks Abhishek Sharma to the deep mid wicket fence. Australia are 142/4 after 30 overs.
8:29 AM IST: WICKET! The dangerous stand is broken. Flighted ball on leg stump, Param Uppal closes the bat face a bit too early and gets a leading edge back to the bowler who takes it. Param Uppal c and b Anukul Roy 34 (58).
8:23 AM IST: Both batsmen are making steady progress and are regularly rotating the strike. What is heartening for Australia is that they are employing the sweep well, which is negating Anukul Roy and Abhishek Sharma's effectiveness. They are using their feet well and coming down to the pitch.
8:17 AM IST: Abhishek Sharma and Anukul Roy are struggling slightly with their line and length. Australia are making good progress.
8:10 AM IST: The fifty-run stand is up between Merlo and Uppal. India need to break this stand if they have to restrict Australia.
8:05 AM IST: Australia bring up the 100 in style as Merlo unfurls the reverse sweep and hits it to the third man boundary. Australia need this partnership to flourish.
8:03 AM IST: Anukul Roy, the leading wicket-taker for India in the ICC under-19 World Cup, comes into the attack and bowls a good spell.
8:00 AM IST: Param Uppal survives a chance as he skies a delivery that spins away over the head of the fielder at point. This pitch is assisting a bit of spin. Will be interesting to see how Lloyd Pope operates.
7:57 AM IST: Abhishek Sharma, the left-arm orthodox is introduced into the attack now. Perhaps, it is time for Prithvi Shaw to introduce spin from both ends to tie Australia down.
7:51 AM IST: Shiva Singh is bowling tight lines and not giving the batsman any width. Nagarkoti has increased his pace as India gun for another wicket.
7:43 AM IST: FOUR! Superb shot from Param Uppal. Short ball from Nagarkoti and Uppal crunches the drive to the deep extra cover. Time for drinks.
7:39 AM IST: 15 overs are up and Australia 72/3. India are on top thanks to Porel's double strike and Nagarkoti's removal of Sangha.
7:34 AM IST: Loose ball from Nagarkoti. Short and wide delivery, Jonathan Merlo just crashes the square cut past cover for a boundary. That will ease the pressure a bit.
7:31 AM IST: Another tight over from Shiva Singh. With two new batsmen at the crease and with Nagarkoti getting into the groove, India sense a big opening here.
7:26 AM IST: WICKET! Nagarkoti strikes in his first over and he is pumped up. Back of a length outside off and it straightens, bit of extra bounce as well, Sangha tries to withdraw the bat but the outside edge is snapped up by keeper Harvik Desai diving to his right. India on top in Mount Maunganui. Jason Sangha c Desai b Nagarkoti 13 (24).
7:24 AM IST: Almost a run-out. Sangha is living dangerously here. Nagarkoti gets this ball to deck back in close to the off stump, the Australian captain taps it to the off side and sets off for a quick single, Shivam Mavi has a shy at the bowler's end but misses, that would have been out if it had hit.
7:22 AM IST: Shiva Singh comes into the attack and immediately creates a chance. Flatter ball and Jonathan Merlo goes back to cut, the ball kicks up a touch and the outside edge is spilled by wicketkeeper Harvik Desai. He is having a tough day so far.
7:18 AM IST: WICKET! Porel has removed both the openers now and he is pumped. Short and wide ball outside off, a bit of extra bounce from the deck, Jack Edwards slams it to cover point but Kamlesh Nagarkoti takes the catch. Jack Edwards c Nagarkoti b Porel 28 (29).
7:15 AM IST: Poor stuff from Abhishek Sharma. Edwards hits it to cover point and Sharma fires a wild throw at the bowler's end and the back-up fielder misfields. It is hauled back in but three extra runs is the result. No need!
7:14 AM IST: A maiden for Shivam Mavi as Jason Sangha continues to struggle. India are pulling things back slightly after the wicket of Max Bryant.
7:09 AM IST: Sangha gets going by driving a full ball from Porel to sweeper cover but it is hauled in by the fielder running from point. Edwards, on the other hand, is middling the ball well but is finding the fielders
7:04 AM IST: While Jack Edwards is looking in great touch, Sangha is struggling and he finally gets off the mark after eight balls. Australia are 43/1 after seven overs.
7:01 AM IST: Mavi continues to leak runs. The first ball of his fourth over is punched down the ground past mid on while the second ball is pulled to deep mid wicket, one bounce over the ropes.
6:59 AM IST: Run-out chance missed. Sangha wanted a single but he has to turn back. Porel moved quickly to his right but does not collect the ball cleanly.
6:55 AM IST: WICKET! Ishan Porel roars and India have gotten the first breakthrough. Shortish delivery and wide outside off, Max Bryant cracks it to cover-point but Abhishek Sharma moves to his right to take the catch. Max Bryant c Sharma b Porel 14 (12).
6:53 AM IST: Third boundary in the over. Mavi provides width outside off and Edwards carves it past point, Manjot Kalra runs from third man but he ends up diving over the ball for yet another boundary. This is turning out to be a good start from Australia.
6:51 AM IST: Now, Edwards joins in the fun. India are losing their line and length a bit here. Short ball from Mavi and the right-hander clubs it past mid on for his first boundary. Next ball, he steers a shortish delivery to the third man fence.
6:49 AM IST: Bad ball from Porel. On the pads and Bryant whips it uppishly to the deep mid wicket fence for yet another boundary. Australia have moved to 20/0 after four overs. This is a decent start.
6:45 AM IST: India are looking slightly sloppy on the field. Full ball from Porel and Jack Edwards drives it to extra cover only for Abhishek Sharma to misfield and allow the batsman a couple.
6:44 AM IST: Max Bryant has started well as he cracks a short ball from Shivam Mavi to the deep point fence for his second boundary.
6:38 AM IST: Max Bryant starts well with a boundary down the ground past mid-off. However in the second ball, he gets a life as he bottom-edges a short ball from Ishan Porel, only for the keeper to drop a tough chance.
6:34 AM IST: Good first over from Mavi. In the right areas and some movement both in the air and off the deck as well. Speed in the high 130 kmph. Barring the first ball wide, good stuff.
6:29 AM IST: Alright, ladies and gentleman, boys and girls and children of all ages. We are all set to start. Shivam Mavi will open the bowling and the Australian openers Jack Edwards and Max Bryant are on strike.
6:23 AM IST: It is time for the national anthems. Bay Oval has turned totally blue with plenty of Indians at the venue cheering the team on. For Australia, the struggles mount off the field as well for there will only be a small smattering of support.
6:16 AM IST: India's road to the final has been dominant, registering wins by more than 100 runs or chasing down the score with all 10 wickets remaining. However, that might not be the case today in Mount Maunganui. At the same time, Australia have recovered well after their big loss to India.
6:09 AM IST: Both teams are unchanged. Here is the playing XI of both sides
India U19 (Playing XI): Prithvi Shaw(c), Manjot Kalra, Shubman Gill, Harvik Desai(w), Riyan Parag, Abhishek Sharma, Anukul Roy, Kamlesh Nagarkoti, Shivam Mavi, Shiva Singh, Ishan Porel
Australia U19 (Playing XI): Jack Edwards, Max Bryant, Jason Sangha(c), Jonathan Merlo, Param Uppal, Nathan McSweeney, Will Sutherland, Baxter J Holt(w), Zak Evans, Ryan Hadley, Lloyd Pope
6:04 AM IST: Australia have chosen to bat against India in the all-important final. Good toss to win. On the day of the big final, bat first and put pressure on the opposition. Although in the Under-19 World Cup final, teams have won while chasing on most occasions since 2010.
5:58 AM IST: Jason Sangha, the Australian skipper, has said India's middle order has not been tested enough. Such has been the dominance of the top three that the middle order has not had a chance. Toss in a couple of minutes.
5:51 AM IST: It was raining a couple of days ago at the Bay Oval, but today, there is no such threat. The match will have no interruptions. In case of rain washing out the match today, it will be played on the reserve day which is tomorrow.
5:48 AM IST: Rahul Dravid has coached and moulded the bunch of players brilliantly. In 2016, India had a great run in the Under-19 World Cup before they ran into an inspired West Indies side who clinched the title.
5:42 AM IST: For Australia, there have not been too many consistent contributions from either the batsmen or bowlers. There have been moments of individual brilliance, the best one being Lloyd Pope who picked up 8/35, the best bowling figures in Under-19 cricket during the quarterfinal against England.
5:37 AM IST: India's batting has been led from the front by Prithvi Shaw and Shubhman Gill. Gill, in particular, is averaging 170.5 with three fifties and a century to boot in all four games that he has batted. In head-to-head clashes between India and Australia in the Under-19 World Cup, India hold a 3-2 edge.
5:32 AM IST: In the last encounter between the two sides at the Bay Oval, India hammered Australia by 100 runs to send out a clear message of intent. On that day, the world witnessed a new facet of India, which was pace bowlers who could touch 150 kmph, namely in the form of Kamlesh Nagarkoti
5:30 AM IST: A warm welcome to one and all for the big final. It is India vs Australia, the final of the ICC Under-19 Cricket World Cup from Mount Maunganui. Both teams are bidding for their fourth title, with India having a slight edge having not lost a single game in the whole tournament.
The performances of the India U-19 cricket team in the 2018 U-19 World Cup have been phenomenal. The batsmen and the bowlers have complimented each other well. The batting has been led by Shubman Gill, who has hit three fifties and a century and is averaging 170.5 so far in the tournament. He has been backed up well by Shaw and Manjot Kalra in addition to vital contributions from Anukul Roy and Abhishek Sharma.
In the bowling, Kamlesh Nagarkoti's speed and the accuracy of Ishan Porel and Shivam Mavi have given India the X-factor. Anukul Roy, the leading wicket-taker with 12 wickets, will yet again be the key. However, despite winning against Australia by 100 runs, they will not take Jason Sangha's side lightly.
Australia's charge has been led by the captain and by players like Nathan McSweeney and Lloyd Pope. Pope, in particular, has taken the tournament by storm with a haul of 8/35, the best figures ever in an Under-19 match. Overall, it promises to be a cracking contest, with India having a slight edge.
"Exciting news! Hindustan Times is now on WhatsApp Channels
Subscribe today by clicking the link and stay updated with the latest news!"
Click here!
Catch all the Latest
World Cup
news and
Live score
along with
World Cup Schedule
and
Asian Games 2023
related updates on Hindustan Times Website and APPs