India vs South Africa, 2nd ODI highlights, Centurion: IND win by 9 wickets, go 2-0 up in series
Feb 04, 2018 06:34 PM IST
India beat South Africa by nine wickets to take a 2-0 lead in the six-match series in Centurion today. Catch highlights of India vs South Africa, 2nd ODI, here.
Yuzvendra Chahal and Kuldeep Yadav starred for India as the visitors first bowled out South Africa for 118 in only 32.2 overs and then chased down the total in 20.3 overs with nine wickets remaining at the SuperSport Park in Centurion today. India captain Virat Kohli won the toss and opted to field. The Indian bowlers were brilliant with Chahal picking up his maiden five-wicket haul in ODIs while Kuldeep Yadav scalped three wickets. In reply, after Rohit Sharma got out, Shikhar Dhawan and Virat Kohli guided India to victory to take a 2-0 lead in the six-match series. Catch highlights of India vs South Africa, 2nd ODI, here. (IND v SA scorecard | IND vs SA live streaming)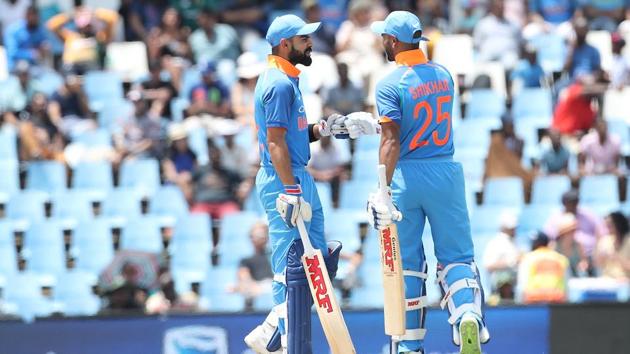 18:30 hrs IST: Hope you enjoyed our coverage. Thanks for joining in.
18:28 hrs IST: Winning captain Virat Kohli had this to say: "We thought at the toss, the ball is going to do a bit in the morning. Was a much harder wicket than Durban. Bhuvi and Bumrah started really well. We didn't let South Africa get too much up front. Spinners were outstanding again. To win like this obviously feels very good. What we thought in the morning, we did all those things right. We knew that we won't get grass on the pitch. When it's seaming it's anyone's game anyway. We have the quicks to back that. We knew the wickets were going to be hard and dry. Those two are a handy bunch together. If we set up to chase down totals, we know exactly what we want to do. Rohit and Shikhar's intent at the top is crucial. Small totals, it's always important to start positive. It's a wonderful position to be in. We know their middle-order is inexperienced, and we look to cash in on that."
18:24 hrs IST: Expectedly Chahal is the Man of the Match. "Enjoying bowling here. We used to play in such conditions in India. It's about how mentally tough you are when you go overseas. When I first struck, Kuldeep came in and took two wickets. It puts pressure on the batsmen," said Chahal.
18:20 hrs IST: New South Africa captain Aiden Markram said this after losing the match: "Not the best performance. Today we'll have to be honest with ourselves. Got a couple of days to turn it around in Cape Town. Not ideal. Couple of soft options starting with myself. Have to lead from the front. Have to remain positive now. Started off with good intensity with the ball. We'll come hard in Cape Town. Can't afford slip-ups now. Might bring out the best from us now."
18:16 hrs IST: Kohli and Dhawan's partnership was an unbeaten 93
18:12 hrs IST: This was a dominant win by the Indian team as they won with nine wickets to spare
18:08 hrs IST: India have won after facing nine balls after lunch! They go 2-0 up in series
18:04 hrs IST: And a maiden Shamsi over! India 117/1 after 20 overs
18:00 hrs IST: And we are back!
17:25 hrs IST: Anyhow, take a break. We will be back soon.
17:24 hrs IST: How is this even logical. Can't understand which team will be happy with such archaic laws.
17:21 hrs IST: This is unbelievable and quite ridiculous! They have extended the session by 15 minutes but could not take one more over to allow India the win. We will have to wait for another 40 minutes now.
17:19 hrs IST: India 117/1 after 19 overs and it is lunch break!
17:17 hrs IST: Shikhar Dhawan scores his 24th 50. This has been a fine innings.
17:14 hrs IST: What a fantastic cut by Virat Kohli for 4. India need 9 more to win
17:13 hrs IST: David Miller has dropped Dhawan but that was a difficult take
17:08 hrs IST: And 16 overs have been bowled and India are 98/1. The visitors need 21 more to win this game
17:02 hrs IST: India are 93/1 after 15 overs
16:57 hrs IST: India are 86/1 after 14 overs
16:52 hrs IST: Two consecutive fours by Dhawan off Shamsi. India are coasting towards victory. This has been a dominant display.
16:48 hrs IST: And just when we were saying that Shikhar Dhawan pulls Imran Tahir for lovely four
16:45 hrs IST: The Indian innings has slowed down but there is no real need to be fast there.
16:40 hrs IST: India are 55/1 after 9 overs
16:36 hrs IST: BANG! Six from the willow of Kohli. India 48/1 after 8 overs
16:31 hrs IST: Another four and India cruising right now
16:29 hrs IST: This run chase should be a cake walk for the Indian cricket team
16:24 hrs IST: India 31/1 after 5 overs. Get live cricket score of India vs South Africa here.
16:22 hrs IST: It is skipper Virat Kohli at the crease.
16:16 hrs IST: And out! Rohit Sharma once again gives away his wicket cheaply. This has become so regular now. He departs for 15
16:11 hrs IST: A couple of blistering boundaries by Dhawan!
16:06 hrs IST: Drama there as Rohit Sharma was given out but he immediately reviewed! Umpire was about to raise his finger only to cross his arms and give the opener not out!
16:00 hrs IST: SIX! First runs off the bat! Brilliant six by Rohit Sharma over deep mid wicket
15:58 hrs IST: And we are back with India's innings with Rohit Sharma and Shikhar Dhawan opening the batting!
15:56 hrs IST: Yuzvendra Chahal's 5/22 is his maiden five-wicket haul in ODIs
15:53 hrs IST: At 118, this is South Africa's second lowest total against India in ODIs after the 117 way back in 1999 at Nairobi
15:49 hrs IST: 118 is South Africa's lowest total at home in ODIs
15:46 hrs IST: South Africa have been bowled out for 118 and Chahal has picked up five wickets! What a performance!
15:43 hrs IST: South Africa are 118/9 after 32 overs. Get live cricket score of India vs South Africa here
15:40 hrs IST: OUT! South Africa lose Imran Tahir for duck! Bumrah gets his first wicket!
15:36 hrs IST: This is Chahal's best bowling figures! The first time the leg break bowler has picked up four wickets in an ODI
15:34 hrs IST: OUT! Chahal this time gets Morne Morkel out lbw for 1! South Africa are 117/8 in the 31st over
15:30 hrs IST: A catch oh no! A run out chance! South Africa are losing wickets like a pack of cards!
15:29 hrs IST: OUT! Another gone. Kuldeep Yadav removes Kagiso Rabada for 1. It was a wrong one
15:28 hrs IST: South Africa are 109/6 after 29 overs. Get live cricket score of India vs South Africa here.
15:26 hrs IST: OUT! JP Duminy is also out for 25 and Chahal has picked up his third wicket! Brilliant show from the spinners.
15:24 hrs IST: This has been a very poor batting show from South Africa yet. Without du Plessis and de Villiers, the team's batting line-up looks completely depleted.
15:22 hrs IST: South Africa are 104/5 after 27 overs in the 2nd ODI vs India. Get live cricket score of India vs South Africa here
15:19 hrs IST: Chris Morris is the new man!
15:17 hrs IST: Debutant Zondo departs for 25 which is so far the highest score by any South African in this match. Chahal picks his second wicket!
15:14 hrs IST: Apart from Hardik Pandya, all other Indian bowlers have gone for less than 4 per over so far. Pandya on the other hand has gone for more than 6 per over
15:12 hrs IST: Virat Kohli has used his bowlers well, especially the spinners
15:10 hrs IST: The South African innings has slowed down since the loss of the four wickets. They are looking to save them for late
15:07 hrs IST: Four runs from Kedar Jadhav's over. South Africa 92/4 after 24 overs.
14:58 hrs IST: Duminy and Zondo doing some damage control in Centurion. The run rate has slowed down, but South Africa wouldn't mind the duo taking some time to settle down.
14:50 hrs IST: Duminy hits two boundaries off Pandya. SA 72/4 after 19 overs.
14:40 hrs IST: Zondo survives! A Chahal delivery takes a thick outside edge, but it flies away from Ajinkya Rahane at slip.
14:35 hrs IST: Debutant Zondo and Duminy at the crease
14:34 hrs IST: 2/2 from Yadav's first over!
14:32 hrs IST: David Miller gone too! South Africa are struggling! They are 51/4 in 13.5 overs!
14:30 hrs IST: This is a good fight back from India!
14:28 hrs IST: Two new batsmen - David Miller and JP Duminy - both of whom are yet to face deliveries at the crease right now!
14:27 hrs IST: OUT! Another is gone. This is captain Markram departs for 8 off Kuldeep Yadav!
14:23 hrs IST: Quinton de Kock tries to go for a big one and he is out! Departs for 20
14:17 hrs IST: After 12 overs, South Africa are 48/1
14:13 hrs IST: After 10 overs, South Africa are 39/1
14:12 hrs IST: Bhuvneshwar Kumar gives India the first strike!
14:11 hrs IST: OUT! Finally India got a wicket and that too Amla who returns to the pavilion after scoring 23!
14:10 hrs IST: Two back to back fours for Quinton de Kock, his first two this match. He is sticking out there. Virat Kohli's plan of bowling first going wrong?
14:05 hrs IST: India should be desperate for a wicket now
14:02 hrs IST: South Africa have not had a blistering start but they are slowly building on it. Most importantly they have not lost a wicket yet
13:57 hrs IST: Okay so two fours in this over so far. South Africa 22/0 after 7 overs
13:55 hrs IST: Edged and.... four!
13:51 hrs IST: India are 10/0 after 10 overs
13:47 hrs IST: After 4 overs, South Africa 7/0. Get live cricket score of India vs South Africa here
13:43 hrs IST: Decent spell from the Indian bowlers so far
13:40 hrs IST: Oh! Bumrah hits the stumps but the bails do not fall. That was quite lucky for de Kock.
13:39 hrs IST: South Africa 4/0 after 1 over. Get live cricket score of India vs South Africa here
13:37 hrs IST: Quinton de Kock and Hashim Amla are opening the batting for South Africa and Bhuvneshwar Kumar has the ball.
13:35 hrs IST: All-rounder Andile Phehlukwayo has been replaced with left-arm wrist spinner Tabraiz Shamsi
13:34 hrs IST: Khaya Zondo has been handed an ODI debut. He is replacing Faf du Plessis who is out with a finger injury
13:30 hrs IST: And here we go!
13:29 hrs IST: Here are the playing XIs:
India: 1 Rohit Sharma, 2 Shikhar Dhawan, 3 Virat Kohli (captain), 4 Ajinkya Rahane, 5 MS Dhoni, 6 Kedar Jadhav, 7 Hardik Pandya, 8 Bhuvneshwar Kumar, 9 Jasprit Bumrah, 10 Kuldeep Yadav, 11 Yuzvendra Chahal
South Africa: 1 Hashim Amla, 2 Quinton de Kock, 3 Aiden Markram (captain), 4 JP Duminy, 5 David Miller, 6 Khaya Zondo 7 Chris Morris, 8 Kagiso Rabada, 9 Morne Morkel, 10 Tabraiz Shamsi 11 Imran Tahir
13:25 hrs IST: Markram is the second youngest captain for South Africa
13:20 hrs IST:Aiden Markram is the South Africa captain after Faf du Plessis and AB de Villiers injured their fingers
13:10 hrs IST: India will look for a 2-0 lead in this match
13:00 hrs IST: India have won the toss and opted to bowl first.
12:50 hrs IST: Hello and welcome to our live coverage of the 2nd ODI between India and South Africa in Centurion. The toss is just a few minutes away.
After drawing first blood at Durban, Virat Kohli's men got a further boost through misfortune to South Africa after skipper Faf du Plessis, who scored 120 at Kingsmead, was ruled out of the rest of the limited-overs series due to injury, leaving a big hole in the batting order.
AB de Villiers was ruled out of the first three ODIs, also due to a finger injury. All this leaves stand-in captain Aiden Markram, who struggled against spin while batting at No. 4 in the first game, with his task cut out.
India, on the other hand, will look to continue from where they left in the opening ODI and pile more pressure on the injury-plagued hosts.