'This could be a sad end to a glorious career': Karthik's huge take on India star's future after Ishan's record double
Dec 12, 2022 09:53 AM IST
Following Ishan Kishan's thundering double century, senior India cricketer Dinesh Karthik made a massive remark on the future of an India star for the ODI World Cup.
With the focus now on the 2023 ODI World Cup, slated to happen in about nine months from now, every match is an opportunity for all the players irrespective of their past glories. For India, who have a bunch of talented players fighting for every single spot in the team, the competition gets tougher every time a replacement player to a fringe player makes the most of his rare opportunity. Ishan Kishan stands as one of the latest example, with his thundering knock of 210 off 131 in India's emphatic 227-run win against Bangladesh in the third ODI on Saturday. Following the knock, senior India cricketer Dinesh Karthik made a massive remark on the future of an India star for the ODI World Cup.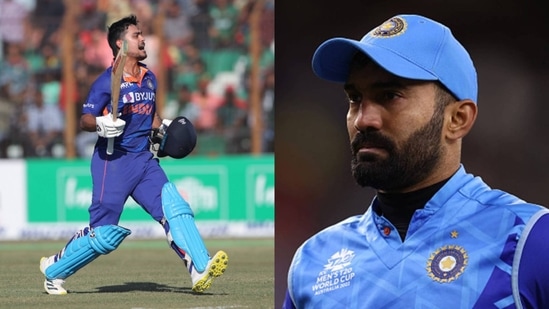 With the addition of Ishan, there are four players vying for the two opening slots in India's ODI team. Rohit Sharma is a certainty, leaving Shikhar Dhawan, Shubman Gill and Ishan looking to seal the second spot. The 37-year-old stood the favourite, having played the most number of ODIs since 2019 and owing to his record in ICC tournament. However, a poor return with the bat in the Bangladesh series, left Karthik thinking if Dhawan would at all be picked for the impending Sri Lanka ODI series at home.
ALSO READ: 'MS Dhoni said that if Ishan Kishan doesn't play for India...': Coach recalls MSD's praise for 23-year-old youngster
"For Sri Lanka series, where does Dhawan stand? It is going to be interesting to see how they are going to leave out Ishan Kishan. Shubman Gill has been doing so well. If Rohit Sharma is available, somebody has to miss out. It could well be him (Dhawan). That could be a sad end to a glorious career. But some questions to answer for the new selectors," he told Cricbuzz.
The Sri Lanka series will begin with the T20Is in January followed by three-match ODI series.
Karthik further added that if Gill would have been retained by the ODI team then he would have surely opened after Rohit's thumb injury, but credited Ishan for grabbing the rare opportunity with both hands as he scored a record-smashing double century.
"Interestingly, if Shubman Gill had been part of the squad, he would have probably opened because he has been doing it for some time with aplomb. Ishan Kishan, given an opportunity, has taken it with both hands. This is going to put Shikhar Dhawan in a fix," he said.
"It's very nice to see someone coming out and being honest with the fact that, 'you know what, I could have got a 300 if I had batted, but it didn't happen'. Also shows his hunger. He has been walking that thin line with a few of the keepers being part of it and hence not getting that opportunity. Now, he has pushed that door and said, 'I am ready. Are you going to look at me?'"