Virat Kohli's shoulder injury keeps India on tenterhooks in Ranchi Test
Virat Kohli is undergoing treatment to ensure speedy recovery from the 'strain' and back to the field against Australia cricket team in Ranchi, said a BCCI statement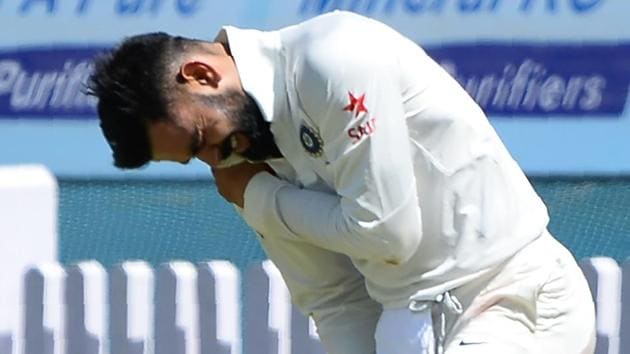 Updated on Mar 17, 2017 08:55 AM IST
Virat Kohli's shoulder injury does not appear too serious and the India national cricket team skipper was undergoing treatment in a bid to take further part in the third Test against Australia cricket team in Ranchi, the cricket Board said on Thursday. (Ranchi Test, Day 1 highlights)
"The BCCI medical team confirms that Indian captain, Virat Kohli is currently undergoing treatment to recuperate from a strain in his right shoulder," read a BCCI statement. "Relevant investigations have revealed that there are no serious concerns, which will hamper his speedy recovery from a strain in his right shoulder…
"He will continue to receive treatment, which will assist him to participate in the rest of the match," added the BCCI release.
Read more | 'Cowboy' Glenn Maxwell proved Test pedigree in Ranchi, says Matt Renshaw
Kohli suffered the injury after landing heavily on his shoulder while trying to stop a boundary during the afternoon session on the first day of the Test. He went off the field for treatment and did not return until stumps.
Kohli will bat at his usual No 4 slot when India reply to the Australia innings.
Close Story