Labourer rapes and murders 11-year-old in Dehradun, hides body at home
Updated on Jul 29, 2018 06:05 PM IST
Jay Prakash Tiwari was arrested as he was trying to flee, and confessed to the crime because he failed to get an escort, police said.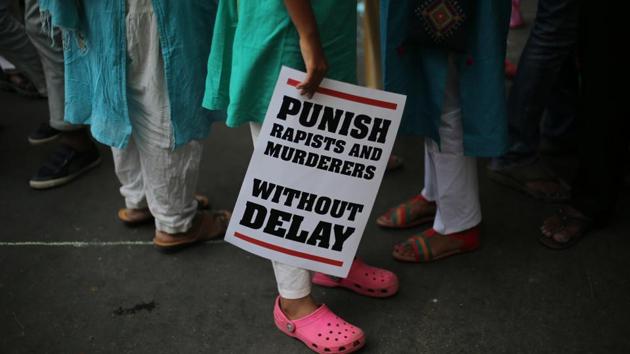 A 32-year-old labourer raped and murdered an 11-year-old girl, as old as his daughter, in Sahaspur village of Dehradun on Saturday, police said.
Jay Prakash Tiwari, hailing from Faizabad district in Uttar Pradesh, was arrested as he was trying to flee from Timli forest nearby.
This is the second incident of sexual crime against a minor girl in the state capital in a month. A couple of weeks back, an eight-year-old girl was allegedly gang-raped by five minor boys aged 9–14 after watching porn on mobile-phone.
On Saturday afternoon, the girl was playing with two boys of her age near the shanties where she stayed with her parents, who are from Satna district of Madhya Pradesh.
Tiwari, who stayed in a shanty nearby, had claimed to be sick and not gone to work. He lured the three and gave them money to buy candies, but he told the girl to stay back promising to pay her more and made the boys go.
Tiwari then raped the girl inside his shanty. He strangled her when she tried to scream for help, Sahaspur SHO Naresh Rathod said.
After killing her, he hid her body under construction material inside his shanty and planned to dispose it at night, Rathore said.
"Meanwhile, the girl's parents started searching for her when they couldn't find her till evening. It was then the two boys told them about Tiwari luring them with money for candies," the SHO said.
When the parents confronted Tiwari, he told them that she had left soon after the boys. However, sensing trouble, Tiwari discreetly fled the place.
Around 7pm, the girl's parents informed the police about her disappearance. Police spoke to the two boys, and then searched Tiwari's place, where the girl's body was found under construction material.
Soon, Tiwari was nabbed from Timli forest area, about 15km from the spot and brought to the police station where he confessed, Rathod said.
Senior superintendent of police, Dehradun, Nivedita Kukreti said he told the police that he raped the child because "he wanted to vent out his sexual desire".
"He had told the same to his two roommates few days ago that he want to fulfil his sexual desire and was craving for sex. He tried to get an escort but failed to do so after which he targeted the girl and later killed her," she said.
A case has been registered under relevant sections of IPC and investigations are on, Kukreti said, adding that the girl was about the age of Tiwari's daughter.
He had left his family, including his wife and two children, at home.
Personalise your news feed. Follow trending topics