Can a memorial be built for victims of 2013 Kedarnath tragedy, HC asks govt
Updated on Jul 05, 2018 09:36 PM IST
The high court asked the state government to explore whether a memorial could be built for victims of 2013 Kedarnath flash floods where pilgrims could offer prayers for the departed souls, especially on the anniversary of the tragedy in mid-June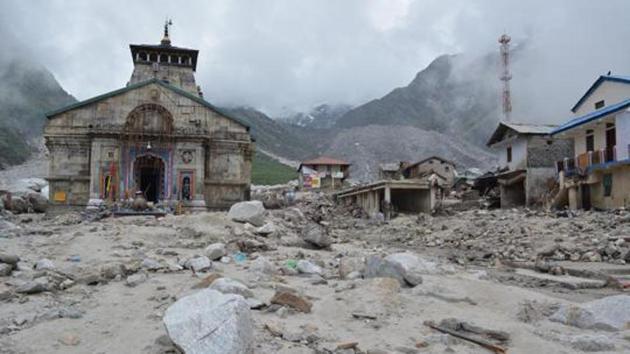 The Uttarakhand high court on Thursday asked the state government to explore whether a memorial could be built for victims of 2013 Kedarnath flash floods where pilgrims could offer prayers for the departed souls, especially on the anniversary of the tragedy in mid-June.
The HC also directed the authorities concerned to preserve samples of DNA if remains of any individual are found.
The orders were issued by the single bench of Justice VK Bisht, said said Ajay Gautam, a resident of Delhi and petitioner in the case.
The court will next hear the matter on August 20.
Gautam had filed the PIL in 2014 alleging that government was not coming clear on the actual number of casualties in the tragedy. He had also demanded that steps be taken to ensure proper last rites of the victims and a record of the biometric details of the visitors be maintained by the state government.
In December last year, responding to the PIL, a division bench of Justices Rajiv Sharma and Alok Singh had directed the state government to constitute special teams to trace the bodies lying scattered or buried in the Kedarnath area.
The HC had also directed that the final rites of the victims be undertaken in accordance with the tradition.
In November 2016, the HC had directed the state government to form special investigation teams (SITs) to trace and cremate the bodies of the disaster victims. Following the directions, the state government in May last year had constituted five SITs for searching the bodies of the victims.
Even after nearly five years of the tragedy, there is still no conclusive clarity on the number of people who died.
According to an affidavit filed by the state government in the HC, bodies of only 678 people could be recovered out of more than 4,000 people who went missing. Of these, 545 bodies were recovered in 2013, followed by 63 in 2014, three in 2015, 60 in 2016 and seven last year.
The state government has issued over 2,800 death certificates in the tragedy, while death certificates of many are on the hold due to unavailability of 'missing persons' reports that were to be lodged at the respective native places of the victims.
Close Story
Personalise your news feed. Follow trending topics