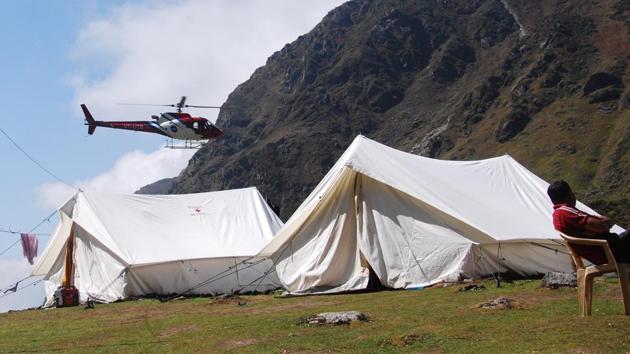 Condition tweaked third time in tender inviting operators to fly copters to Kedarnath
Uttarakhand government has tweaked tender clause for helicopter services to Kedarnath shrine third time in less than a month
PUBLISHED ON APR 03, 2018 09:57 PM IST
Uttarakhand government has tweaked tender clause for helicopter services to Kedarnath shrine third time in less than a month.
On Tuesday, changes with reference to validity of Non Scheduled Operator's Permit (NSOP) were amended. Yet, the clause favour only 6 out of 14 operators.
Since the Uttarakhand Civil Aviation Development Authority (UCADA) released its tender on March 7, the operators have been agitated due to two main issues- only those operators with three copters (two owned and one on lease) were permitted to participate in the bid and copter engine should not be more than 10 years old.
This created ripples amongst the companies. Many alleged that the tender was meant to favour three companies that fulfil the norms.
Following which, the additional chief secretary Om Prakash met operators and discussed the issues in length.
On Monday, the tender was tweaked mandating companies to make consortium (to fulfil mandate of number of copters) but added another clause that the operators with NSOP valid till December 31 could apply.
Both the clauses were again chipped out on Tuesday. The latest amendment has removed the clause of forming consortium to achieve minimum number of copter and has also changed NSOP validity till May 31, 2018.
But, all this comes with a rider. Only companies that have three years of experience flying in the sensitive valley stand a chance to win the bid. With this, of 14 companies, only 8 fulfil the mandates mentioned in the tweaked tender.
"Back to back changes in the tender process reflects that the government wishes to promote only selected companies and want that these companies should make the over al profit and other companies could be bypassed," said Rajeev Dhar, who runs a helipad at Tirjuginarayan, near Kedarnath reacted.
Post June 2013 Kedarnath tragedy during which the treks were washed away, chopper services emerged out to be a saviour reviving the pilgrimage.
The government then invited companies to come forward and venture in this business. As many as over 4 lakh passengers take air route to visit the pious shrine last year.
The helicopter service cost is ₹3000-7000 per person depending on the distance of helipad.
Last year, due to non-compliance of National Green Tribunal (NGT) directions, the services were suspended due to which pilgrims faced great difficulties.
Quoting this incident where government claims that black marketing of tickets were done, the decision is taken to streamline air services through these rigorous clauses.
"We don't want any discrepancy due to which we have made changes in the tender clause," Prakash said.
Meanwhile, a few operators alleged corruption in the process.
"Most of the companies have two years experience and they should have minimized the experience to that. First Uttarakhand government asks businessmen to invest in the state and then they torment them changing policies and tenders. They should come up with a plan so that all operators could operate," said an operator requesting anonymity.
All 14 operators had already taken booking for the yatra season. Portals of Kedarnath shrine are to open from April 18.
Under such circumstances, it is possible that operators might stage strike and also deny providing similar services to other three shrines - Badrinath, Yamunotri and Gangotri as well.
Close