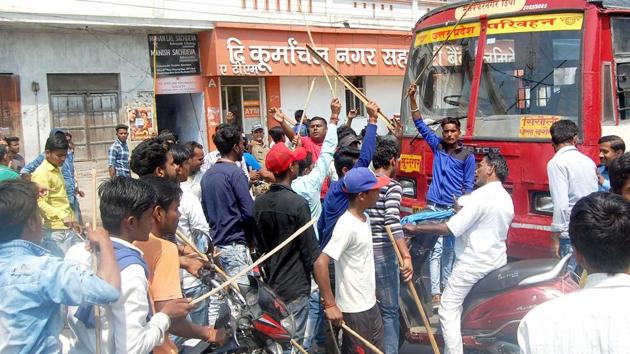 Dalit protests against SC order turn violent, stone-pelting in areas near UP border
Dalit protests against the Supreme Court's March 20 order, which allegedly dilutes the SC/ST Act, turned violent in some Dalit majority pockets of the state on Monday
Hindustan Times, Dehradun/Haridwar | By HT Correspondents
UPDATED ON APR 02, 2018 10:20 PM IST
Dalit protests against the Supreme Court's March 20 order, which allegedly dilutes the Scheduled Castes and Scheduled Tribes (Prevention of Atrocities) Act, turned violent in some Dalit majority pockets of the state on Monday.
Stones were pelted on vehicles and traffic was disrupted in the pockets, especially along the Uttar Pradesh border. A clash like situation was avoided in Haridwar after protesters forced shopkeepers to shut down businesses.
Besides Haridwar and Dehradun, protests were reported from Haldwani, Kashipur, Bajpur, Kiccha and Roorkee. But its impact was visible mostly in Haridwar district.
On March 20, the apex court ruled that the arrest of an accused under the Scheduled Castes and the Scheduled Tribes (Prevention of Atrocities) Act is not mandatory and a recourse to coercive action would be taken only after preliminary inquiry and sanction by competent authority.
Coupled with this, the court said, there was no absolute bar against grant of anticipatory bail in cases under the Act if no prima facie case was made out or where on judicial scrutiny the complaint was found to be prima facie mala fide.
At Bahadrabad–BHEL tri-intersection, police carried out lathi charge as protestors from 100-odd Dalit dominated villages pelted stones at security personnel deployed there. Dalits are protesting under the banners of Bhim Army and Sainik Samta Dal.
Senior Superintendent of Police (SSP) Haridwar Krishan Kumar VK intervened and nearby market was closed as a precautionary measure.
Assistant Superintendent of Police Rachita Juyal said situation was under control and heavy deployment of police personnel has been done along with vehicular police patrolling being done in sensitive pockets.
Major clash got averted at Haridwar's posh Aawas Vikas colony market, when a dentist aggrieved by foul language and threats of closing his establishment being made by Dalit protestors, took out his licensed revolver. Protestors also staged a sit in at the city's railway and bus stations, affecting operation of trains and buses for several hours.
At Narsain, protestors sat on the highway near police post, leading to massive traffic jam and police had to divert the traffic.
At Bhagwanpur BD Intermediate College, hundreds of demonstrators staged a protest.
Superintendent of rural police Manikant Mishra said situation remained under control and heavy deployment of police personnel was done in wake of the protest rally.
At several other places skirmishes between protestors and traders were reported.
The protest turned violent at Ganeshpur in Roorkee. Police carried out baton charge at Ganeshpur as protestors pelted stones and burnt tyres.
The central government, in a bid to pacify the agitated Dalits, said it had filed a petition in the apex court seeking a review of its March 20 order.
Close