Doctors' daylong strike hit health services in Uttarakhand
Jul 28, 2018 09:37 PM IST
Responding to a nationwide strike called by the Indian Medical Association (IMA), all non-emergency services at private hospitals and clinics across the state remained closed on Saturday
Responding to a nationwide strike called by the Indian Medical Association (IMA), all non-emergency services at private hospitals and clinics across the state remained closed on Saturday. The strike was called to protest against the National Medical Commission Bill, 2017.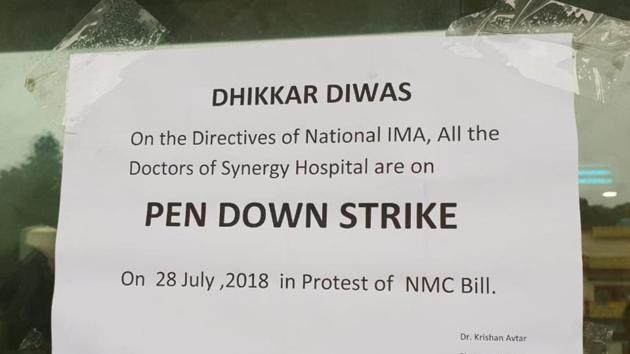 As a result of the strike, OPD and testing facilities did not function at hospitals from 6 am to 6 pm, causing problems for people visiting clinics.
"Doctors had prescribed some tests for me on Wednesday which I wanted to get done today. As I have office from Monday to Friday, I don't get time during the working hours. However, because of the strike even the laboratory at the hospital is closed today," Radhika Chauhan, 29, said.
Unaware about the strike, many people also turned up at hospitals.
"I brought my father for a routine check-up. But when I reached here, I learnt that the OPD is closed today. Now I'll bring him on Monday," Aniket Garg, a resident of Dalanwala said. He came with his father to a private hospital at Rajpur Road.
Speaking about the strike, IMA state secretary Dr DD Choudhury said the step has been taken to express resentment against the Bill.
"We have not closed down the emergency services and have given instructions that in case anyone needs urgent medical attention and care, the patient should be attended to. This is because we don't want the people to suffer but we also want to express our resentment against the Bill as well. We are exercising our democratic right to do so."
He said the strike has been 100 per cent successful in the Kumaon region. "Most of the private hospitals and clinics in Garhwal region also only operated the emergency services today," Choudhury added.
The district secretary of IMA Dr Hanspal said private hospitals of the city were complying with the orders given by the headquarters of IMA.
"There are about 200 nursing homes and 400 private clinics in the district. We hope most of them have closed their operations in solidarity because this Bill affects them as well.
"IMA is not against NMC in totality. There are certain points in the bill which are not in favour of the doctors which we are opposing," he said.